Setting up your campaign page
We've made it so that setting up your campaign is as easy as possible. Just head to Chuffed.org/start. Most of our campaigners are set up within minutes.
During your campaign setup, you can refer to the guidance on the right hand side of the screen, but we've also included more tips and tricks for each step throughout this page.
If you'd like to collaborate with your team on creating your campaign page, we've created a handy Google Doc template that you can use for that.
Your target
For all campaigns on Chuffed.org, you need to set a campaign funding target. You'll receive your funds even if you don't hit your target, but it's important to set your target at an achievable level to build credibility with your supporters.
You should set your target based on three factors:
Cost: what does it cost to do your project?

Audience size: how many people do you have already in your database or email list?

Available time: how much time do you have to prepare in the 4 weeks prior to the campaign and promote during your campaign?
As a rough rule of thumb, we find that the following is a reasonable way to set your target:
Email contacts are the most valuable, followed by Facebook friends and then Twitter\/LinkedIn contacts.
Timeframe
On Chuffed.org, you can choose to either run your campaign for a fixed length of time (less than 90 days) or ongoing with no end date - in what we call Infinity Mode. If it's your first campaign, we generally find that you'll raise the most when you run a 30-40 day campaign. The reason for this is that the time pressure forces your team to act, which drives momentum, which brings more people to your campaign. Campaigns that stretch on for a long period of time struggle to gain interest because supporters get distracted by other things in their life.
Campaign Description
This is where you tell your supporters about your project. It's the main body of your campaign and where you can go into detail about what you're doing. The best campaigns use about 300-500 words and pictures. You can even embed additional videos that you might have.
This is a simple structure you can use for your campaign description. The example we've used is a summarised version of the excellent Hope for Health campaign here. We recommend you read the full campaign description.
---
---
---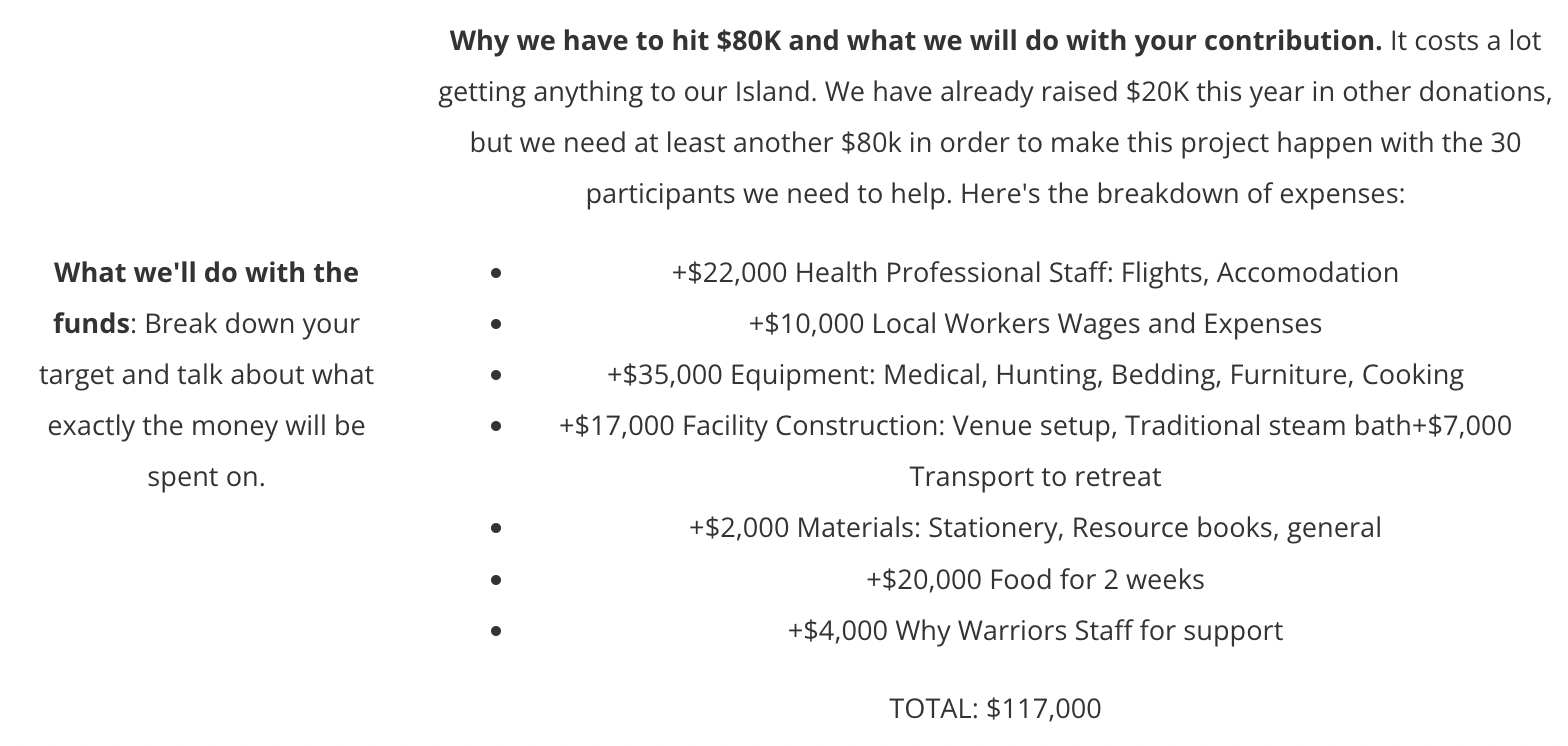 ---
---
As your campaign progresses, you can keep editing your campaign description. It's a great place to put in progress updates so that supporters who are checking your page regularly to see what the total is up to, have fresh content to enjoy - like Edgar's Mission did in this award winning campaign.
Banner Image
Your banner image is the main visual element of your campaign. It's the first thing potential supporters see and it gets shared on Facebook and Twitter. You want your image to:
Make your supporters feel inspired, entertained, or curious not guilty or shocked.

Be formatted to 684 x 385 pixels for optimal compatibility on our site

Be in a normal image format - JPG, PNG or BMP
For clarity, Chuffed.org is a guilt-free site. We reject campaigns that use guilt-imagery like dehumanizing photos of starving children to get donations, or graphic, disturbing images of animals.
Video
The best crowdfunding campaigns include a campaign video. This is a specific 2-5 minute video created for the campaign. Don't use a generic promotion video designed for something else.
Videos don't need to be expensive or have high production values. It's far more important that the video tell a compelling story than look pretty.
Here's some tips:
People love seeing faces. Make sure the video includes you talking at the camera at some point.

Keep it short. People get bored easily, so unless you've got an incredible storyline, don't have a video longer than 3 minutes.

Be ridiculously enthusiastic. Not only do viewers feed off your enthusiasm, video has a weird way of taking normal speech and making it look like you're bored senseless. If you act ridiculously enthusiastic, it looks completely normal on video.

Use narrative storytelling over facts. People share stories, not facts. An easy way of doing this is to follow one person's story - which could be your own or a beneficiary.

Later model phone cameras and DSLR cameras take excellent quality videos. If you can pair that with a free movie editing package like iMovie on Mac, you can create fairly professional looking video for free.

If you do end up paying a production company for your video, budget at least $2,500/£1,500 for a 2 minute video.
All videos on Chuffed.org need to be uploaded to Youtube or Vimeo. You can then just enter the URL from either service into the relevant field in the campaign editor.
Creating Perks
Perks are things that you offer supporters who donate above a specific amount.
We get asked a lot about perks, especially about how important they are for crowdfunding success? Do I really need to offer perks? Won't it stop people being philanthropic?
Our answer? Perks help. A LOT.
The reason for this is that perks give people a way of participating in your campaign. They tap into selfish motivations as well as benevolent motivations. And they let you access your supporters' spending purse, not just their philanthropic purse -- you can guess which of these is bigger.
So what perks should you offer?
Perks tend to fall into three categories:
Pre-release products or services: 'Selling' products and services via crowdfunding is probably the most common type of perk. Whether it's tickets to your event, memberships, CDs, bee-hives or even crepes, forward selling products and services is a great way to get people involved in your project.

Unique experiences: Most social cause organisations don't realise it, but they are nearly always an amazing repository of wonderfully special, unique experiences. It could be dinners on a rooftop garden, workshops on a farm, tickets to an opening party, or even locating a tattoo on a founder.

Special recognition: A non-profit classic. Getting their name on or sponsoring a part of a project is still popular among many crowds. The key here is being creative on what can be sponsored. Edgar's Mission had barns, rocks, rakes, posts, shelters and even a mountain.
So, how do I come up with perks for my campaign?
This might sound obvious, but the easiest way to come up with perks is to co-design them with potential donors. Edgar's Mission ran a workshop with some of its key volunteers prior to its campaign to come up with their perks. Spacecubed did the same with their members. It's best to have a hypothesis on your perks as a starting point, as well as the levels you need perks at (normally $25, $50, $100, $250, $1000, $2500, $5000)
Some other considerations
Perks which are directly connected to your campaign, which let people participate in your campaign/project are far better than unconnected perks, e.g. Amazon gift cards

Having an early bird offer on your perks is a great way to build momentum. Spacecubed - a co-working space in Perth - released a very limited number of highly discounted memberships in the first 24 hours of their campaign

Some perks (drugs, anything illegal, raffles) are not allowed. Make sure you check our terms to stay on the right side of the rules
Payment options
When you're setting up your campaign, you'll have to choose what payment options you give to your donors.
Credit/debit cards: Donors can use any domestic or international Visa, Mastercard or American Express card to pay directly on our site. To use this payment option, you'll need to create a Stripe account for the funds to be transferred to.

PayPal: As an extra option, you can also link a PayPal account so that donors have the option of paying using their PayPal accounts. Note: PayPal can be confusing and reject valid cards and accounts. They may also unexpectedly restrict your PayPal account if your campaign is very successful.
The donation process happens entirely on the Chuffed.org site - they just enter their card details and it works.
The way that you receive the funds from the two systems depends on which country you choose for your campaign - this should be a country where you have a bank account:
(1) During the campaign creation process, you will need to create an account with our payment processing provider, Stripe.com. This is a very simple, one form process, which will take less than 5 minutes.
(2) To accept PayPal payments, you will need to create a Premier or Business PayPal account at www.paypal.com, prior to launching your campaign. The campaign will need to be confirmed and connected to a bank account. This can take up to 3 months.
Optional extras on Chuffed.org
On Chuffed.org, there's a number of optional customizations for your campaign page, including:
Collecting addresses from your donors: we'll add an address collection form on the payment page if you select this. We only recommend collecting addresses when you absolutely need to, like if you need to post out a perk, as people feel weird giving about you their address.

Custom Thanks Message: you can customize the message that donors see immediately following their donation.

Impact Levels: instead of giving out perks, you can choose to show donors what impact different levels of donations make - think the classic £50 buys a goat for a farmer in Africa. It's a bit old-school, but still works.

Custom URL Link: your can change the default URL link assigned to your campaign.

Custom default donation amounts: you can customize the default donation amounts that are shown on the donation box on your campaign page.

Offline donations: when supporters send you donations in cash or via cheque/check, you can add these to your campaign total by using our 'offline donations' function. You should limit the amount of offline donations to 50% of your total donations.

Tax-deductible receipting: we issue a donation receipt email and a PDF invoice to every donor on Chuffed.org. For Australian, Canadian, UK and U.S. based organisations, we can issue tax deductible receipts which meet local guidelines automatically from our system, saving you the hassle of doing so yourself. For more information, see this article on our support site.
You can learn more about the crowdfunding features on Chuffed.org on our Features page.
Eligibility Disclaimer
All campaigns on Chuffed.org need to satisfy our eligibility criteria.
In some cases, your campaign may be sent to us for approval, and you'll hear back from us as quickly as possible. Don't worry, this won't happen if you've ran a campaign on Chuffed.org before.
If Chuffed.org finds your campaign to be ineligible against our eligibility criteria at any time, you won't be able to crowdfund on Chuffed.org.