Para la versión en español mira más abajo. For the English version scroll down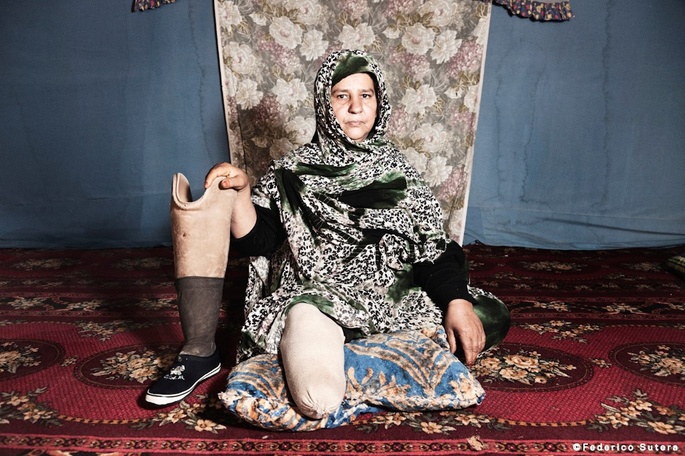 "Non mi reggono più le gambe, qui tra un po' salta tutto".
Espressioni che ognuno di noi ha usato, almeno una volta nella vita.
Ecco. Adesso chiudete gli occhi e provate a immaginare come sarebbe la vostra vita, se questo potesse succedervi davvero, un giorno qualunque, mentre fate una cosa qualunque. Se foste nati non in Italia, ma nel territorio del Western Sahara.
40 anni di conflitto nel Sahara Occidentale.
Diviso e conteso tra il fronte Polisario e il Marocco, è una delle aree al mondo con la maggiore densità di mine presenti sul territorio.
Una situazione drammatica.
Ogni anno le mine mutilano e uccidono decine di persone: bambini che scambiano gli ordigni per giocattoli, donne che escono dai campi dei rifugiati per rifornirsi d'acqua, nomadi che portano al pascolo le greggi. Una popolazione di 600.000 abitanti, per un terzo confinata nei campi profughi che, senza un territorio sicuro dove vivere, non può costruirsi un futuro e le cui vite sono costantemente in pericolo.
Un futuro per i Sahrawi.
HOPE Foundation vuole fare la sua parte, aiutando a eliminare le mine dal territorio. C'è bisogno prima di tutto di formare personale locale così da consentir loro di continuare il programma di sminamento in maniera autonoma.
Noi ce la stiamo mettendo tutta.
L' 8 novembre inizia il training organizzato da HOPE Foundation.
Con 10.000 Euro possiamo formare e fornire il materiale necessario (metal detector, kit per la mappatura del territorio, kit per il soccorso delle vittime, ecc.) per rendere operativi da subito 15 sminatori locali.
Sostienili anche tu con una donazione!
Il tuo contributo sarà fondamentale per rendere sicure le terre del Western Sahara liberandole dalle mine, restituendo così un futuro al popolo del Sahrawi.
CERO MINAS PARA EL PUEBLO SAHARAUI
Ayúdanos a liberar el Sahara Occidental de las minas: 40 años de conflicto lo han transformado en uno de los territorios más peligrosos del mundo. Haz una donación para capacitar junto a HOPE a los desminadores locales.
"Mis piernas ya no me sostienen, aquí va a asaltar todo por los aires"
Expresiones que todos hemos usado alguna vez en la vida.
Aquí está. Ahora cierra los ojos e intenta imaginar cómo sería tu vida, si esto realmente te llegara a pasar, cualquier día, mientras haces cualquier cosa. Si naciste no en tu país, sino en el territorio del Sahara Occidental.
40 años de conflicto en el Sahara Occidental: dividido y disputado entre Marruecos y el Frente Polisario, es una de las àreas del mundo con mayor densidad de minas en su territorio.
Es una situación dramática: cada año las minas mutilan y matan a decenas de personas: niños que toman estos artefactos por juguetes, mujeres que salen de los campos de refugiados para buscar agua, nómadas que llevan a sus rebaños a pastar. Una población de 600,000 personas, una tercera parte de las cuales confinada en campos de refugiados, que, sin un territorio seguro para vivir, no pueden construir un futuro y cuyas vidas están constantemente en peligro.
Un futuro para los saharauis: HOPE Foundation quiere hacer su parte, ayudando a eliminar las minas antipersonales de este territorio. En primer lugar, debemos capacitar al personal local para que puedan continuar el programa de desminado de manera más autónoma.
Estamos poniendo todo de nuestra parte.
El 8 de noviembre comienza la capacitación organizada por HOPE Foundation.
Con 10.000 euros podemos capacitar y proporcionar el material necesario (detectores de metales, kits de mapeo terrestre, kits de rescate de víctimas, etc.) a 15 desminadores locales para que puedan ser operativos de inmediato.
¡Apóyalos con una donación!
Su contribución será esencial para hacer que las tierras de los saharauis sean seguras liberándolas de las minas, devolviendo así un futuro al pueblo de los saharauis.
---
ZERO MINES FOR THE SAHRAWI PEOPLE

Support us to clear Western Sahara lands from mines: 40 years of conflict have turned it into one of the most dangerous territories in the world. You too can contribute to train local deminers together with HOPE Foundation.
"I can't stand on my legs any longer, here's going to blow up any minute".
Everyone has found themselves say this at least once in their lifetime.

Now, close your eyes and try to imagine how your life would be, if this could happen to you any day, doing anything, going anywhere. If you were not born in your country, but in the territory of Western Sahara.
Western Sahara, the land of a 40 year conflict.

A point of contention and devided amongst Morocco and the Polisario Front, it has one of the highest numbers in the world of mines spread throughout its territory.

A dramatic situation.
Dozens of people are mutilated and killed every year by landmines: children mixing up mines for toys, women leaving their refugee camp to provide water, nomads grazing their herds. 600,000 people, part of them confined in refugee camps, people without a safe land where they can live, unable to build their future and constantly living their lives in danger.

Let's give Sahrawi people a future.
HOPE Foundation wants to do its part by contributing to clear this land from mines. The first useful step is training a local team of skilled deminers so that they can continue demining programmes independently.

We are doing our best.
On November 8th the first HOPE Foundation's training program will start.
With 10.000 Euro we can train 15 local deminers and supply the necessary material (metal detector, kit for the mapping of the territory, kits for the rescue of the victims, etc.) to immediately start the demining operations.

Support them with your donation!
Your contribution is fundamental to secure the lands of Western Sahara by clearing them from mines, thus restoring a future to the people of Sahrawi.