A little bit of context
Imagine creating a ​Change Agent Network of over 50 million people who actually work collectively​ to transform our country and our world.
But there's a problem
Many organizations with the same mission are working in silos and competing for the same resources. A transformative movement is needed to shift from 'I' to 'WE' by connecting, mobilizing, and accelerating global social change.
"I hope that everyone can join We, The World. Because it's when we all get together that we will make the changes that we must make. We are​ the world!"​ ­ Dr. Jane Goodall (Founder of the Jane Goodall Institute and UN Messenger of Peace)
Here's one thing we're doing about it
Our WE Change Agent Network goal is to create unprecedented cooperation and coordination between the world's transformative movements, and mobilize them for real and lasting change.
"The objective of the organization We, The World is to facilitate cooperation on a global scale amongst groups and individuals dedicated to implementing solutions to the many challenges we face on the planet at this time." -Archbishop Desmond Tutu Nobel Peace Laureate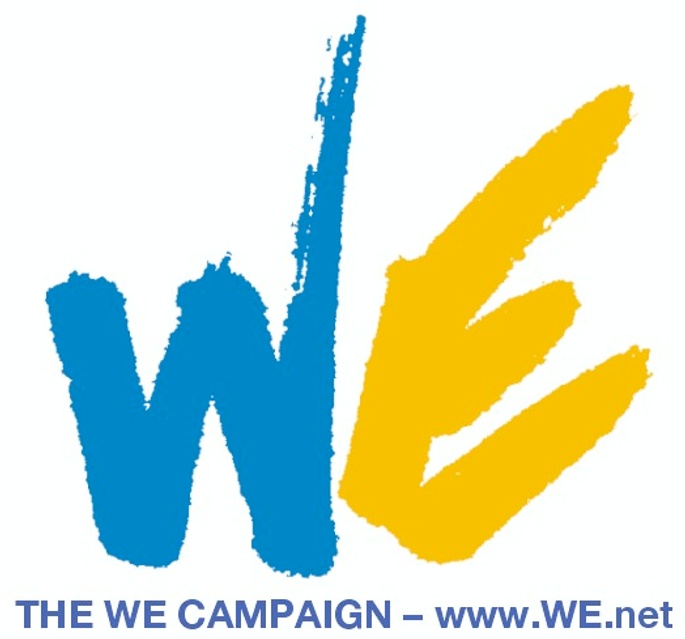 We The World and The WE Campaign have designed monthly meeting formats that combine both personal awareness‐raising and social change activism.
Members take part in regular discussions and study groups along with special seminars, workshops, retreats, etc with a focus on books, articles, ideas and practices of visionary thinkers and leaders.
The group also selects and works on one or more of the 11 Campaigns for Change. The group actively works to partner with other like‐minded campus and local groups such as branches of Amnesty International, Greenpeace, Roots & Shoots, etc.
Each local WE CAN group participates in periodic major global events, connecting with other groups.
You can join us
WE need $30,000 to get off to a great start! This campaign is ongoing but it is our belief that once these groups are established they can become self-sustaining through local donations - as these groups will ultimately be working to resolve the most prominent issues in their communities. WE need help to cover the cost of establishing multiple groups, acquiring the resources they may need for initiating and implementing grassroots projects, and a fully dedicated, part-time program director.
Your involvement will help broaden our global networking with communications and organizing tools that allow 1,000s of socially conscious organizations and individuals to more effectively work together and achieve their goals.
Interested in starting a WE Change Agent Network? Email [email protected]