Waste Not Bristol's story:
In 2017 we set up an instagram account called @wastenotbristol which we initially just wanted to use as a platform to explore all things environmentally conscious as we were cutting down our own waste every day. We felt so inspired to continue on our low waste journey as we saw more and more people around the world hashtagging #zerowaste and #lowimpact. However as we started following more and more online accounts - although inspired by many accounts- we began to feel slightly put off by the constant promotion of new products, encouraging people to buy new things as opposed to reusing what they already had and the apparent wealth of many account holders made us feel discontent.
There's a problem...
We are hugely privileged to be able to afford to save up for and buy a £30 stainless steel water bottle but were acutely aware of how many people were/still are not in the same privileged position.
We're fortunate to be able to buy a reusable fabric bag for £5 but to someone else that 5p plastic bag may be the only affordable way to get their shopping home today. The same applies to bamboo toothbrushes. All these amazing products making waves to curb plastic pollution are incredible but generally more expensive than their plastic/chemical-based counterparts. This makes the eco-products simply inaccessible for thousands of people in this country on price alone.
Here's what we're doing about it
We had seen online shops promoting eco 'starter kits' and we thought - that's it! What an amazing way to help people who may not have the initial funds to invest in the lower impact products - we could raise money to create and donate similar eco kits and take them to a range of charities in the South West of the UK - delivering talks on lower waste living as we go!
But what if people were not interested?
We wanted to test out the kits and see whether they were desirable so we did a trial run. With a small amount of savings and the help of lots of kind and caring shop owners/producers of natural products, we were able to compile 20 #accesskits at cost price. We took the 20 kits to an amazing local charity called RWoB (Refugee Women Of Bristol) where we delivered a small talk on how to save money whilst avoid using single-use plastic -we had no idea what the wonderful women there would make of the talk but when we opened it up to questions and were inundated with queries about how they could get their hands on the items in our example kit we were thrilled to be able to hand out the 20 kits we had with us!
So what now?
After the amazing response at RWoB we want to do it bigger and better - our aim is to raise £7000 which will directly help 400 people in Bristol start their lower waste lifestyles by funding 400 #accesskits that we will take with us to Bristol-based charities in 2019.
So what's in the kits?
We've been incredibly lucky to partner up with such brilliant producers.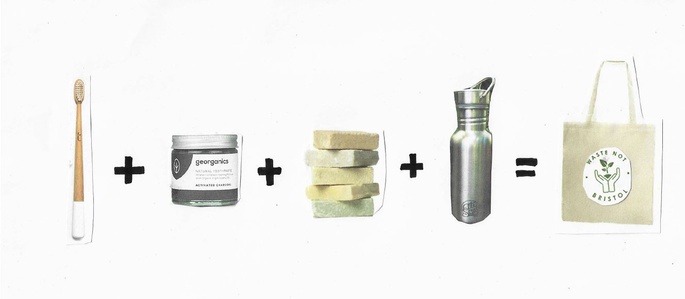 Fabric Tote Bag: to avoid plastic bags
GSM Organic Cotton Tote Bags (with the Waste Not Bristol logo printed on) - From Bristol based
InGreens
Toothbrush: to avoid plastic toothbrushes
Beautiful Bamboo toothbrushes - From Devon based
Truthbrush
.
Toothpaste: to avoid harsh chemicals and plastic tubes
Amazing charcoal tooth powder (that comes in a glass tub that can be reused) - From the brilliant
Georganics
.
Solid Soap: to avoid harsh chemicals and plastic packaging
Reusable Water Bottle: to avoid plastic water bottles
City to Sea
engraved stainless steel bottles - From the amazing foundation teaching young people all about environmental activism -
The Raw Foundation
.
Our proposed charities:

#1 Refugee Women Of Bristol
http://www.refugeewomenofbristol.org.uk/

Refugee Women of Bristol (RWoB) is the only multi-ethnic, multi-faith organisation which specifically targets the needs of refugee women in Bristol, we are directly governed by women of the refugee and asylum-seeking community. We provide services to disenfranchised groups over and above the generic category of 'refugee', and routinely reach cohorts of women that other service-providers overlook or are unable to access.
#2 Creative Youth Network
https://www.creativeyouthnetwork.org.uk/

Creative Youth Network helps young people, no matter what their background or circumstances, to reach their own potential.
All of our young people are experiencing barriers that are preventing them from flourishing. Many of our young people are marginalised, unemployed, not in education, suffer poor mental health, are in care (or are care leavers), are asylum seekers, refugees, disabled, from low income households or are an ethnic minority.
#3 St Mungos
At St Mungo's, we know that it takes more than a roof over someone's head to end homelessness. People experiencing homelessness often face a number of issues, commonly involving feelings of isolation, mental health problems, and drug or alcohol use. We know that working with people to understand their goals, and then helping them to achieve those is the best way to overcome these issues. We've developed numerous services in our 50-year history, offering the basics such as temporary shelter or longer-term accommodation, but also a wide variety of projects designed to help people with their confidence, skills and experience.
Our proposed Timeline:
1ST WEEK DECEMBER 2018: CAMPAIGN LAUNCH

BY END OF FEBRUARY 2019- ORDERING ECO KIT PRODUCTS

MARCH 2019 - PRODUCT DELIVERY/COLLECTION - TOTE BAGS SEND OUT

APRIL 2019 - DELIVERING 50-100 KITS - CHARITY 1

MAY 2019 - DELIVERING 50-100 KITS - CHARITY 2

JUNE 2019 - DELIVERING 50-100 KITS - CHARITY 3

JULY 2019 - DELIVERING 50-100 KITS - CHARITY 4

You can join us
We are asking for generous donations to help get as many kits in the hands of people who want them in the South West as possible.
With the help of the kind producers - the discounted/cost price for one #accesskit is £17.50 (RRP £30.60) so in order to raise enough for 400 kits we're hoping to raise £7000.
We truly believe sustainable lifestyles should be accessible to all despite varying economic backgrounds.
Will you help us make this more of a possibility?
If you would like any more information or would like to recommend a charity who would benefit from our eco-kits and talks please feel free to drop us an email at
[email protected]
Thanks so much for reading!
See more below:
https://www.bristol247.com/lifestyle/environment/meet-the-bristol-woman-helping-others-cut-down-on-their-plastic-usage/
https://www.georganics.co.uk/blogs/blogpost/interview-waste-not-bristol-charity-eco-kits?fbclid=IwAR2NN8Lfz6itxYC5G2kjgfwwnTGRcBOUdHHHLEvgHNN5e-kyO31a5mefceY