Did you know up to 90% of diabetes research projects will never be funded?

The next breakthrough could be sitting in someone's tray with a stamp on it saying SORRY - NOT ENOUGH FUNDING! Laying dormant in the lab with a sticky note on it. Powerful research that could change someone's life, powerful research that could lead to a cure. But....it's not going to make it simply because there isn't enough funding.
Every year we have to turn many research projects away because there isn't enough funding.
Our world-class dedicated diabetes researchers who call WA home, need our funding now more than ever.
We know research dramatically improves and changes lives. Treatment can now be personalised, and insulin pumps deliver insulin painlessly. That's a huge step from the early days of boiling glass syringes and painful injections. Blood glucose sensors can now be applied to the skin and readings sent to a phone, and we have portable cameras to detect early signs of eye damage, meaning we can save sight.
These changes give us more freedom to live well with diabetes than we've ever had before.
What we're thinking is.......what's the next game-changer!
Why isn't there enough funding?
There has always been a funding shortfall. But recent events have made funding tighter than ever for diabetes research.
Fundraising activities are not possible
Major economic changes causing uncertainty and unemployment
Some funds destined for diabetes research have been redirected into other important causes
The shortfall means our dedicated researchers are spending too many precious research hours hunting for funding, diverting them away from what they do best - diabetes research.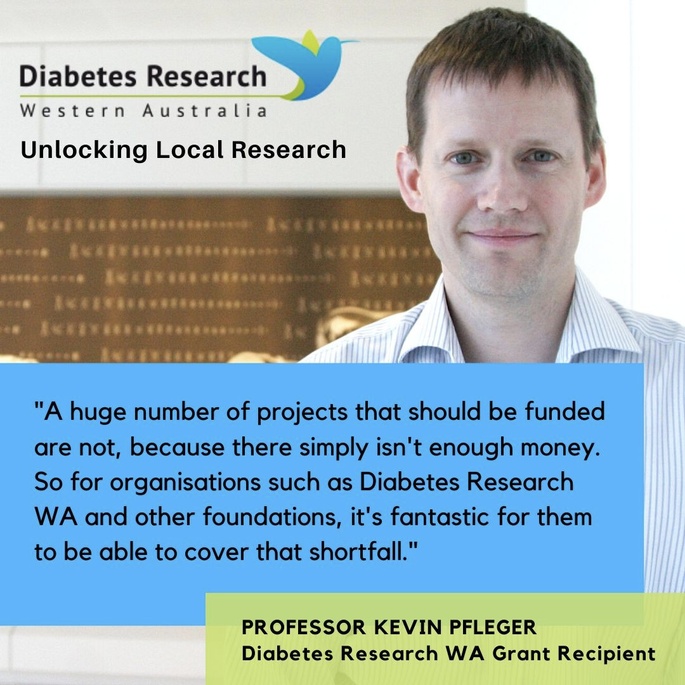 What will your support do?
With your help, our 2021 diabetes research projects will be secure. Our annual grants are highly sought-after and WA researchers wait patiently each year to apply for them, in the hope theirs will be successful. If we can't give them out, they know it's one less chance they have to change lives.
Your support goes directly into a specific research grant that could uncover the crucial missing piece in the diabetes jigsaw puzzle that could change your world and the world of others who live with diabetes.
How can you help?
You can help by:
Making a donation to our campaign today

Asking others to join you
Sharing our powerful research

Help business and community join in and support us
Attend our events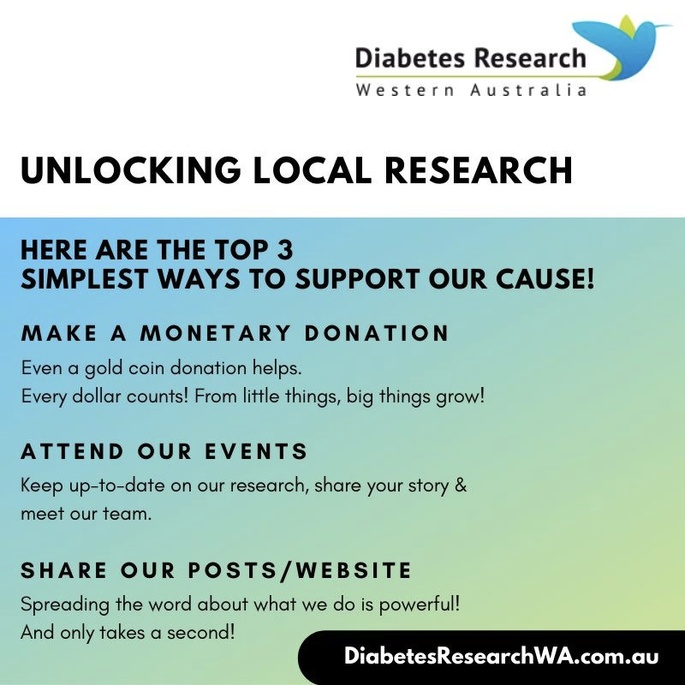 Why DRWA and why in WA?
We're a small team investing in world-class local researchers and scientists who collaborate on projects that have the potential to change lives. We punch above our weight and we're proud of our contribution. Did you know your donation stays right here in WA for WA local diabetes research and is not diverted overseas? That means the people of WA will always benefit first.
We've given over $6m for WA diabetes research!
Including these:
Discovering 6 subtypes of type 1 diabetes which could lead to personalised treatment and management in the future.

Mapping blood sugar levels in children at risk of type 1 diabetes to find ways to delay and prevent it.
Understanding how diabetes damages eyesight.
Developing a portable eye camera to pick up the early signs of blindness. This camera is now used by NASA in their space station research.
Ensuring rural and remote women have simple and accurate testing for gestational diabetes, reducing harm to mothers and their babies and preventing type 2 diabetes in the future.

Developing obesity prevention treatments.
Uncovering how the gut can be affected by medications increasing the risk of type 2 diabetes.
All made possible thanks to the generous support of West Australians like you.
What's next to unlock in WA?
Preventing diabetes
Improved technology
Simple management and treatment options

Reduction of diabetes-related complications like blindness, kidney failure and heart disease

A cure

We believe the next discovery is waiting on our doorstep, waiting for us to unlock it. You – and our wider community of supporters – hold the key to that discovery. With your help, we can make sure our research continues to unlock discoveries, right here in WA. Taking them from the lab to you and taking us closer to our vision:
'A world without diabetes'
We could tell you the stats about diabetes, but the reality is that we all know someone impacted by diabetes – someone's mum, son, father, daughter, aunt, uncle, grandparent, teacher, best friend, work colleague, or perhaps even your sporting hero. Diabetes doesn't discriminate!
Help us make sure our brilliant minds can concentrate on what they do best, research. Together we can bring their discoveries to you, your family, your community and out into the world.