Tyre furniture skills is a project that works in the Uk and Africa teaching young people and adults how to make furniture from Waste tyres. Aproximately 50 million tyres are thrown away each year in the UK alone, with the amount expected to increase as more people globally drive cars. Currently around 2% of unwanted tyres are recycled. The rest are dumped in massive dumps , litter the environment or a thrown in the sea, causing widespread pollution. Our project aims to work with young people and communities to teach them a valuable income generating skill , using an abundant and oftern free source of waste material.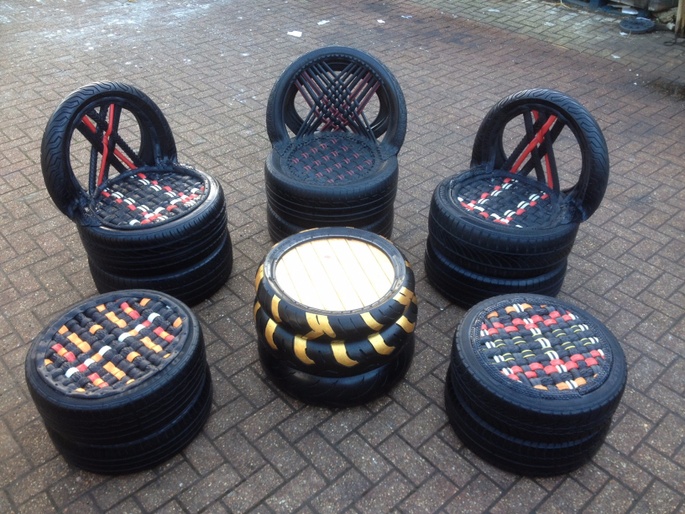 We have been invited by environmental organisation wildlife works to run two training projects in Small towns near west tsavo in Kenya. We will be delivering tyre furniture training workshops for 90 plus participents and donating the tools needed to equip several workshops for people to run small buisnesses for themselves. As a organisation Wildlife works is working to reduce elephant poaching through education and providing access to other means of income generation other than killing precious wildlife. They are also activly protecting the forests and investing in treeplanting initatives to combat deforestation and environmental degradation.
We will also travel to Nairobi to run a training workshop for women.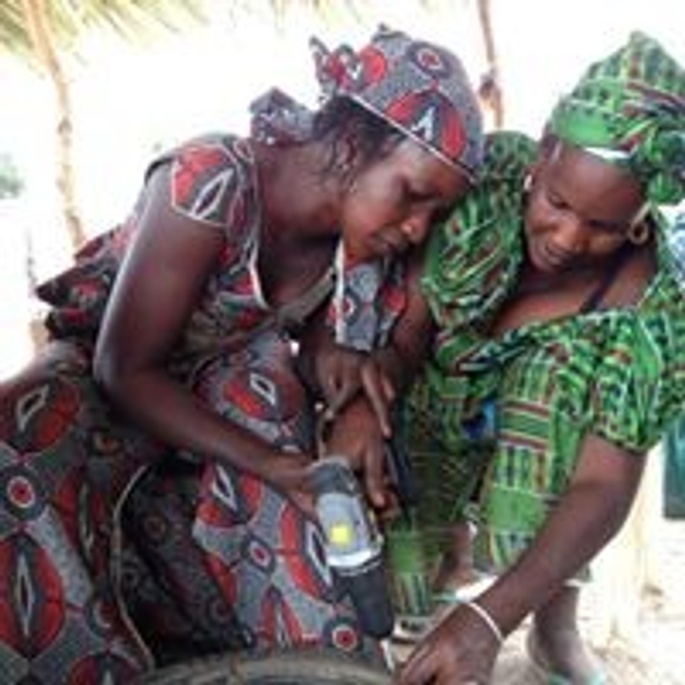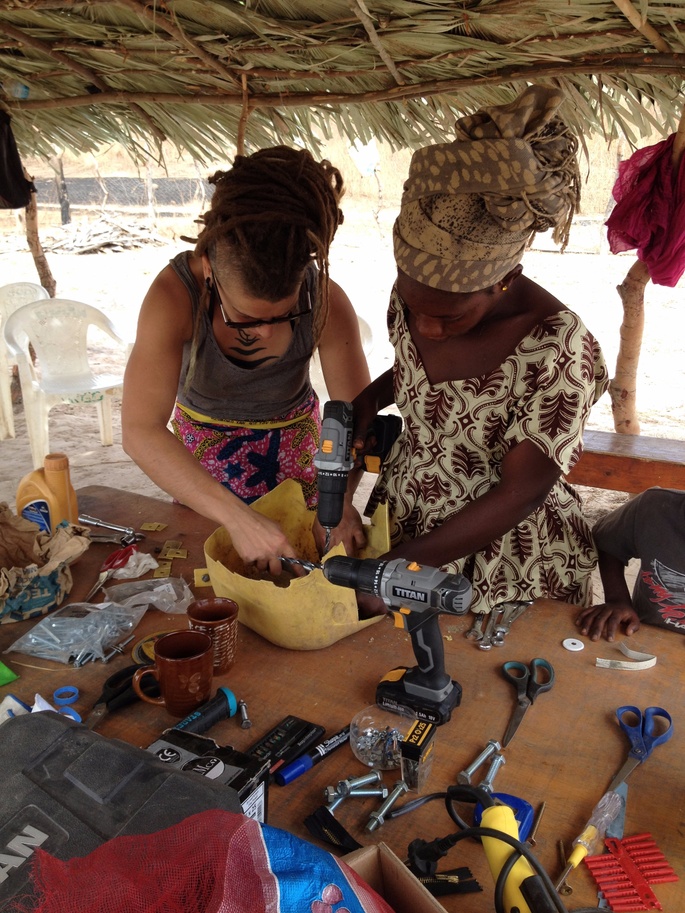 For communities in Africa tyre pollution can create a breeding ground for mosquitoes and rats as tyres are oftern dumped in and around peoples living compounds, they also regually get burnt to retrieve the wires inside causing toxic air pollution.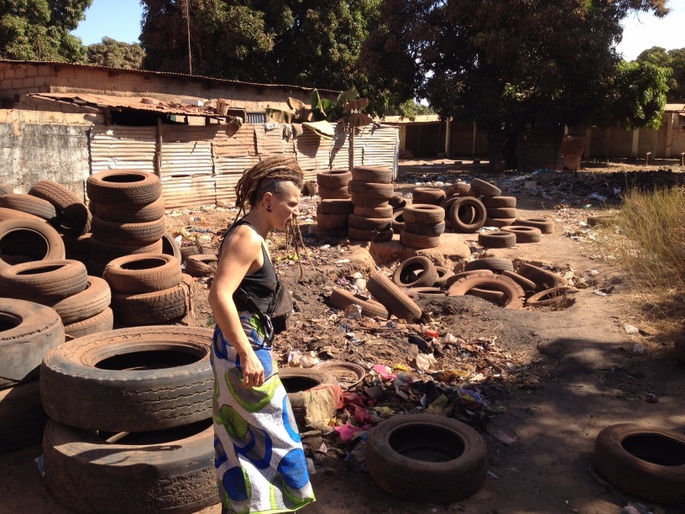 There are many benefits for using tyres over wood. Wood is in sharp decline, expensive when purchased and deforestation is one of the major environmental problems in African countries and Globally .There is also a big problem of termite infestation when building with wood in Africa. A piece of furniture degrades quickly and can disappear in no time! The great thing about tyre furniture is that termites don't eat rubber!
The furniture can be sold, providing a sustainable income for the makers, and the skills passed on to other women and members of the community. We have designed a stylish and easy to make armchair, two seater sofa, chair, stool and a coffee table using tyres from cars, motorbikes, scooters, bicycles and inner tubes.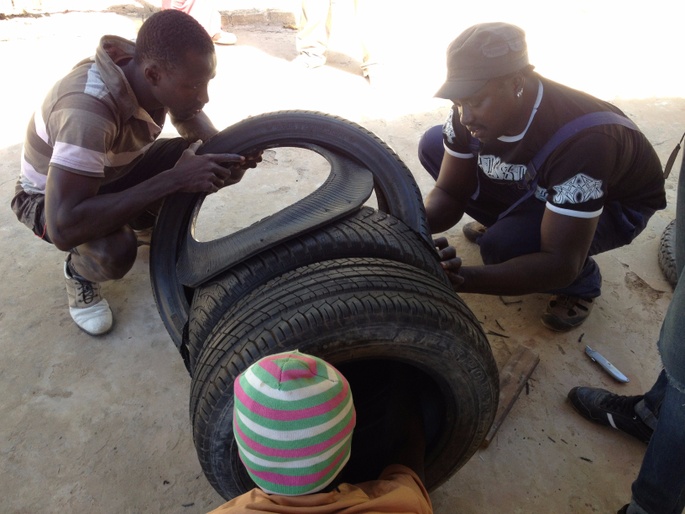 Both Communities we will be working with in Kenya are located near to the Mombassa Highway where tyre waste is abundant.
We are keen to promote skills which actively use waste materials in Africa and the UK to make much needed and functional items. Our aim through our continued work with recycled materials is to process rubbish in a useful and sustainable way - that is littering the environment and can be got for little to no cost.
Tyre furniture Benefits>>
Ø Recycles non-biodegradable waste.
Ø Prevents the need to burn tyres to remove the metal wires inside ( as more money can be made selling the furniture pieces than selling the scrap wires).
Ø Creates resilient furniture that can withstand harsh conditions and heavy use, and is easily cleaned.
Ø Provides a sustainable income for People and their families.
Ø Alternative material to wood which is expensive when purchased and is leading to damaging rates of deforestation.
Ø Skills to make them are easily transferrable.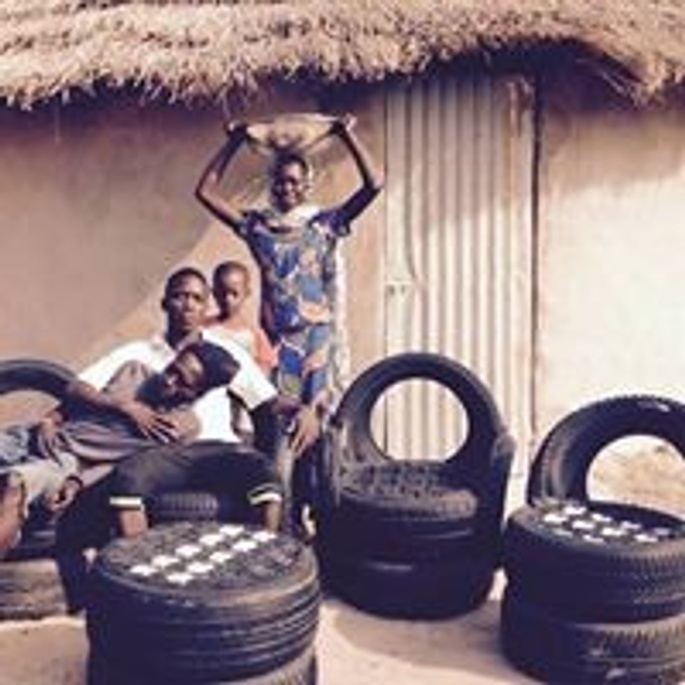 We are looking to raise enough money to pay for 2 people to travel to Kenya to train 2 large groups in tyre furniture making. One group willbe 40 plus men ,andthe second group 40 plus mixed women,menand youth.
The money raised will NOT be spent on flights but the following list of expenses
- 15 Chordless drills 1 for every 6 participents for first two projects
- TOOLS, Stanley knives, blades, bolts and nuts, screws, hacksaws, spanners, drillbits,
- Running cost of van and fuel to collect materials and pay for hired help sourcing materials,
- Transport costs between projects
- Wages to employ 2-3 persons from the first group to work with us for the second training as assistants.
- Tools for the womens training session in Nairobi
- Hire of space to run training workshop for women
- Accommodation and food with host families for 5 weeks.
- Sourcing and collecting tools in the UK and some donated materials