Persons of the Forest Face Extinction
The most endangered of all great apes, the orangutan lives in the jungles of Borneo and Sumatra. Orangutans share over 97 per cent of their DNA with humans, orangutans are as intelligent as a 5 year old human child.
But there's a problem
The Sumatran and Bornean Orangutans' rainforest habitats are disappearing at an alarming rate due to deforestation and clearing of the land for monocultures like palm oil, with the remaining forest degraded by drought and forest fires.
Here's what we're doing about it
The Orangutan Project has a holistic approach to conservation, we don't just rescue orangutans. Our conservation philosophy is:
Secure and acquire orangutan habitat by purchasing or gaining concessions around national parks.
Protect the land using our Wildlife Protection Units which patrol and keep the habitat free of illegal logging and poaching.
Rescue, rehabilitate and release infant orangutans and displaced orangutans.
Educate and empower the local villagers and indigenous people. Teach the value of conservation, advice on better eco-friendly farming methods, support medical and care programs, and legal assistance.
Last year our Donors enabled us to...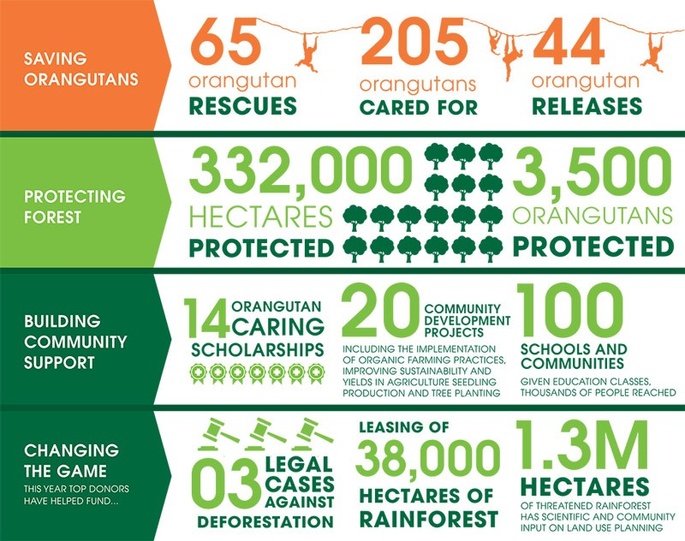 You can join us
It's our donors that enable us to do the wonderful work we do. We have the vision and the strategy, our donors enable us to make it happen. Most of our donors contribute small regular gifts - just $20 a month will give hope to orangutans that need rescuing, rehabilitation and releasing into secure and safe habitat.