CAMPAIGN GOAL UPDATE (20 September 2018):
We've smashed our goal! Over $44,000 raised directly for our community! THANK YOU - all of you are simply awesome!
We're so appreciative of this amazing show of generosity! Without your support, we wouldn't have been able to reach this milestone. Your donations have ensured that we will be able to continue our programs and workshops to help women and young people, as well as move into our new home comfortably. A massive thank you from the bottom of our hearts!
Also another HUGE thank you to our matched-funder investors, who have helped us more than double the contributions from our personal supporters! Thank you, Merchant Pricing Hub and Payments Consulting Network, the Robertson Foundation, Paul Bide, the Peden Family and our Chair, David Hardie. #BetterTogether
CAMPAIGN UPDATE (18 September):
Tomorrow is the last day to give to our campaign!
A big thank you to our generous supporters - it's amazing to have your support. We'd love it if you could share our campaign to help us really smash our goal!
We're thrilled for this new chapter, and your support is so important to give us the head start we need.
MATCHED DONATIONS UPDATE (29 August):
We've got some great news to share! Thanks to an extremely generous group of supporters* every donation made to our campaign through this page until 20 September, will be matched, dollar for dollar, up to a total of $20,000!
So many of you have already been so generous to show your support - thank you! And now your donation is matched to double its impact! It would be wonderful if you could share our campaign and this opportunity to make double the impact with your friends and family!
If you or your friends and family have yet to give a gift, take advantage of this wonderful opportunity to make double the difference! Your donation will have twice the impact to help our move and ensure that we continue to our programs and workshops to transform the lives of women and young people from refugee and new migrant communities.
* Thank you to the amazing matched donation support of Merchant Pricing Hub and Payments Consulting Network, Robertson Foundation, Paul Bide, and our Chair, David Hardie. We're so grateful for your investment in our future, together!
The Social Outfit is a fashion label with a difference.
Since opening our doors 4 years ago in Newtown, we've grown and expanded as an ethical fashion label.
We've established ourselves in the local community and provided employment and training in the fashion industry to people from refugee and new migrant communities in clothing production, retail, design and marketing.
But we are now being forced to move.
After 4 years at 353 King Street, our landlord has decided to redevelop the property and we need to find a new home.
Moving is never easy. Commercial rent is highly competitive in Newtown and we need to ensure we are accessible to both people from refugee and new migrant communities, and to people wanting to buy ethically-produced, locally made fashion.
So the search for a new home begins.
After much searching and negotiation, we have found our new home: 188 King Street Newtown.
The site is almost double in size, and with an upstairs / downstairs we can configure the space for more retail, and more making, and more community and training programs.
We will be able to welcome more people in, and to show you more of what we do.
And this first year is going to be a big challenge.
Moving is disruptive and expensive.
In the past 4 years, rents in Newtown have risen. Our new rent is 40% higher, and the moving itself comes with necessary and significant costs. Moving our retail store and re-establishing our workroom and studio all come with unavoidable expenses.
Most importantly, we don't want this move to impact our ability to continue offering our sewing training and community programs with women and young people from the refugee and new migrant community.
We urgently need your help to ensure we can keep our doors open, and keep running quality programs.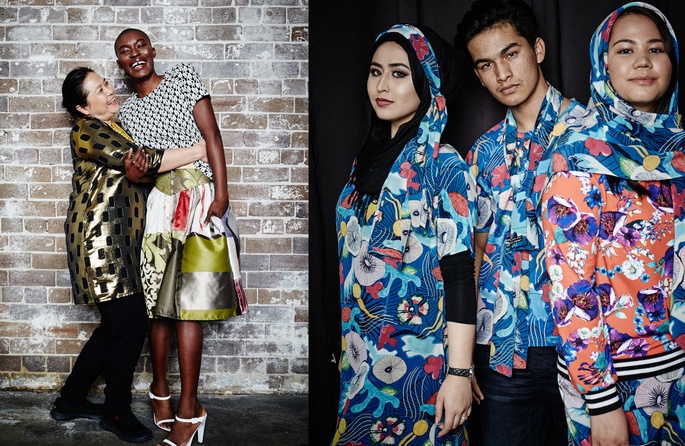 You can make a difference.
This move isn't our choice – but it is an exciting opportunity. It's a chance to refine and redesign our work based on what we've learnt so far.
We remain determined to provide continuous employment to our staff, and quality education programs for our community.
Please join us. Please help us. Together, we can continue to grow our creative community in the heart of Newtown.
How your donation can help:
$25 can provide a sewing kit for our training workshops with women

$53 contributes to equipping our new sewing workroom with essential tools and materials

$76 can provide 1.5 hour of specialised product development training for a woman to progress her own micro-enterprise

$104 can provide a teaching session for our digital print projects with young people in Western Sydney

$250 provides furnishings and fittings for our new retail space and studio

$800 provides a woman participation in an 8-week industrial sewing program
Your donation will ensure we can continue to create opportunities for women and young people from the refugee and new migrant community, using fashion as a vehicle.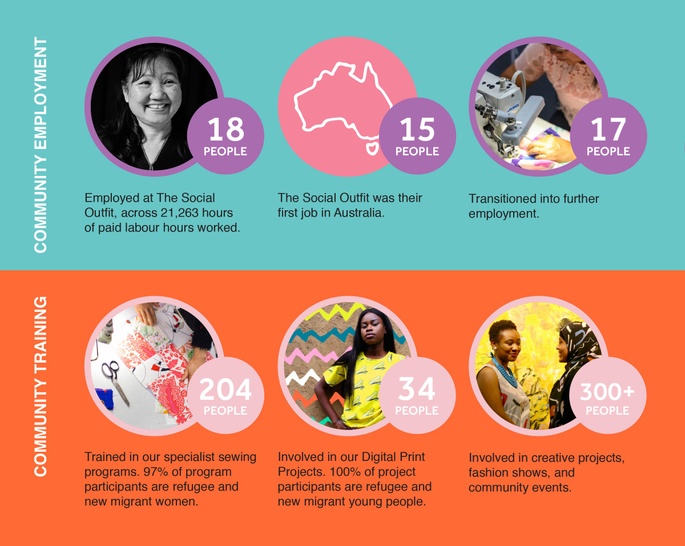 Donate now.
Select an amount on the right of this page, and follow the steps from there.
As we hold Deductible Gift Recipient Status, any donation made to us over AU$2.00 is tax deductible.
Please also share our campaign with your friends, communities, and supporters of ethical fashion!
You can find out more about The Social Outfit's work at https://thesocialoutfit.org/