Fly the Rainbow Peace Flag, image of diversity, inclusion, and peace
We've had available Rainbow Peace Flags, free of charge, to anyone who wants one. (Free Flag pick up is in Natick or ask a friend to deliver/send it to you.) Since starting this mission in June 2016 we've given away over 5000 flags, 2000 of which were a limited edition design by Natick artist, Virginia Fitzgerald. A community of voices shared ideas about how to make the flag stand for even more inclusivity. In 2019, Virginia Fitzgerald completed the final touches to the new design for the Rainbow Peace Flag.
The rainbow peace flags continue to spread across Metrowest, flying high above homes, at spiritual institutions, in schools, and at businesses.
OUR NEW DESIGN
Our new design more clearly reflects our message:
To extend kindness and caring across national borders, with love that includes people of all sexualities, genders, abilities, religions, races, political views, and cultures, and to condemn acts of violence and hatred, embracing peaceful dialogue instead.
4 skin colors have been added to the rainbow colors, stripes have been turned vertical, rather than horizontal so that no color is above any other, and PEACE is written in black, not white.

Let's Make a Statement
Get your flag and display it for all to see.
Flags are free for pick up and donations are always welcome (donations support the purchasing of more flags).
Soon we'll have rainbow peace flag car magnet, in the new design. You will be able to take the message on the road (great for on your car). Magnet is suggested minimum donation of $5 to cover costs.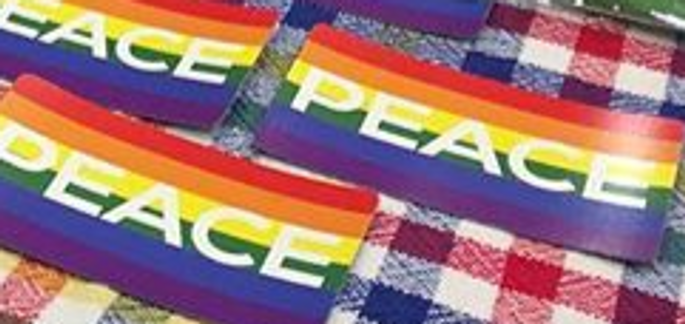 Also available for FREE: Welcome All door signs, too (download and print or email us and we will send you a higher resolution). This Welcome All sign will be updated soon with our new flag design with skin tone stripes added and PEACE in black.

Note: You do not need to donate to get a flag or door signs. Supplies last as long as we have the funds.
Spread the Message
On a summer trip to Europe, our friend observed Rainbow Flags and Rainbow Peace Flags abundantly displayed. This wasn't the case in the U.S. And why not? Why would we not want to display a message of peace, solidarity, diversity and inclusion?
Our message is in response to a big problem in the United States, at our borders, and all over the world.
Let's show where we unite; that we embrace each others differences, and how we stand for PEACE!
And let's watch this message fly one flag/magnet/door sign at a time across our local communities and beyond!
Be A Part Of The Movement
What you can do:
1. Get your free flag, door sign(s), and/or $5 magnet.
and/or
2. Donate to the Rainbow Peace Flag Project.
If you are donating: (First, please know that a donation is not required and that you can get a free flag without donating as long as supplies last.) Of course, donations keep the project going, helping to get flags to all who would like them. If you would like to donate, click the "donate now" button. Enter the amount that you would like to donate and follow the steps for payment.

Flag Pick Up
All flags are to be picked up in Natick.
Pick up locations include:
Common Street Spiritual Center 13 Common Street, Natick, MA. Flags in lobby. See rainbow link on website for hours.
Roots & Wings Yoga and Healing Arts 317 N. Main St., Natick, MA. Lobby, 9 am-7 pm weekdays, some weekends.
First Congregational Church of Natick 2 East Central St., Natick, MA. Ring buzzer during open hours.
Eliot Church of Natick 45 Eliot St., South Natick, MA. Ring buzzer during open hours.

Check out our Instagram Account: @rainbowpeaceflagproject as well as Common Street Spiritual Center's website for any updated information: www.commonstreet.org/rainbow-peace-flag-project/

Community Collaborators: