When Wildlife Queensland finally succeeded on 25 November 2017 in its appeal to the State Government to introduce a ban on single-use plastic bags in Queensland
...we knew it was only the first step.

Yes!
The Queensland government has come to appreciate the devastating impacts littered plastics have on our environment and especially our marine life and birds, introducing a ban on the supply of single-use lightweight plastic shopping bags beginning 1 July 2018.
Yes!
From that time, retailers will not be permitted to supply customers with plastic bags less than 35 microns in thickness, including so-called 'degradable' and 'biodegradable' bags.
BUT!
As predicted, there are signs that this exciting step forward for the health of our wildlife is already in danger of being undermined:
Retailers are already on the move to address the pending bag ban. It is now apparent that the major supermarkets may provide thicker plastic bags for a fee. Also, the ban does not stop unscrupulous retailers and suppliers providing lightweight bags that are slightly thicker than 35 microns.

Despite overwhelming evidence that helium balloons are devastatingly harmful to our wildlife once they fall back to earth (they are probably the number one litter item causing wildlife deaths in Australia*), a ban on the mass release of helium balloons was NOT included in the legislation banning plastic bags.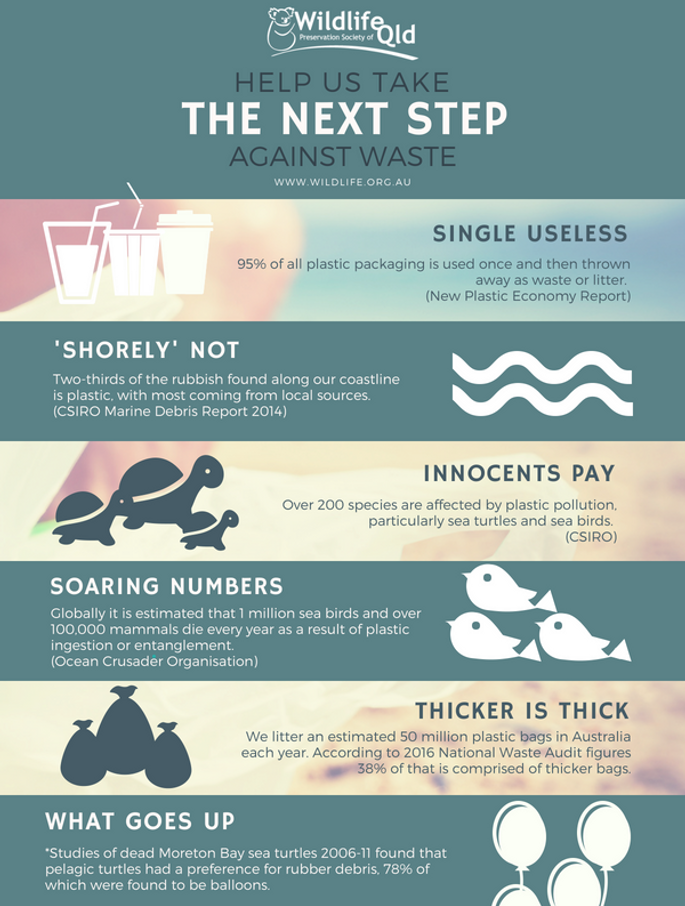 In making the most of the bag ban as a powerful first step, and taking the next vital steps in reducing the plastic pollution of our precious marine environment, WE MUST:

1. Stop the continued use of thicker single-use plastic bags, and have them removed from circulation in the future:
As a result of Wildlife Queensland lobbying, the Queensland Government has a provision in its regulation to increase the thickness of banned bags if they find that retailers are providing thicker bags. Wildlife Queensland will assess how retailers are complying with the bag ban from 1 July and report back to the government. In the case of widespread non-compliance, the State Government has promised to strengthen regulations. If necessary, Wildlife Queensland will run a public campaign to ensure this promise is kept.
2. Achieve a ban on the deliberate mass release of helium balloons in Queensland:
Last year we went very close to having a ban on the deliberate mass release of helium balloons included with Queensland's plastic bag ban - but not close enough. In the second half of 2018, Wildlife Queensland will intensify its campaign against helium balloons. Our ultimate aim is to achieve a complete ban on their deliberate mass release, with a contingency strategy to strengthen the Waste Reduction and Recycling Act to ensure that the mass release of helium balloons is actually a littering offence and that those taking such action can be penalised.
3. Reduce other single-use, non-biodegradable plastic items:
These include takeaway plastics such as coffee cups, straws and food ware as well as unnecessary plastic packaging of food, particularly fresh fruit and vegetables. Wildlife Queensland will increase and expand its public education programs around plastic free events, safer alternatives, and waste reduction and recycling strategies.
We can't afford to miss a beat in the march towards a safer, cleaner, healthier Queensland for our wildlife and for us all!
Providing thicker plastic bags is … just thick! Thicker bags are still plastic bags and when littered still pollute our environment and threaten our wildlife. Will you help us take The Next Step in addressing this flaw in the legislation?
If we just 'let it go' about helium balloons, so will they. Will you join us in reducing the number of helium balloons deliberately released in Queensland every single year by supporting our continued lobbying with a tax-deductible donation today?
Banning the bag was a significant step, but only the first. Now it's time to take The Next Step against all the OTHER single-use non-biodegradable items wasting our wildlife! Are you with us?

Kind regards,
Peter Ogilvie
President Wildlife Queensland