This fundraiser is closed please donate to the relaunched fundraiser -
https://chuffed.org/project/the-1-in-12-club-fundraiser-copy

photo: Baba Yaga perform at the club
A little bit of history...
The 1 in 12 Club was formed by members of Bradford's anarchist orientated Claimant's Union in 1981. The immediate objectives of the club were to generate and sustain a social scene, accessible and affordable to both the low waged and unemployed. The expectation and hope was that this would in turn encourage the anarchist values of self-management, co-operation and mutual aid.
A four storey converted inner city warehouse (our current home in Albion Street) was bought in 1986 and opened in 1988. The sovereign decision making body of the 1 in 12 Club is the bi-monthly Sunday Meeting which is open to all members.
photo: the gig floor bar circa 1900

The ravages of age
Our club has been home to countless gigs, events and happenings but sun, rain and time have taken their toll and we are in dire need of funds to enable us to do the work identified below. We also really need more people willing to become Members and become involved in how the Club is run, to put on more events, and to be active in the decision making that our bi-monthly Membership meetings make.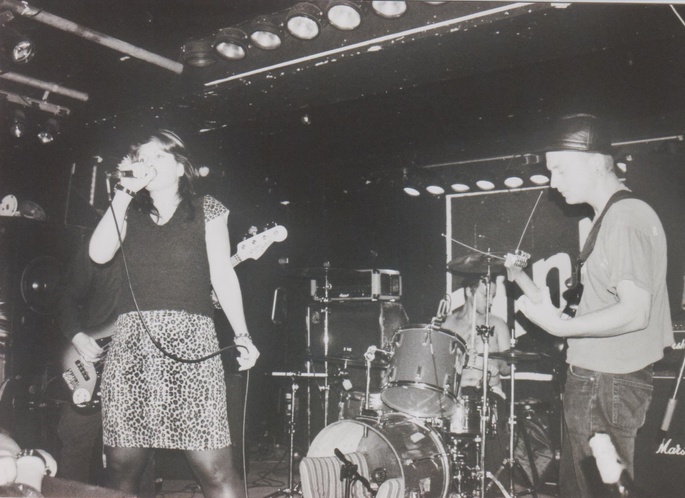 What we've done and what we'll do
So far in the last year, we've already carried out some much needed work using our available funds. This included installing new aluminium guttering, repairing drainage and sorting out multiple leaks.
But we still have quite a way to go - we need to find £12,000 to:
- hire several skips and rid ourselves of much clutter that we have acquired, some through no fault of our own(!)
- carry out a major overhaul of the wiring in the club
- buy new equipment for the cafe such as a new oven to make us operational again
- build blackout boxes for the Events room to stop light coming in and the windows falling out!
- pay a Librarian to categorise and institute a proper lending system at our unique Meltzer/Goldberg Library to ensure its survival into the future
- build a brand-new merch booth in the Events room
- buy new back line equipment for the Events Room to enable events to continue
- repair the jukebox system and replace the defunct pool table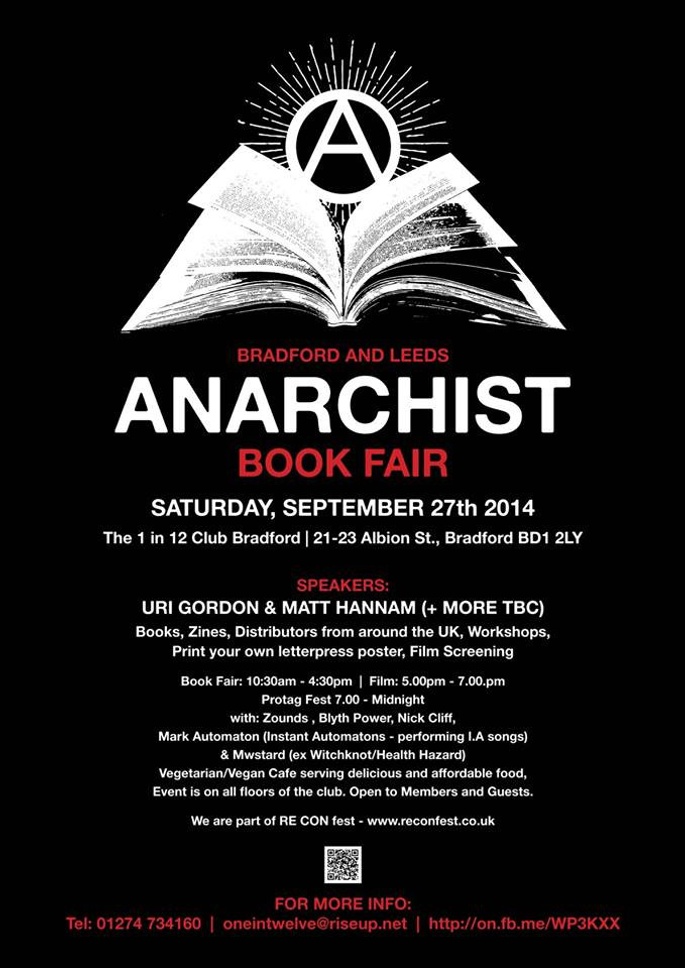 photo: 2014 Anarchist Bookfair poster
We promote self management, co-operation and mututal aid
Through the activities of the Club, the influence of these ideas and the Club itself has spread beyond the boundaries of Bradford. We have been the bedrock that other social centres have been built on and the Club remains a living example of practical anarchism in action. Participation by mem
bers is strongly encouraged as our survival is absolutely dependent on the contribution of members to build on our principles and provide you, and us, together, a place where we can bring our ideas to life for many more years to come!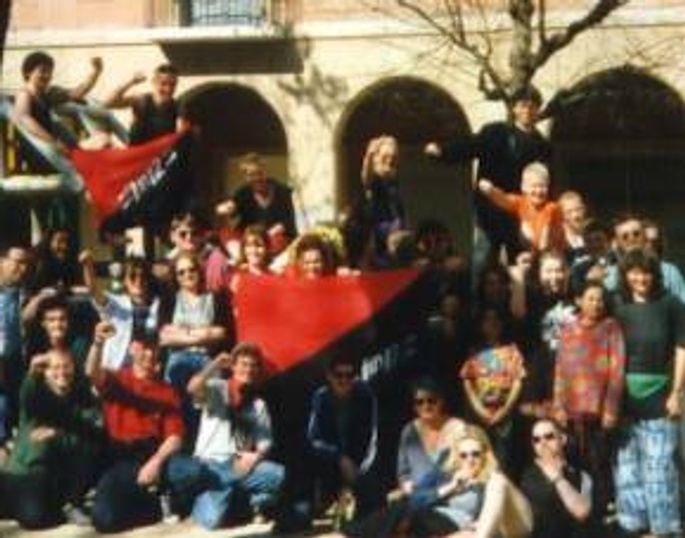 photo: Club Barca' tour circa mid nineties
What we get up to
Members Bar: Open currently Friday – Sunday 7pm -11pm. A space to socialise free from the hassle which characterises many city centre clubs and pubs (we've no tolerance for sexism, homophobia, racism). We do have table football, darts, a (broken – see repair list!) jukebox, cheap beer and real ales!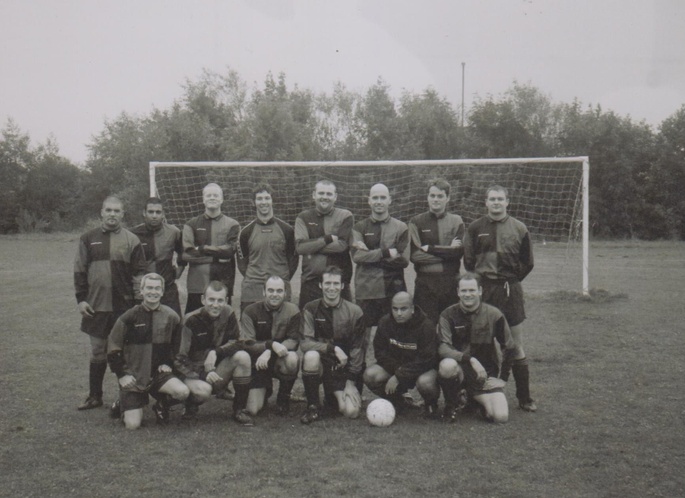 photo: the 1 in 12 football team in 2001
1 in 12 AFC: Established in 1994, the 1 in 12 Club plays friendlies and meets for 5 or 7 a-sides matches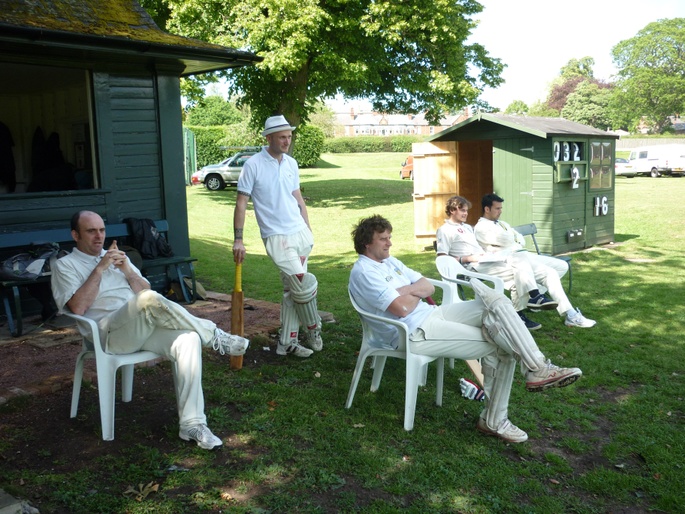 photo: The club team take a well deserved break, probably after winning an international cup
1 in 12 Cricket Team: Established in 2001, the team play friendly matches over the summer months. Anyone of any ability is welcome and tours abroad are not uncommon!
Cafe: We have a Cafe on the top floor of the building. The Collective is at this moment not operational. However, we are planning to open fortnightly for Sunday meals, the same day as Club meetings, to help encourage people to come down, chat, have some great food and participate in the members meeting to help the Club decide its future direction.
Events Room: A fantastic space, where some amazing gigs and Festivals such as Means to an End... have been held over the years. Bands, DJ's dance nights, films, comedy, performance art, quizzes, darts competitions – all this and more happens at the Club! We have an in house PA (with sound engineer). It is available for Members to hire, put on events and bring their ideas to life!
Rehearsal Room and Studio: Built by Club Members, this space offers bands cheap rehearsal space and a studio to record in.
1 in12 Records: A label, established in the late 80s, that has put out some classic releases over the years that have played the 1 in 12 Club! We plan to set up a page online whereby previous releases will be accessible for donation and to build the Club's online musical presence with 'live' recordings from gigs recorded at our new sound desk (with the band's permission, of course!)