UPDATE: I SWAM TO FRANCE!
Your donations got me there stroke by stroke
The weather was unreal, the ocean was flat, a seal kept me company some of the way - I got super lucky! And better still - we've smashed our target.
When I was a teenager I was homeless.
I lived in a pub with my dad, and his drinking got so out of control that the manager eventually kicked us out. Dad went off to live with his girlfriend in a housing commission flat and I had to fend for myself.
At first, I slept on mates' couches. They'd beg their mums to let me stay the night. Sometimes I could, and sometimes I couldn't. On the nights I couldn't, I'd roam the streets. I'd look into houses as I walked by, wondering what they were eating for dinner and where I'd be sleeping later on.
It was a really tough time. I battled my own demons using drugs and abusing alcohol. It took all my energy just to survive. Finally though, one day, the counsellor at my school gave me the number of a youth refuge. I called, and the guy who ran the place came to pick me up. That night, I watched a boy twice my size punch a hole in a wall. I was scared -- I just wanted my Dad.
But I stuck it out thanks to the dependable people around me, especially one of the youth workers. They helped me move to Sydney, where I started an apprenticeship and got my life on track.
Fast forward and I haven't used drugs or alcohol for 13 years.
My situation wasn't unique
Youth homelessness is a bigger issue in Australia than you might think. The Salvation Army reckons 36, 000 young people don't have a home and the organisations trying to help recieve very little funding.
I'm swimming to France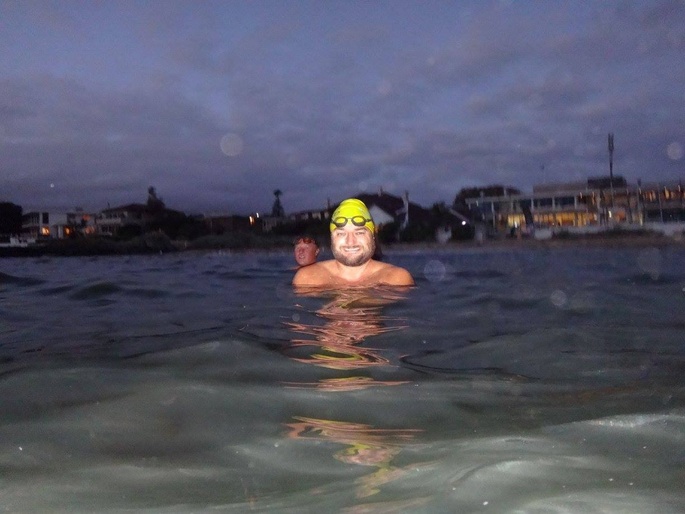 About four years ago I got into ocean swimming to clear my head. It's really helped me get over some of the heavy stuff I was exposed to when I was younger. Last Christmas I swam 28 km from Palm Beach to Manly, and in July I'm swimming the English Channel!
It's one of the toughest swims in the world. The preparation itself is grueling -- early morning training, ten-hour ocean swims, ice baths and long sessions of stretching.
I was initially doing the swim to raise $5,000 for Caretakers Cottage in Bondi Junction -- a crisis refuge for young people. The money will go towards the care packages they give to youngsters as they arrive. But the response has been so extraordinary that I've had to increase my target twice already. I'm now hoping to raise $40,000. This will go towards funding a staff member to teach life skills. If I raise more than this amount there are lots of other ways Caretakers Cottage can use the money.
Founders Laurie and Sara Matthews set up Caretakers Cottage next to Paddington Public School, initially as a drop in centre for young people, more than 40 years ago.

Laurie told me recently that "many of the parents of our clients are themselves in dire straits and unable to adequately support their children. Parents that are incacerated or in rehab or mental health facilities are not able to provide much assistance to their kids."

I know what Laurie means. And I know what it's like to feel very alone as a result.

You can join me
Here's how you can support me:
Hit up this page to make a donation. All proceeds go to Caretakers Cottage.

If you'd like to contribute to my cause in another way, let's talk! Give me a call and I'll take you out for a coffee and/or swim!
Thanks for helping to make a difference.

Cheers,
Brendan King