"the provision of its products for use by the Israel authorities in these (and other) demolitions, is in breach of JCB's human rights responsibilities..."
---
Request for funds
Five pro-Palestinian activists are facing trial for shutting down JCB operations at two different factories. The actions were a response to the Palestinian Boycott, Divestment and Sanctions (BDS) National Committee's call for action against corporations which manufacture bulldozers used by Israel in demolishing Palestinian property.
Both actions blocked all transport into and out of the sites for half a day, with significant knock-on effects for other JCB units in the region.
The activists have now been charged under section 241 of the Trade Union Act for the first action, and section 68 of the Criminal Justice and Public Order Act for the second. Both cases will be heard in June, and we are asking for financial help to cover associated costs.
Costs include:
Travel and accommodation costs for a representative from the Palestinian human rights organisation Al-Haq, who has agreed to act as an expert witness at the trial
Travel and accommodation costs for 5 defendants to attend court: the first case is set to last 2 days, the second - 3 days
Travel (and accommodation) costs for supporters
Costs already incurred, including travel and equipment costs for the actions themselves, and attendance at first court hearings
Background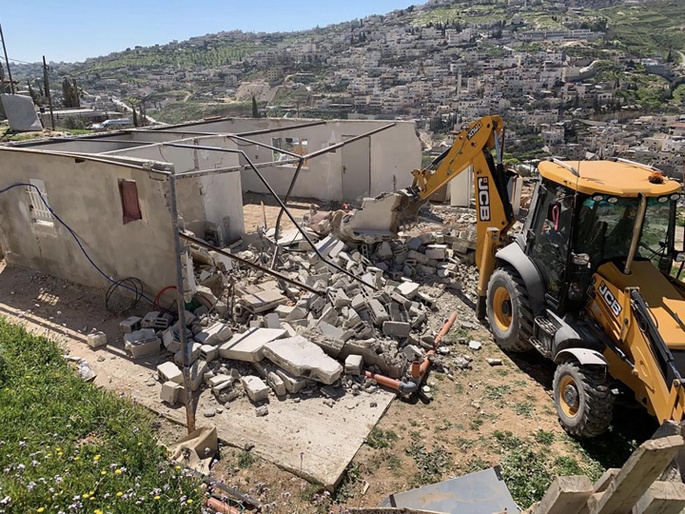 Israel's policy of demolishing Palestinian homes, communities and livelihoods has been
condemned
by
human
rights
organisations
as a form of collective punishment and a violation of international law. Yet Israel continues to demolish between 400 - 1000 Palestinian structures every year. Many of the demolitions are carried out by bulldozers manufactured by a small number of international companies - JCB among them.
In 2018 alone:
JCB machines have been documented taking part in the demolition of 130 different structures - including 31 homes, 2 schools, 22 businesses, 17 graves, and 499 trees.
At least 163 people were made homeless as a result, including 31 children.
Water pipes, roads and solar panels were also destroyed with JCB's help.

Media coverage of the actions
Please help!
We are asking for funds to cover costs associated with the actions and with the court cases. Any excess funds we manage to raise will be put towards further actions.