STRUMMERJAM
StrummerJam has been created by The Joe Strummer Foundation.
Each year, throughout the month of August, StrummerJam's are held around the world to celebrate the life, music and memory of Joe Strummer and to help raise funds for local music non-profits.
StrummerJam fundraising events are registered via StrummerJam.com and independently organised by musicians, promoters, venues, record labels, DJs, artists and music fans.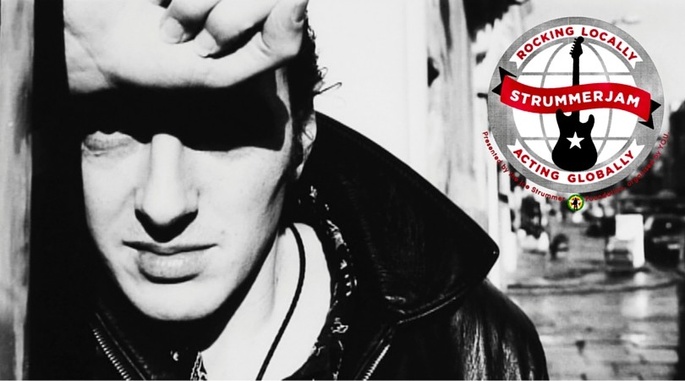 Rocking locally, acting globally
The Joe Strummer Foundation's mission statement is to give opportunities to musicians and support to projects around the world that create empowerment through music.
Over the years we have had the honour of connecting with many amazing people and organisations who passionately believe music can change the lives of those who embrace it.
Here's what we're doing about it
StrummerJam is our way of uniting and mobilising the troops to come together, put on an event, raise funds for a local music non-profit.

And how it's going to change the world
We want to see a StrummerJam in every city, town & village - we want StrummerJam to become the biggest music festival in the world! And to raise hundreds of thousands £'s for small music organisations that really do help to make the world a brighter place to live in.
StrummerJam 2018 will be the 3rd StrummerJam so we have a long way to go to realise our dreams but with your help and motivation to get an event up and running where you live we believe StrummerJam can become something great.
Organise your own StrummerJam
Want to get a StrummerJam up and running? Great! All you need to do is head over to http://strummerjam.com/register/ to begin the process.
Remember that all StrummerJam events are independently organised!
Here's a few StrummerJam ideas:
Local gig in your local live music venue
Busking in the town centre
DJ Clash and Punk tunes in your local pub
Punk Poetry reading at your local art centre
Donate a gig to StrummerJam
Donate % of door takings at a live music venue/bar takings
Fundraising
Funds are collected by the event organisers and will be handed to the registered beneficiary/beneficiaries post-event. Collected funds will be reported to StrummerJam organisers at The Joe Strummer Foundation and will be recorded here on this page to demonstrate a 'collective amount' raised from all event organisers & donators around the world.
If you wish to donate directly to StrummerJam, you can do so here via this donation page. All funds donated directly will go towards the ongoing work and projects that The Joe Strummer Foundation support.
Any questions please contact the StrummerJam team.