25 April 2018 UPDATE:
Kyra had her 12 week post hip and ankle surgery check-up today, and everything is going very well! This wouldn't have been possible without your financial and emotional support, so thank you. The next stage is getting Kyra's ankle back to full mobility through physiotherapy so she can wear a prosthetic again and stop using crutches. This is a slow process but she is very strong, has a positive attitude, and is keen to start running around like her friends! We still need to fundraise £95,000 so we can take Kyra to Amercia for leg-lengthening surgery next Spring. We have been granted charity status and moved to a new fundraising website here. Remember you can keep up-to-date with her progress by following us on Twitter or Facebook.
We dream of Kyra walking prosthetic and pain free. You are helping make this dream a reality.
#StepWithKyra
The original campaign started on 06.12.17 is below.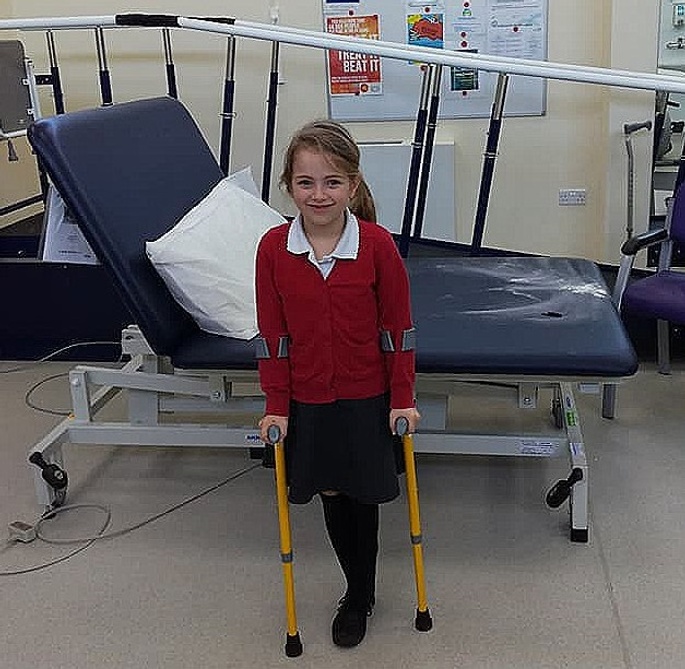 ---
21 February 2018 UPDATE:
Kyra had a very successful operation on 4th February in Israel and we are now back home. Thank you for your incredible support during the first stage in saving Kyra's leg from amputation, but we still need your help! We are still actively fundraising and accepting donations. If we exceed our target of £58,000, all funds will go towards Kyra's incredible leg-lengthening next year. We will soon switch to a different fundraising website which we will link below, with our next target of £95,000!
We dream of Kyra walking prosthetic and pain free. You are helping make this dream a reality.
The original campaign started on 06.12.17 is below.
---
You can help us raise £58,000 in 58 days to save Kyra's leg - and change her life.
---
Kyra is six years old, bright, joyful and mischievous. Like any other little girl her age, she loves playing energetically with her friends. She is facing the prospect of having her left leg amputated above the knee, due to a deformity she's had since birth.
Kyra has Proximal Focal Femoral Deficiency (PFFD), a rare condition affecting fewer than 1 in 50,000 children in the world. This means she has a deformed hip, a shortened left thigh and unstable knee and ankle. As her left leg is so much shorter, she needs to wear a bulky and heavy prosthetic to help her walk, which causes her a lot of pain.
As she gets older, the deformity will become more pronounced, meaning that her prosthetic will be more difficult to manage, and will lead to complications with her hips and spine.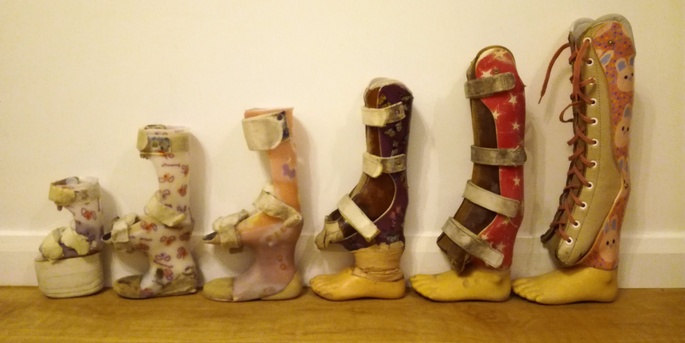 The only option we have here in the UK is for Kyra's leg to be amputated above the knee in order to get a better-fitting prosthetic. Kyra's life as an amputee would be a lifetime of disability. Whilst prosthetics enable her to walk, they cause pain and secondary medical problems, plus a lifetime of medical treatment.
The rare nature of PFFD makes it too costly for the NHS to treat a case as severe as Kyra's. Not only because it requires specialist knowledge, but because it involves costly cutting-edge medical equipment and patients need months of intensive physiotherapy.
But there is another option!
After years of research, we have discovered a doctor with the experience to treat Kyra and save her leg.
Dr Dror Paley, world-renowned orthopaedic surgeon of the Paley Institute in Florida, is the most experienced limb lengthening and deformity correction surgeon in the world. He is an authority in his field, with decades of experience lengthening legs like Kyra's, with a well-resourced team supporting him. Dr Paley has told us that not only can he lengthen Kyra's leg, but that she will have a full range of motion - with no future complications - by the age of 16.
Kyra will need a series of lengthening operations over 10 years, but the first step is to correct her hip and ankle in February 2018.
You can help to raise £58,000 for Kyra's first operation in February.
Your donations will go towards:
Surgery costs
4 night hospital stay
X-rays and MRIs
A special brace Kyra will need to wear as she recovers
Other medical expenses
Overseas travel and accommodation
Insurances
Living costs whilst we are abroad
We need to raise the money in 58 days. Why the rush?
Dr Paley works in Israel once a year, making operations more affordable for non-US patients. This can only be done on 1st February 2018.
If we delay by a few months we will need to raise an additional £40,000 to take her to the USA later in the year. If we delay by 12 months when Dr Paley is back in Israel, her bones won't be able to heal in time for the next operation. This important surgery will set the foundation for future lengthenings and any delays now will have a knock-on effect for Kyra's future.
If somehow we can raise more than our £58,000 target, we will put it towards the first leg lengthening in 2019 which has a fundraising target of £95,000. Treatment will take 3-4 months and we will have to temporarily relocate to America. This will be under a separate fundraising campain....watch this space!
Can you help us raise the funds and allow Kyra to overcome this first hurdle?
Join the conversation on Facebook and get involved with your own fundraising events.
#StepWithKyra
Thank you!