It's all over - A HUGE Thanks!
So we didn't hit our target - but thanks to your donations, we still went ahead and did a slightly scaled down version of the project. We created 5 models which were mounted on plinths for the event. Here's a photo of my personal favourite "Not all superheroes wear capes!". We also recorded several stories of past veterans and their families. We hope to continue our work and more info on the models and our stories will be added to our website soon. Rewards will be sent out shortly!
Thanks again for your support, you helped make a difference....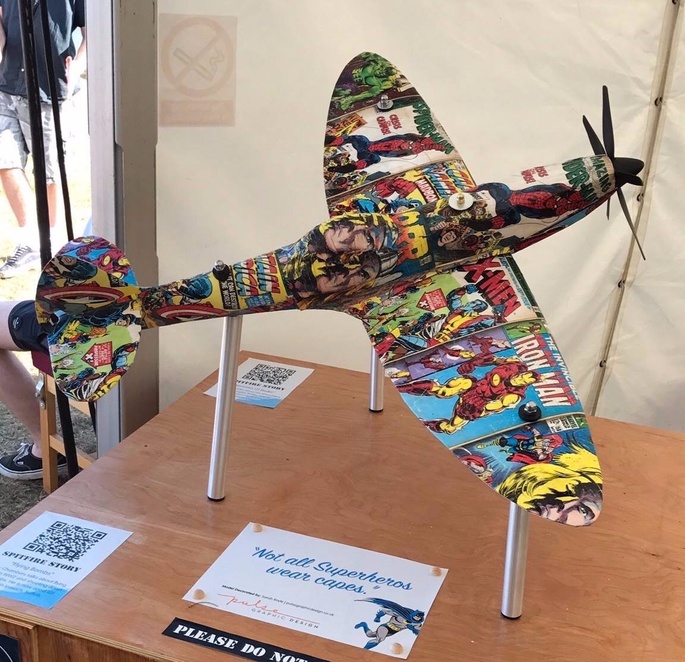 A little bit of context
This year marks the Centenary of Martlesham Heath, an important former WW2 airfield in Suffolk and now a thriving residential and business community. A large celebration event is planned for July 8th and 9th 2017.
As part of the celebrations we are working with the MH100 organising committee to record reminiscences and memories about the area and the people who served here.
Following its establishment in 1917, Martlesham played a key role as an aircraft experimentation and testing facility for the Royal Flying Corps and then the Royal Air Force. The airfield saw many innovations including the early development of radar and blind landings. The prototype of the Spitfire was also tested here.
In WW2 the airfield served as a base for several fighter squadrons within Number 11 Fighter Group that bore the brunt of the Battle of Britain. Famous fighter pilots including Douglas Bader and Bob Stanford Tuck were also based at Martlesham Heath for a time. The famous Number 71 Eagle Squadron RAF, made up of volunteer american pilots was based here too.
After the war, the airfield was used as a base for the Battle of Britain Memorial Flight for a while.
This rich history is reflected in numerous photos and artefacts from the past, but it's the personal stories and reminiscences that we also want to collect and share.
We'd welcome your support to enable us to work within our local community so we can all celebrate these important stories from the people who have helped shape Martlesham Heath.


We don't have much time!
The number of people with first hand memories of WW2 is diminishing fast. We think it's vitally important that we capture as many of their recollections and stories as possible while we can - not just for now, but for future generations to understand and remember. It is also something meaningful to the people we talk to and their families.
If we don't capture and preserve these personal memories and stories soon, they will be lost forever.
Here's what we're doing about it
We are interviewing people to collect their stories and editing these into short videos. We hope to speak to veterans and relatives who can tell their wartime stories.
We're creating a series of model Spitfires that will be decorated and mounted at various locations across Martlesham Heath.
The stories will be made available on-line and via our smartphone app so that as people walk around the Spitfire trail they can listen to the stories. We will also create a legacy by making them available on-line afterwards.
We are hoping to engage both young and old and we want to encourage conversations within families and between generations. We are also working with local schools and the University of Suffolk to engage young people in our activities.
The more we can raise, the more we can do - both in terms of collecting stories as well as helping share and celebrate them. For example if we raise sufficient funds, we will create some multimedia touch screens for people to listen to stories at the celebration event.
Please help us to record the memories of the last of the few!
As an example of what we create, here is a story from a former Spitfire Pilot, Stanley Chambers. Stanley flew Spitfires in the War and is now 100 years old!
Stanley Chambers - On a Wing and a Prayer
You can join us
We are seeking to raise around £3,000. This will be used to fund the project and match other funding we are seeking to raise from local sponsors and companies.
The funds raised will be used to:
a) Undertake interviews to capture and produce stories;
b) Create the model Spitfires Walking Trail and support local artists with decorating them;
c) Provide leaflets and promotional information to get the word out about the trail.

Creating the trail is quite challenging and there's lots involved. Activities include 3D printing the models, manufacturing the mounting brackets, getting the models safety certified, seeking council approvals for mounting on lamp posts, decorating the models, finding a contractor to install them (and remove afterwards). Plus there is work with the interviews and development of the smartphone app. Some of this work is already underway, but we really need your help to complete it!

If we exceed our target, we will extend our activities to capture more stories, add more Spitfires to the trail, build the touch screen kiosks and generally help support the broader MH100 celebration and legacy activities.
Please help us!
There's some amazing perks for supporting us!
We have created some amazing perks in return for your donations!
1. Why not sponsor your own model spitfire on the trail? You'll be named as a sponsor with associated signage and publicity.
2. You can 'pay it forward' to have us record a story for someone - either someone from your own family or let us choose someone.
3. You can buy one our specially commissioned limited edition artworks, prints or mugs. We've teamed up with Pop My Mind, a local start-up to commission these unique pieces especially for the event.
We welcome donations of any amount. If you have any questions or ideas, please get in touch and we'll do our best to help!
Thanks for helping us!

John & the Team
p.s. Don't forget to join us at the main MH100 celebration event in July 8th & 9th if you can details here.
(Nb: Please note that postage is not included in perk costs. We will liaise with you to organise delivery separately. Prints are all supplied unframed.)