Help us publish a co-created mini-magazine, S P A C E. It's about new and experimental poetry, metaphilosophy, photography and graphic art. It's designed for highly creative, process-oriented people.


DK makes S P A C E

---
---
'Let's spotlight and existify a New Art.'
The art of human relationship.
S P A C E is for us
to find remarkable connexion.
with new and different others.

Why make S P A C E?
So we can work better, together.
Engage with meaning.
Listen to those whom we don't yet know.
Understand new perspectives.
Explore. Learn. Create and co-create.
Importantly: Care.
And in so doing, become better versions of our selves.
S P A C E is for all of us.

But mostly,

S P A C E

is
for
you.
---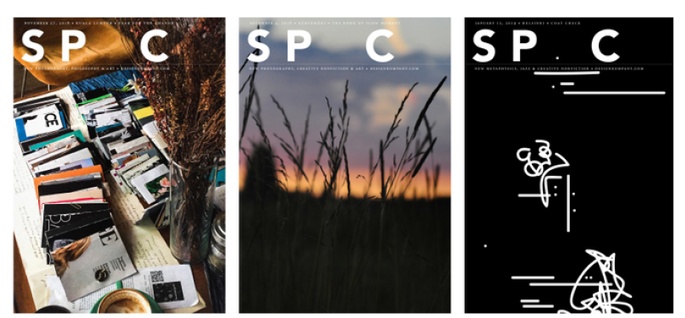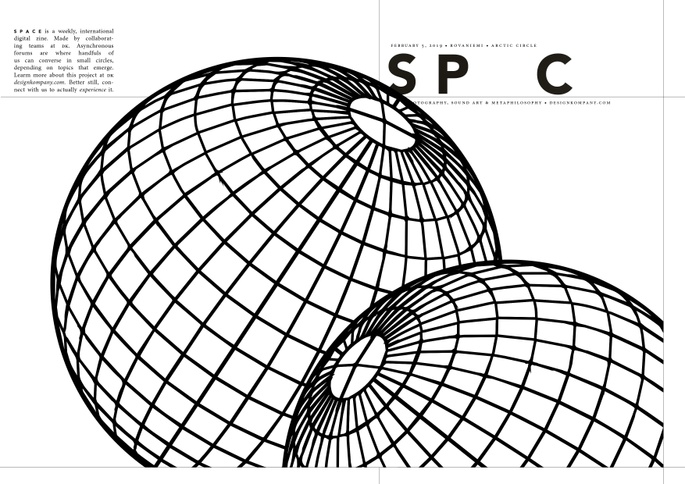 Publication Schedule

Every Tuesday at 7AM USEST.


---
---
Winter 2018-19 collection
'A Philosophy of the Moment'
4 Dec
S P A C E | Kärsämäki, 'The Book of Slow Moment'

11 Dec
S P A C E | Oulu, 'Kesärakkausjuttu'

18 Dec
S P A C E | Phnom Penh, 'Angle of Incidence'
break
1 Jan
8 Jan
S P A C E | Kyoto, 'One Moment Cafe'

15 Jan

S P A C E | Helsinki, 'Coat Check'

22 Jan
S P A C E | Brussels, 'The Work of Art'
29 Jan
S P A C E | Aarhus, 'Janteloven'
5 Feb
S P A C E | Rovaniemi, 'Arctic Circle'

12 Feb
S P A C E | Berlin, 'Strange Geometries'
19 Feb
S P A C E | Singapore, 'The Prospect of Beauty'


26 Feb
---
---
Spring 2019 collection
'The Book of New Things'
5 March
S P A C E | Đà Lạt, 'In the flowers'
12 March
S P A C E | Pangkor Island, 'Two Pisces'


19 March
S P A C E | Kuala Lumpur, 'Kaunter Tiket'


break

2 April
S P A C E | Haapavesi, 'Katsotaan'


9 April
S P A C E | København, 'Run, Eliza'


23 April
S P A C E | Phnom Penh, 'Angle of Reflection'


7 May
S P A C E | Johor Bahru, 'Love from Johor'


14 May
S P A C E | Bangkok, 'Julian Willoughby'

21 May
S P A C E | Sheffield, 'Briefly in Sheffield'


4 June
S P A C E | Ninh Bình, 'The End of the Line'
11 June
S P A C E | Huế, 'The Book of New Things'
---
---
A new humanism: empathy, trust
All of this 'spacemaking' stuff started with a salon in 2004 in Seattle, 'Flourish: what is the role of the artist?' We gathered: neighbors, friends, clients, colleagues, and even competing design studios to talk, together, in dialogue, exploring an important (but oft unvisited) query. In those days, 'In pursuit of beauty,' and 'In search of meaning' used to be categories on our blog. At the start our vision was, 'Anything is possible.'
Today we're making S P A C E. More and more important in today's shifting geopolitics, we feel, is quality space for *new* and *different* others to discover each other.
Since 2014 we've been writing and publishing the weekly eZine S P A C E, from Cambodia's Phnom Penh.
How we got here is another story, a year of 'seeking' and 'practicing the new, uncertain, and different,' that you can find outlined in our 2012 'Year of Dialogue' project. A time of searching for 'voices from the margins', in order to share real stories about real people from 'the field' through the Letters from Kismuth project.
S P A C E is for those who are curious, and seeking meaning, to learn something new about where and how others, in other places, think and live,
S P A C E is a way for us to begin to connect and dialogue together in our forums, salons, and real life moments. To find common ground, to connect and interconnect, and even co-publish new zines. Together.
But mostly, S P A C E is for us to discover... you. To meet, to converse, and through creative processes we've explored and built over the years (iterating, tweaking, the usual things you do in the work of design). But also, above all, S P A C E quests S P A C E. It wants to make a firm place what DK feel is tantamount for true collaboration that really works. If we all want to make better work and live in a way that invites query, search, seeking, connecting deeply, and introspection that comes of all this, we need more S P A C E to play.
---

---
Budget
Here's what it will cost to make S P A C E.

Layout and Design: USD 6K
Atelier materials: USD 200
Research: USD 2K
Talent hire (artists, writers, photographers, etc): USD 2K
Admin: USD 200
Photocopying & Postage: USD 200

Total needed: USD 10.6K
less

Design Kompany LLC's investment: USD 5.0K
equals
Campaign goal: 5.6K


---

---
Why 'zines?'
'Zines*' remind us that at the end of the day, we get to create and write our own stories. The stories of our lives—the stories that remind us who we really are. DK are makingthese kinds of zines.
Offline. Without distraction.
*What are zines? Photocopied short publications we make ourselves and give our friends or our community. Such personal pieces give us a tangible grip on the here and now.
---

Creative team


Michael Bridgett, Jr. | Jānis Žguts | Dipika Kohli

Learn more about DK
Processed Identity | GOOD | TEDx | Ignite Raleigh
UNC-Chapel Hill | ThisBigCity | NPR