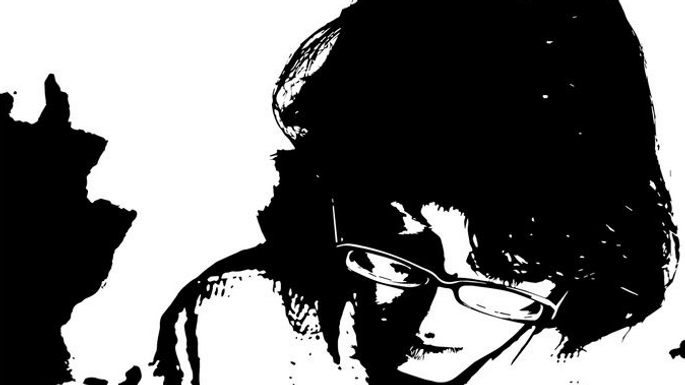 Dipika Kohli / Photo by Boss, Dalat 2019
A journalist and designer,
DK's creative director
Dipika Kohli connects
new and different others
so we can make something.

Together, in S P A C E .


'Works of surrealism feature the element of surprise, unexpected juxtapositions and non sequitur... the works [are regarded by the artists as] an artifact [of a philosophy that invites creation through automation, lightness, discovery and play.*].' --Wikipedia *At least, that's my take. ;) DK


A new S P A C E,
every Tuesday
---
46 ISSUES AND COUNTING. This has been going since 2018's winter, with the first collection, S P A C E | 'A Philosophy of the Moment.' Conceived with the help of teammates that helped us sketch and thrash out the seed of an idea—HT M, J—it was an exhilirating time of learning and discovering. Since then, we've practiced and continued to tweak and iterate. Through doing. At the time of this writing, there are 46 issues in our online store. Learn more about the journey and find links at DesignKompany.com.
In this way, S P A C E documents these moments of artul conversations, often taking place in real life and which are happened-upon by chance. Part photograph, part essay, mostly creative nonfiction with bursts of high-contrast graphic art in DK's signature hand, this is what we are creating. DK packs the highlights into a 16-page mini-magazine. It posts every Tuesday at 7AM USEST.


Dipika Kohli presents 'Fuzzy Quantum Pop,' Raleigh NC 2012
Dipika Kohli says: '...I'm always asking, 'What's next? What comes after this? What can I learn now that I've done this, so far? How can I build on this, for richness, complexity, texture, and meaning-making? Other people want to know, too, I think. That's why we're opening this up, so it's not just about me being largely on my own with this, now, but me making S P A C E with, and for, others, too.' ✨
So far we've been to: Finland, Singapore, Slovakia, Poland, Latvia, Cambodia, Thailand, and Vietnam. That was 2017-2019, for the Atelier S P A C E popup project. Now we want to interconnect some of the people we've met along the way.

To make, with us.

And you.

In S P A C E.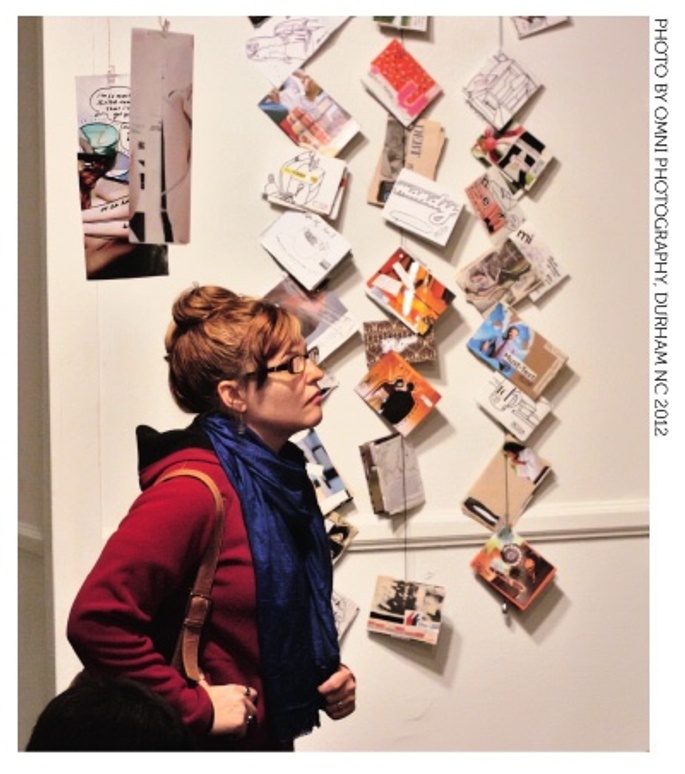 Natalie Rich checks out the artwork at Dipika Kohli's solo show 'Today I Love You,' in Durham NC / Photo by OMNI Studiophotos, Durham NC 2012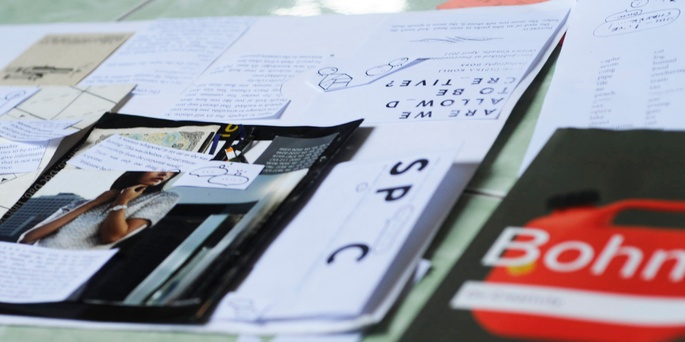 'Show the process, DK' / Pic by Boss, Hanoi 2019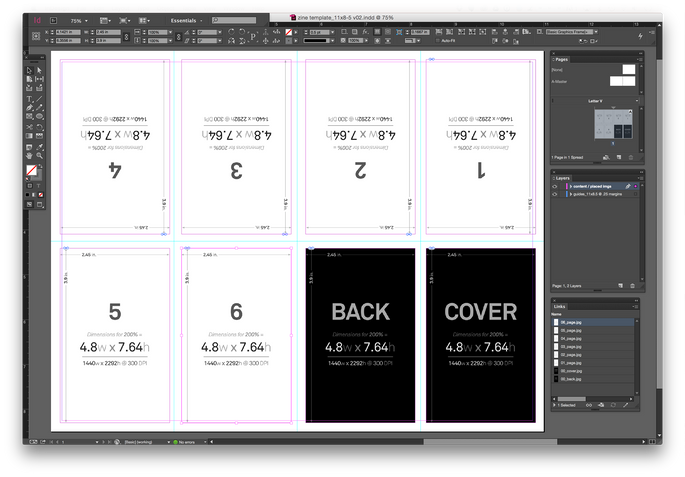 Template for how to make a zine.
---
INTERACTIVE ZINES. Busy and overwhelmed? Each week, set aside a time for just you, to get creative. Here's how. Download, print, fold, and sew your own, to make S P A C E at home. In this way, you, like our team, will be setting aside time to focus on just the creative process. Subscribe to get our weekly e-mag [$28/mo], and, starting in December with our Winter collection, S P A C E | 'Project Epicurus,' you'll get both a color version for screens as well as a printer-friendly black-and-white one, too.
Make the time to slow down, get creative, and interact with the magazine to give it your own personal flair. Print a few and make a date with a few friends, or work with your teenagers, to do something together. Offline. Plus... if you're feeling like a nudge, creatively, subscribe to Make | S P A C E and see how it works with our homemade style of 'making in the cloud.' See how our interactive digital papers and real time forums, work. Join in virtually every Monday to see how the next day's issue is made. It's... fun. 'We wouldn't be doing this if it wasn't fun,' says DK. ✨
---
In an age where the internet can confuse and lie to us, 'zines' (xeroxed short publications we make ourselves and give our friends) give us a tangible grip on the *here and now*, and remind us that at the end of the day, *we* get to create and write our own stories: the stories of our lives, the stories that remind us who we are.
What people are saying about DK
---
"I really enjoyed our conversations and am so glad I met you when I did... I loved getting to chat with someone who was so knowledgeable and interesting." —A, 2019

"I marvel at all the amazing ideas you come up with — AND bring to life!"—SY, 2019
"Thanks for your nicely done S P A C E I enjoy it every time!!! :)" —IB, 2019
"How was your experience in Riga? What did you learn there, the events were successful? I have so much questions, I really wish to see you for conversation about life. You were very inspiring." —M, 2019
"Rock the world Dipika ♥️☺️. Thank you for everything, it was amazing times with you." —T, 2019
"You changed the way I think." —SJ, 2019
"Good times. I will always remember them" —N, 2019

"Meeting you was a highlight of my trip." G, 2019
"I'm still thinking of that conversation from four years ago. That's why I came to this one. I knew if you were doing it, it was going to be interesting." —GC, 2019

"Thank you for coming to Latvia and trying to get us to talk to each other... I hope you'll come back next year." —S, 2019
"You're a catalyst for conversations. People might not know where those conversations go, or what new relationships with new people could develop, but you start them. You make the space. You show up." —DM, 2019
"I haven't felt like this for... years!!... Thank you, D' —RS, 2019
"You stirred something in me that has not moved for a very long time." —P, 2018
"My mind is, after this conversation, blank. Like, zero. And I mean that in the best possible way." —M, 2018
"Astonished…" –B, 2018
"Thanks so much for the feedback, Dipika." —M, 2018
"Thank you for the opportunity.' –F, 2018
"I love the space you are creating and holding around the world for deep thought and unusual connection." —KA, 2017
"Meeting so many kinds of people at different walks of life was inspiring, because people who show up, I call this 'self-selection', are the sorts of people who are looking to explore and get to know others interested in also exploring. Making oneself available to come to an event that seemed to hint at others also taking a chance on trying new things did something very important. It showed me that the barriers to me doing what I want to do creatively start right here, with myself. A skeptic inside fights the opportunities that arise. I joined a writers' group, and then your workshop… It motivates me, makes me feel like I am part of something great," —D, 2015
"My writerly friends (those who do so publicly and privately), I've been participating in Dipika Kohli's CoJournal project since just before the new year (2014). It's a unique project and it's pretty special. If you've been looking for some structure or accountability in your writing – and supportive community in very small groups, this could be for you. Dipika is a compassionate leader and offers some accessible assignments that are helping to shift my writing lens. I love it."—MH, 2014

"I am writing because I wanted to thank you all for sharing ideas and memoirs, I am very much impressed and really enjoyed the workshop [SELF]. I've been working on my writing, and finished one short story which I feel so happy after I finished writing it (it's in Thai.) I'm working on its English version pretty soon and will send to you all for the feedback. Bottom line is I'm happy to let you know that I've somehow overcome my fear of writing, though there're times when I got stuck with the stories, get distracted, or feel like it's not good enough – if it was before, I was just going to give up. Now, I feel it challenged me and I find writing more enjoyable. Most importantly, I feel like my writing is getting better too." –JL, 2014

"Your touch is really delicate and modern. Quite lovely." —PP, 2007

---
Boss
Michael Bridgett, Jr.
Lee Moore Crawford
Paavo Heinonen
Saqib Jan
Dipika Kohli
Akira Morita
Aske Pedersen
Nils don Sihvola
Rastislav Somora
A. Spaice
Kan Tomizawa
Reijo Valta
Jānis Žguts


---
Michael Bridgett, Jr.
Dipika Kohli
Jānis Žguts

#spacethezine #trusttheprocess