The 2010 eruption of Mount Merapi, Indonesia's most active volcano, had devastating consequences. 394 victims. 3000 homes destroyed. Thousands displaced. The intensely beautiful, rich green canyons dense with jungle, reduced to nothing but dust and ash.
Sri was 7 years old when her world was violently shaken; she found herself cramped into a makeshift evacuation camp which would be her home for the next 2 years. Sri and many other children suffered insufficient and irregular schooling during this time leaving them seriously behind in their studies. Homeless, stuck in a state education system which could not fully support them, what hope does Sri and the other children of Merapi have of achieving their full potential?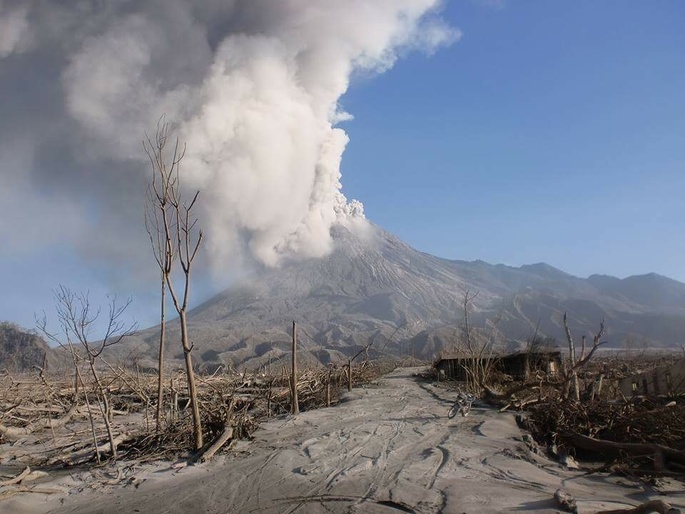 Life in the Red Zone
Sri's village, as well as many others, was announced as a restricted area, a 'Red Zone'; the land that had been home to their family for generations, now forbidden from resettlement and redevelopment.
Seven years after the eruption, the forest has regrown, vegetation is lush and and wildlife has returned to the mountain. There is no doubt that the volcano is still dangerous but it is also a spiritual place of real resonance to indigenous communities and of course, it is home. Many members of our community resisted the government mandate, and following the calls of home, came back to their ancestral lands on Merapi. The mandate means that communities on the volcano exist without government funding towards essential infrastructure such as water, health-care or education facilities. Of even greater concern, is the lack of a disaster mitigation strategy. For those in the Red Zone, disaster preparation is entirely in their own hands.
So how can we help these communities and children like Sri secure their right to health and wellbeing? What can we do to encourage growth whilst securing the safety of those living near and visiting the volcano?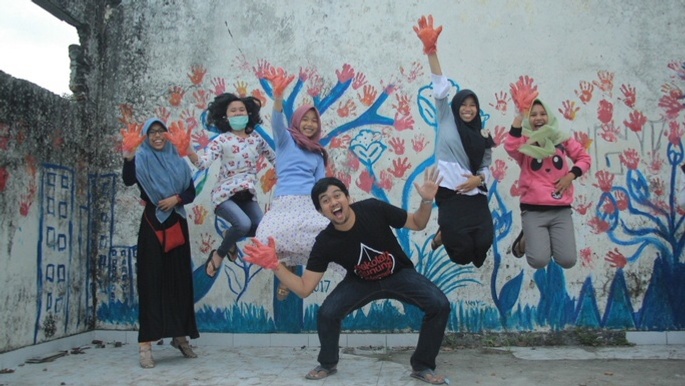 Our story
We are husband and wife team Yasmin and Fajar; we started with nothing and now we have a school, a playground, a garden and a library which serves the whole community. We started Sekolah Gunung Merapi in 2015 to support young people living and working in the Red Zone and make them more prepared for an uncertain future.
The mission of our school is to provide much needed educational support, offer programs that empower young people and help them become responsible and environmentally aware adults. Our key focus is promoting creativity and moving children away from learning by rote, teaching them that learning can be fun, boosting their confidence and self-belief.
We also want to lead the development of a comprehensive, community based disaster mitigation strategy.
All services are open to all and free. At the heart of what we do, is helping the wonderful community we find ourselves in.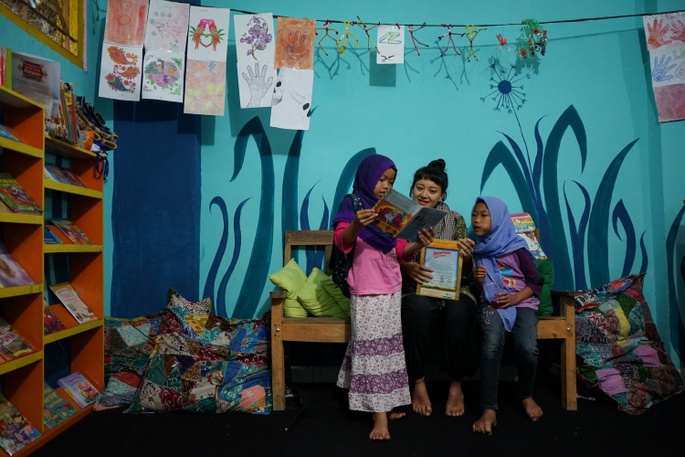 How you can help
We need your help to ensure the school keeps doing more of its great work. Your donation today will help to maintain and extend the daily activities of our school, our amazing classes, our library, as well as to finance much needed restoration.
A little goes a long way. Here's the kind of thing your generosity would go towards:
$10 – A library book
$25 – Stationery and teaching materials for a term
$50 – A month of food and transportation for a teacher
$100 – Vital repairs to the school building
$250 – Running of the school jeep: we want to invest into making the school more financially independent and stable for the future. A school jeep would be used for Merapi tours with all profits going back to the school.
Thanks for your time, please help!