SAVE ART I SAVE HISTORY

The National Art School is very fortunate to have an extraordinary sculpture in our collection made by Rayner Hoff in 1920, Hercules, Achelous and Deianeira. Unfortunately the work is very badly damaged and we can't display the work in its current fragile condition as it needs major restoration.
Who was Rayner Hoff?

Rayner Hoff was a talented and charismatic sculptor who established the School of Sculpture at the National Art School in 1923. An influential teacher and artist, he is best known for his major sculptures adorning the Anzac Memorial in Hyde Park, but he also designed the original Holden lion logo, won the Wynne Prize in 1927, and was considered the most gifted – and controversial – public sculptor in Australia at the time.
Our artwork is damaged...
Hercules, Achelous and Deianeira is a rare and significant work made by Hoff in London when he was a student at the Royal College of Art. Based on the Greek myth of the mortal Hercules fighting the river God Achelous for the hand of the king's daughter Deianeira, the relief is a beautiful example of Hoff's talent. Unfortunately over the years the work has been badly damaged and has been left with 18 cracks and crumbling plaster.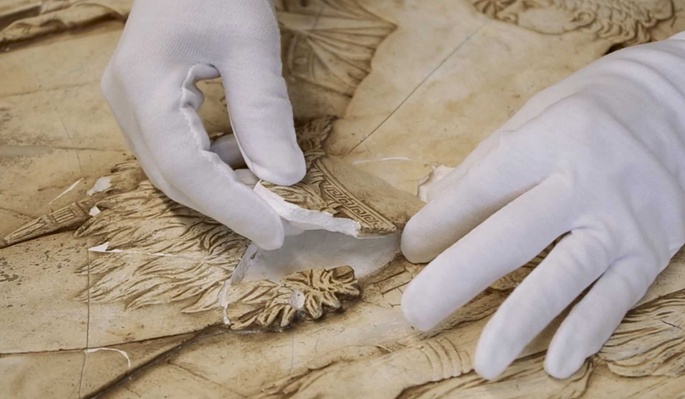 Here's what we're doing about it
We are going to restore Hercules, Achelous and Deianeira to its former glory, which requires careful, expert restoration. We are very lucky to have such an exquisite work in our collection and we want to be able to share it with everyone!
You can help us
To restore the artwork is a specialist and complex undertaking – in fact, there are only two people in Australia who can restore the work. Our specialist restorer's process is much like putting a jigsaw puzzle back together. The sculpture needs to be pulled apart, all the cracks sealed and then completely reassembled.
We have some great perks on offer!
For your donation we are pleased to offer the following:
$1,000 Personal archive tour for you and up to 6 friends and all below
$500 Group archive tour for you and a friend and all below
$250 2 x VIP season tickets to NAS Gallery exhibitions and all below
$150 Signed copy of Rayner Hoff book and all below
$50 Exclusive NAS tote bag and all below
$25 Special mention as a Save Art Save History Champion
Thank you for helping us Save Art and Save History!
*The National Art School has DGR status, and donations are tax deductible (minus the retail value of goods). The National Art School will issue a receipt upon donation, please see the perk descriptions for more details.