Your pet is not safe
You're a responsible pet owner. You love your pet and consider him an irreplaceable member of your family. You care for him, celebrate his birthday, and work hard to keep him happy and healthy.
You would be devastated if he ever became lost. You would want someone to care for him and try and return him to you.
It might be hard to think about, but your local pound is a dangerous place. Disease, mistreatment and unnecessary killing is 'business as usual' in our Australian animal management system. In fact, the biggest risk to the life of any healthy pet in this country is getting lost; and being impounded and killed.

That is why I need your help

Hundreds of pets die every single month in local council pounds due to mix-ups, accidental killing, improper scanning of microchips, paperwork bungles and pound-acquired fatal diseases.
Your pet could be the next victim. Even if you have done everything a 'responsible' owner can and should do, your pet could be killed simply for becoming lost.
Worse, if your pet does die at the hands of your local council pound, you will not be compensated. You might even still be fined!

This needs to change
If you think killing pets unnecessarily is wrong.
If you think our pets deserves the very best care and a world-leading animal management system.
If you want pounds to be safe for all pets (including your own).
Please join me in this fight to make safe pounds a reality. Become a patron to my project to make all pounds safe for pets.

____
Who am I?
My name is Shel Williamson and I believe pets should be safe if they ever become lost and need the help of a pound.
About 15 years ago, I started working at a local animal shelter. I quickly realised that they were doing very little marketing for their adoptable pets, and at the same time they were killing pets for "space" claiming no one wanted to adopt them.
I had the idea for a tool which would help adopters connect with rescue pets online. It would grow into Australia's most visited charity website, PetRescue, which now sees more than 3 million visitors every year and has helped place nearly 300,000 pets.
But after a few years, despite being free and effective, the uptake from local council pounds to use PetRescue was still very low - barely a dozen pounds nationally. I started investigating the animal management and sheltering industry in Australia and from 2008 to 2015 I wrote the most popular animal welfare blog in Australia - Saving Pets - to try and build an understanding of the issues we faced in making all pounds safe for our lost and needy pets.
In the last few months I've stopped managing PetRescue to pursue a project working specifically to make pounds a safe place for all pets. With the generous support of the pet loving community, we've recently launched a new website featuring a series of guides for pounds and animal advocates called the Safe Pounds Guidebooks.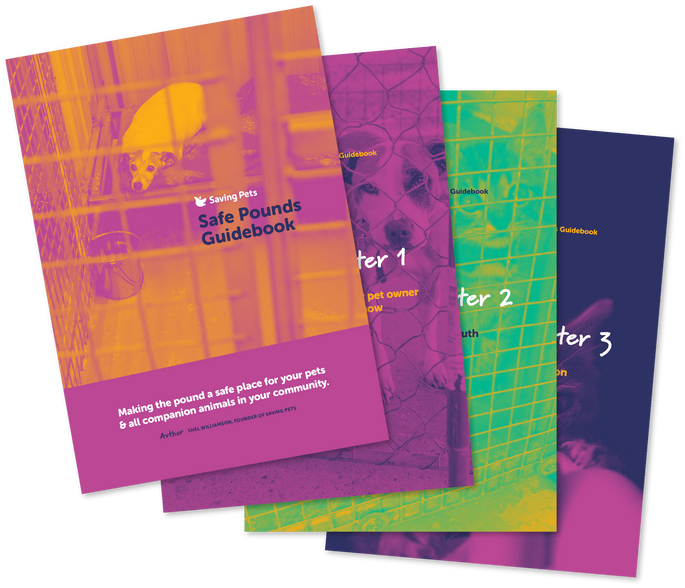 These resources act as a blueprint for anyone wanting to reform their local council pound.

____
What is this project?
I believe a a series of web-videos building up to a feature-length documentary has the potential to bring the awareness needed to get this issue on the national agenda.
These videos will detail the way we manage companion animals in Australia; the great, the good, the bad and the ugly!
Only by helping pet owner understand how their companions will be "processed" can we begin to debate whether these processes match our expectations and - where necessary - start to evolve the animal management industry in Australia to reflect our modern, compassionate views of pet ownership.
I plan to make a series of short films on animal management and rescue, building towards a full documentary as I continue to gain resources and skills. I have partnered with a professional film-maker, scriptwriter and other relevant advisers to deliver a more professional result - and access to these resources is entirely dependant on how successful I am at securing your support today!
You're a pet lover who wants the life of your pet respected should he ever become lost.
Let's be the first generation to boast that we have secure, safe pounds for all our pets.
You can be an integral and vital contributor to this historic movement in Australia simply by becoming a project supporter.
Thanks for making it all the way to the end! You're exactly the kind of dedicated person we need on the team! Your action today will ensure your pet is safe should he ever need the help of a pound.
Be a hero to pound pets. Please pledge your support now.
____
FAQ

Please note: becoming a project supporter is not a donation, or a tax deduction, as I'm a person, not a charity. If this is something you're requiring, please consider giving to your local pet rescue group and thanks for caring! :)
Why you no give perks?
Because I know you want 100% of my effort and attention to go to making this project a success. What I can guarantee is regular updates on the progress (at least monthly) along with a professional result which will benefit all pound reform advocates in their work. That said, if you want a 'perk' or additional input into the project, then I'm just an email away - [email protected]
I want MOARE!
For regular news updates on the fight for safe pounds, please join me on Facebook and Twitter and Saving Pets.