The plan...
You can help to fund a breeding program at Halls Gap Zoo, which will help to potentially save the Southern White Rhinoceros from extinction!
In a little over a decade more than 7,000 Rhinos across Africa and Asia have been lost to poaching, with an animal that carries its young for 15 months and only breeds once every 3-4 years this level of poaching is not sustainable for any species. Southern White Rhinoceros are severely threatened due to poaching by humans and habitat destruction, leaving them with limited living space and minimal food supply.
Halls Gap Zoo has been selected to take part in the Southern White Rhinoceros international breeding program. We have two male rhino already earmarked for transport to the Grampians National Park in Western Victoria. The permits are done, the building has commenced and staff are getting ready!

But there's one problem
The only problem is, we need to book a flight for "Tino" the Rhino from New Zealand! This young bull will bring a fresh bloodline of genetics into the Australian Rhino population.
This is a massive project for a private zoo. We estimate with all building, landscaping, quarantine and transport costs, we are looking at about a $300,000.00 bill. Most of which we can handle, we just need a little assistance with the transport costs and anything extra will help us create the best facilities possible for these boys.... and their future ladies!
So you understand the cost of housing Rhinos, here is a breakdown of what we are up against...
Permits and consultant fees $11,000 - Complete
Building Materials (fences, sheds etc) $129,500 - Started
Labour and machinery $100,000 - Started
Landscaping $12,000 - Almost complete
Quarantine $10,000
Air Fare $26,000
Transport in Australia $10,000
Signage and advertising $6,000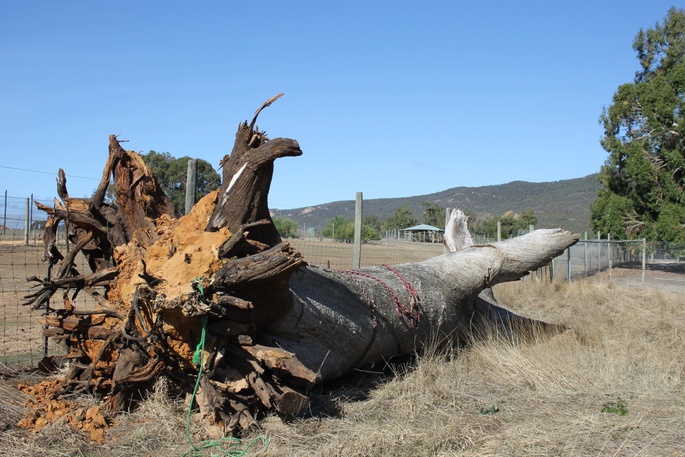 Here's what we're doing about it
Rhinos, we all love them and we all want to save them, right?
With an estimated 20,000 Southern White Rhino left in the world, we need to do something, the sooner the better.
Southern White Rhino can be quite particular about their breeding requirements and need space to feel comfortable to breed, we have that. They need keepers with knowledge and understanding of the species, we also have that! We are also Victorias largest regional zoo and with your help, soon to be home to some of the worlds largest animals.

You can join us
There are so many ways you can help, as every cent counts and 100% of your donations will go straight to the flight, associated transport and quarantine costs for Tino.
You will be helping transport a Rhino - how awesome is that!
Just a visit to Halls Gap Zoo with your family and friends will also be helping us pay for this HUGE project! Come and see what we are all about and the work that we do. Enjoying any of our amazing animal encounters will also help the cause.
However, if you can't get to the Grampians to visit us, we have some awesome perks as a thank you for you assistance.
Rewards for your donation
The team at Halls Gap Zoo never expects something for nothing! We have some amazing perks for your contribution. But even the smallest donation will come with the BIGGEST appreciation from all at Halls Gap Zoo, Thank You!
If you want to sponsor the project and advertise your business with us please contact [email protected] for additional options.
Let's make these boys at home in the Grampians!