Keep the mobile library for refugees on the road!
Imagine life as a refugee in Greece. For many, this is as far as you will be allowed to go in your journey to a safe place to build new life. Fleeing from war, economic hardship, or persecution, you are told to wait indefinitely for your asylum application to be processed. At any moment you could receive a call telling you your claim has been rejected, and you will be deported. Language barriers make integration difficult. An uncertain legal status limits your access to formal education. A nearly non-existent employment market makes you feel like building your future is impossible.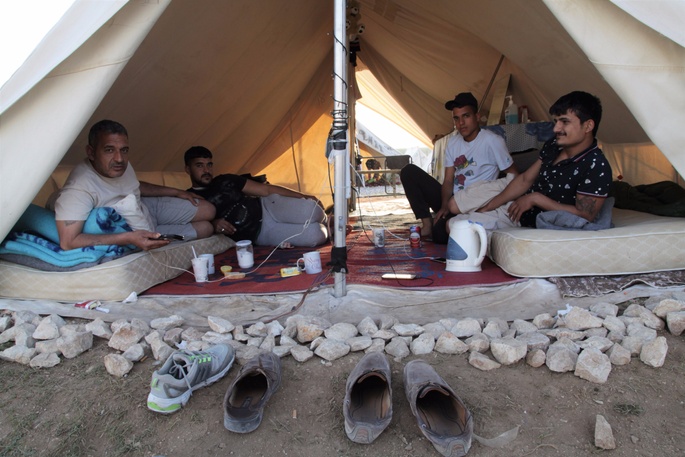 Photo credit: Laura Samira Naude
ECHO Mobile Refugee library is on a mission to change this. We are an educational hub servicing camps, squats and community centres where asylum-seekers wait for their asylum claims to be heard and processed. Some will live in this status-less limbo for years, with limited access to formal education and a nearly non-existent employment market.
In order to assist asylum-seekers with gaining qualifications, learning languages, applying for jobs or just getting lost in a good book, our mobile library offers:
Access to online university courses with certification through platforms like Coursera

Access to language learning resources, both print and digital

Advice on CVs, cover letters, university and job applications

Books in Arabic, Farsi and English (though we are always expanding our collection)

A pop-up social space with tea, coffee and board games
575 book loans, 100 hours of English classes, 50 PDF bluetooth transfers, 19 online course enrollments, and 2 tyre changes later, we are still going.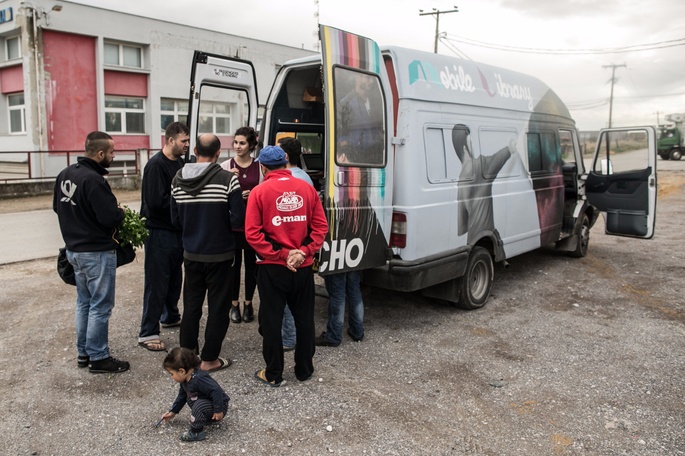 Photo credit: Keoma Zec
But now we need your help.
We currently survive solely on generous donations to keep the mobile library running. Without a steady source of funding, the library operations will inevitably have to close down.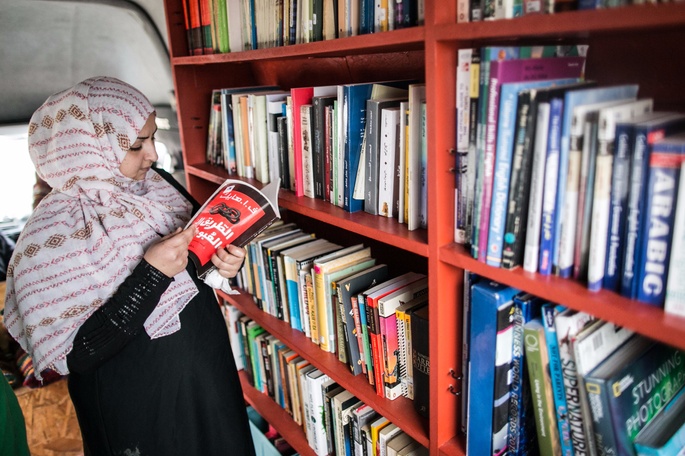 Photo credit: Keoma Zec
This is Greece for a refugee.
Over 60,000 refugees were stranded in Greece after the closing of the borders to the rest of Europe in March 2016.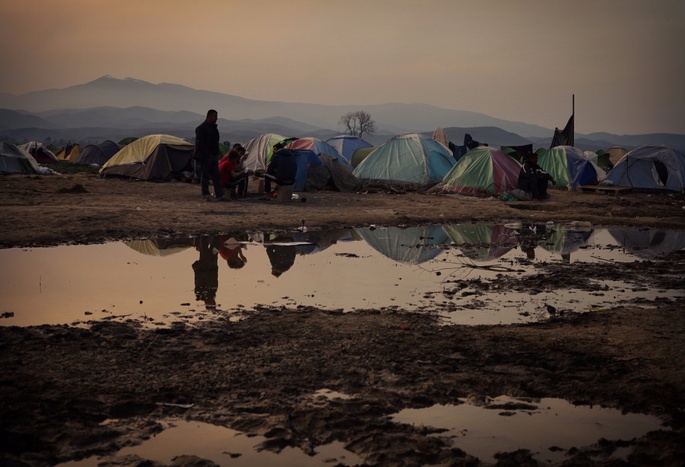 Photo credit: Laura Samira Naude
The asylum process is long and uncertain. Even 14 months after the borders closed, asylum-seekers can expect to wait anytime between 2 to 10 months before they will be relocated to another country. For others, relocation is out of the question, and they will have to stay in Greece and try to overcome prejudice and language barriers to integrate into an already struggling economy.
The wait is lengthy, and agonising.
For children, valuable years of education and development are being lost. For teenagers and adults, the lack of opportunity to study and build their futures, or to work and provide for their families, is the most difficult part of this entire journey.
These are people full of drive and dreams of the future they desire for themselves and their families. They are intelligent, skilled, and hard-working, seeking only the opportunity to build their lives in safety and with dignity.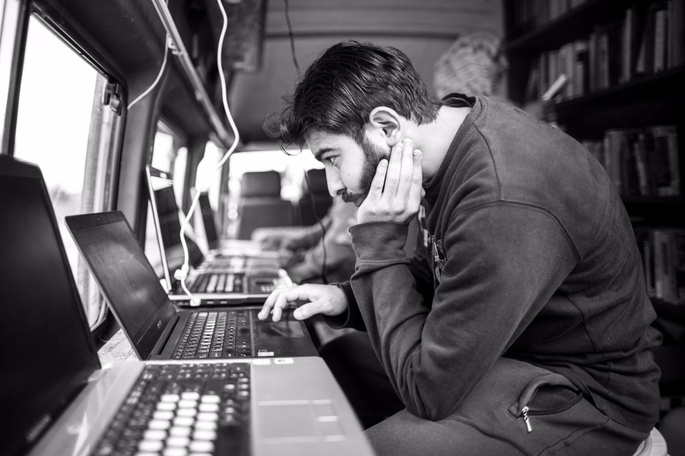 Photo credit: Keoma Zec
Who are we?

ECHO was formed by a small group of volunteers, who fell in love with people who showed the truest face of humanity in an inhumane context. Ranging from the UK, Belgium, Ireland, South Africa, Peru and Holland - we came from all over with one vision to do something for the incredible and resilient Syrians, Iraqis, Afghans, Pakistanis and Kurds we met in Greece.
We are a small but deeply dedicated team. We are always looking for committed members to join us!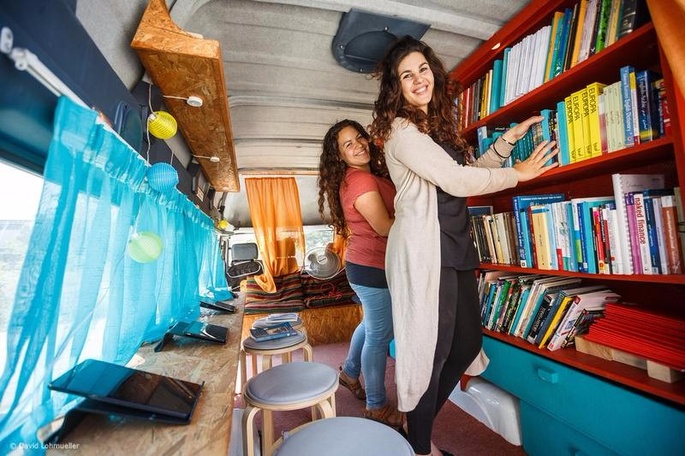 Photo credit: David Lohmueller
The past 6 months

Our previous Chuffed.org campaign enabled us to start a library in a camp in Northern Greece.
In this highly volatile and ever-changing context, adaptability is of the essence. Entire camps can close and whole communities be moved with one day's notice.
To better adapt to this context, we launched the mobile library in November 2016. By December 2016 we were visiting 7 locations - camps and housing blocks for vulnerable groups - throughout Northern Greece, offering the library services to over 3000 people (10% of the refugee population on Greece's mainland).

Now, as many camps around Northern Greece have been closed, we have moved the library to Athens so our resources get maximum usage.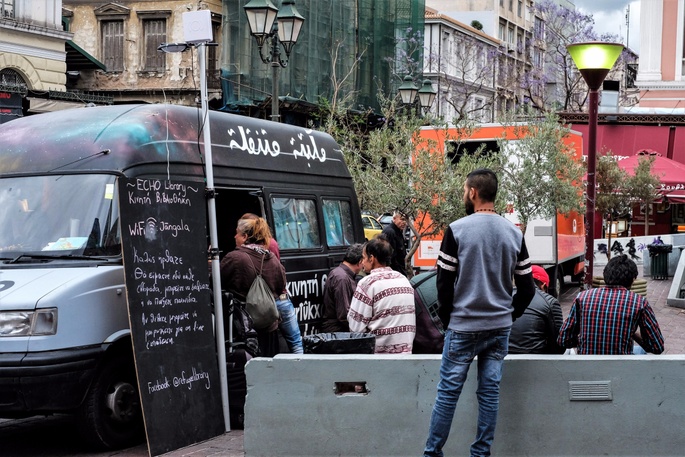 Photo credit: Laura Samira Naude
We need your help now
Everything we have been able to do up to this point has been due to the generosity of others supporting this initiative.
The mobile library costs around 1100 pounds a month to run (excluding our coordination team's expenses which continue to be paid out-of-pocket). In the interest of transparency, we are happy to provide a full breakdown of costs to anyone who asks.

Every little bit helps keep us on the road. Entire lives are at standstill; they need not be. We want to keep dreams and drive alive, regardless of circumstance. You can help us do that.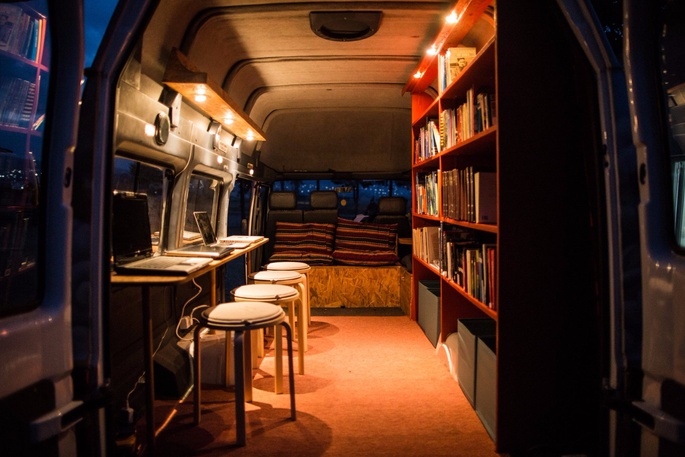 Photo credit: Keoma Zec