In 2010, in Brighton Pavilion we said 'No' to politics as usual and elected Caroline Lucas to represent us in Parliament. In 2015, we re-elected her with a bigger majority, and in 2017 we want to make sure Caroline stays as our MP.
She's been a passionate campaigner for the environment, the NHS, social justice and human rights. And she has helped hundreds of people in her Brighton Pavilion constituency.
Why We Need Your Help
Theresa May has called an early election on June 8th because she wants a mandate to force through an extreme Brexit, with consequences that could be devastating for our environment, for our economy, for our world-famous health service, and for our city.
In Brighton, we overwhelmingly voted to remain part of the EU. Caroline has guaranteed that she will be fighting tooth and nail for the best possible outcome from these negotiations; standing up for EU nationals, defending our environment and protecting our hard-won social rights.
As the only Green MP in the UK, it is vital Caroline is re-elected. We need her voice to continue to be heard, standing up for what we believe in. We can only do this by making sure that Caroline is re-elected to represent us on the 8th June.
Nothing is certain in politics at the moment. And we need to run a great campaign to make sure that we keep Caroline as our MP at this election, and that she has a strong, well-resourced local party to support her.
Caroline needs your help. We need to raise as much money as we can to be able to get our message out to the people of Brighton to vote for Caroline.
The next 7 weeks will fly by. We need to talk to voters, get our leaflets through letter boxes, pay for ads…running an election campaign is expensive.
Our financial support comes entirely from people like you. People who donate whatever they can afford. We don't get contributions from big businesses, or Trades Unions, all our money comes from regular people like you.
By donating to the campaign to re-elect Caroline you will ensure there's still a gutsy, progressive voice in Parliament after the General Election.
How you can help
Your donation will allow us to fund and deliver a direct message from Caroline to voters in her constituency.
We want everyone in Brighton Pavilion to know about Caroline's acclaimed performance as an MP since 2010.
We'll be reminding everyone how she's stood up against Teresa May's hard Brexit ideas, how she's campaigned to protect the environment, and how Caroline has protested against the Tory plans to scrap our NHS.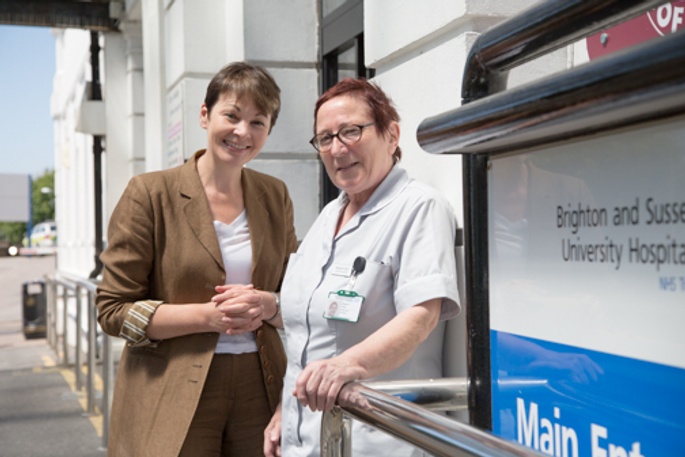 We want everyone to remember what a great MP she has been for our city, standing up for all the people who needed her help.
And we want everyone to make sure everyone knows about the great vision that Caroline and the Brighton and Hove Green Party are campaigning for.
Will you help us now to get our Green party message out across the city?
Other Ways You Can Help
Crowdfunders like this are successful when you tell your friends about it too. Please help by spreading the word. Email your friends and family, and encourage them to give too. Tell all your contacts on social media about our crowdfunder and help us to help Caroline.
We also need hundreds of volunteers to get those leaflets through the doors, call voters, and run our office. Everyone is welcome, and there's lots to do. You can get in touch to help out here…
And of course, don't forget to vote Green on June 8th – wherever you are.
Frequently asked questions
What are you going to use the money for?
We will use your donations to pay for getting our messages out to the voters of Brighton Pavilion, and strengthen the local party. We need to pay for leaflets, posters, maybe some ads, every way we can to talk to people in Brighton and Hove.
What happens if you get more money than you need?
Brilliant. If we get more than our target, we'll be able to do even more, and that brings us closer to successfully re-electing Caroline Lucas as our Green MP, and supporting her after she's re-elected.
If we get a lot more than our target, we will share some of the money with other target constituencies to get even more Green MPs elected.
And if we get more than we can spend on the election right now, we'll be saving that money for our campaigning throughout the year, and helping Caroline to do her job of representing all you Green Party voters.
I'm not based in the UK – can I still give money?
We can only accept money if you're either entitled to vote in the UK elections, or if you're a UK based company. If you're not a UK voter or a UK company, please think about supporting a Green Party near you.
Do I need to give my name?
You don't have to put your name up on the crowdfunder site here, if you'd rather be anonymous.
We'll need to record your donation to comply with election rules, so please fill in your real name and address for our election records even if you're going to be anonymous on the crowdfunder site, otherwise we'll have to give you your money back.
Thanks so much for your help – we can't do it without you.
Legal stuff
By making a donation you confirm that you are eligible to make political donations in the UK, and that this donation is not made for or on behalf of any other person. All donations received are subject to the regulations of the Political Parties, Elections and Referendums Act 2000.
Published and promoted by Steve Harris on behalf of Brighton & Hove Green Party and Caroline Lucas, all at 39-41 Surrey Street, Brighton BN1 3PB. Hosted by chuffed.org