Who this money is for?

Quidan Kaisahan explains what support they need

Important Note: Because this NGO does not have a "donation page", for practical reasons, and to reduce transaction fees, this money will be collected into our personal accounts and at the end of the campaign (end of Jan) the money will be transferred to the NGOs. We will ask each NGO to publicly post on their profiles / social media a confirmation that they have received the money from FieldWorks; so you will know independently from us the money has arrived.
Quidan dreams of a Negros Occidental that is child labor-free. With about 6% of children engaged in hazardous work, mostly in sugarcane plantations, Negros Occidental remains to be among the provinces in the Philippines with the worst forms of child labor.
Quidan works alongside children, their families and the community to remove all children from illegal underage work. Our work addresses the wider issues of poverty, children's rights and access to education for a long-term child labor-free Negros.
Believing that through education, children have the best shot for their future, we strive for communities where children and their duty-bearers value education. We work to open up opportunities for children to return to and stay in school.
We support the Department of Education's Alternative Learning System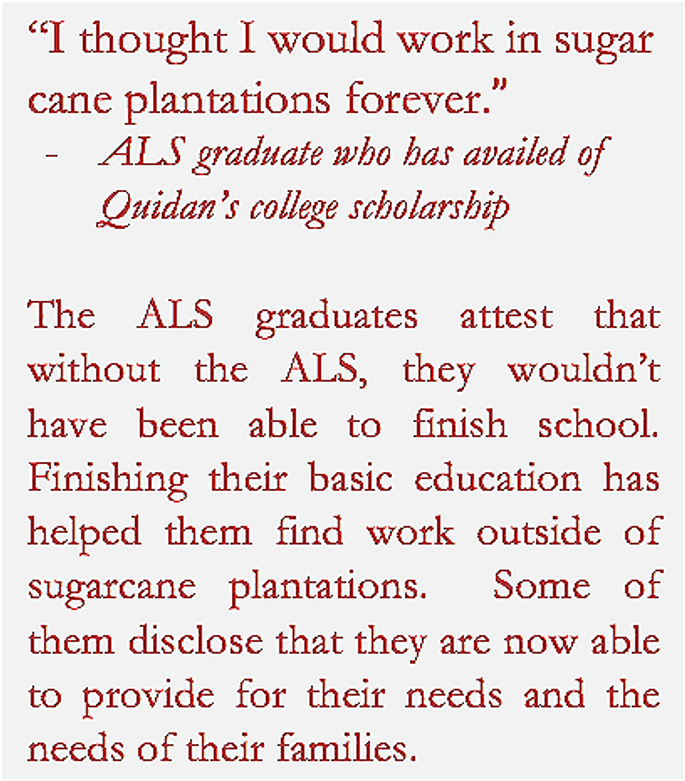 (ALS), an education pathway for students who are not able to attend formal schooling. An ALS classroom might be a community hall, a childcare center, or a living room. The classes take place on weekends or after work hours. Quidan supports the delivery of ALS to some of the most remote and underserved areas of the province. We also support a number of ALS graduates through their college education.
Quidan further supports the Department of Education's Drop Out Reduction Programs (DORP) by providing schools with the skills they need to support students who have high-risk indicators for school drop-out. Support groups, peer mentoring and dedicated DORP spaces are just some of the measures being implemented in Quidan-supported schools.

Alongside with helping schools and the ALS teachers with training and regular monitoring, we also provide more than 6000 at-risk students and ALS learners with basic school supplies at the beginning of the year.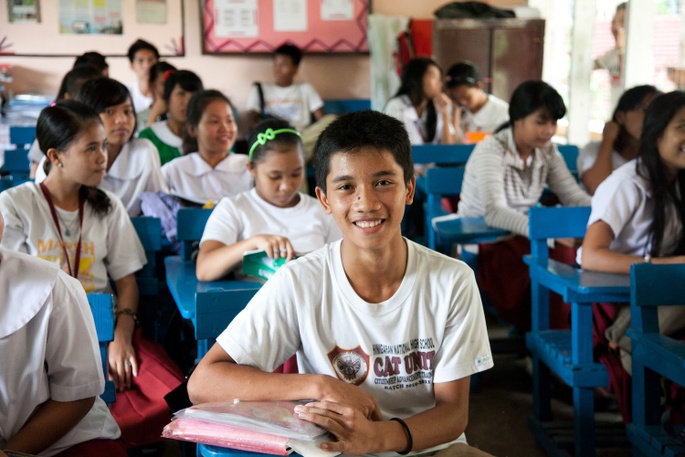 Classes for school year 2018-2019 will start in June 2018. However, this early, we are already raising funds for the school supplies and the college scholarships. Below are the estimated requirements:
$3 for a set of basic school supplies (for each student or ALS learner)
$7 for a set of basic school supplies with school bag
$300 for 1 year (2 semesters) college tuition fee in state colleges or $1200 for a full 4-year college course
$600 for 1 year (2 semesters) college tuition fee in private universities or $2400 for a full 4-year college course

Need a small refresher about who QK are? Visit our profile page or get a quick analysis from our profile assessment

Who are they?
Quidan Kaisahan is an NGO in the Philippines that works to reduce poverty and child labour across 80 villages for over 15,000 people on the island of Negros Occidental. Using the established governance structure, QK partners with communities and local authorities. They mobilise and facilitate citizen groups around thematic areas (like education, livelihoods etc.) on how to help themselves and hold their local authority to account. At the same time they support local authorities on how to be more engaged and extend their reach in implementing government initiatives (e.g. reducing school drop out programme with the ministry of education).

Why we like them?
There was a strong value of family and openness, both from staff and stakeholders. Their integrated programme was thought out to ensure that separate activities enhanced rather than detracted from one another. Rather than working in isolation QK uses the existing system of governance, actively looking to make the best of it and where possible lobby for improvement. And they had the (Xmas) balls to turn down funding from a donor because it didn't align with their values!
Why we're doing this?
Over the last 18 months FieldWorks has assessed 7 strong, locally-led, well run for their size and context and above all strongly connected to the communities in which they work. All of these suffer from a problem caused by the current international aid system; they are overshadowed and outmarketed by the bigger but least effective international agencies.
FieldWorks is about redefining charitable giving so that those who are most socially accountable to their communities are rewarded the most.