Put #KidsOffNauru on the Sydney Opera House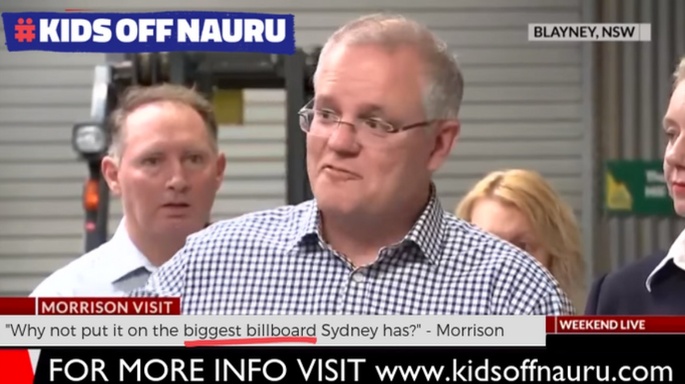 Woah! What an amazing response!
On Saturday morning, after just 2.5 days, we clocked over $100k. Over 1600 people have backed this campaign and people are starting to take note.
I'm working with the lead organisations behind the #KidsOffNauru campaign to bring this project to fruition. We've submitted our preliminary application to the Sydney Opera House to hold an event to mark Universal Children's Day. Hopefully it will a celebration of the success of everybody's efforts to get #KidsOffNauru.
Now that we've met our minimum goal, donations are still useful. Every new voice shows strnegthens our collective voice. Every extra cent raised will be spent to amplify our message.
Last Tuesday night, our Opera House was turned into a billboard
You might have heard that a horse race was advertised on the 'sails' of our internationally renowned icon, the Sydney Opera House.
As Prime Minister Scott Morrison told us last week, the horse race is the biggest event in town and the Sydney Opera House is Australia's "biggest billboard".
We have much more important stories to tell
Despite assurances from Home Affairs Minister Peter Dutton that he took care of the problem, Australia is still detaining 85 children on Nauru, and as you may have heard, the detainees are in the grip of an mental health crisis.
Children as young as seven years old have attempted suicide multiple times. Some have gone on hunger strike, some are eating rocks and some have fallen in acute psychiatric withdrawal. In the last few days, the Nauruan government has expelled international aid agency Médecins Sans Frontières (Doctors Without Borders), and there is no inpatient mental health treatment available on the island for these children.
Yet, according to recent polling 60% of Australians aren't aware that children remain in offshore detention.
I want to help the effort to get #KidsOffNauru
I have approached the Sydney Opera House about using their wonderful canvas to raise awareness of the children in detention on Nauru — a much more important issue than betting on ponies.
I don't want to sell a product, I want to tell this important story, to make a public service announcement that is surely above partisan politics.
The #KidsOffNauru campaign is working to get all children and their families to safety before Universal Childrens Day on 20 November.
More than 122,000 Australians have already signed a petition demanding we get the #KidsOffNauru. Medical professionals and legal interventions by advocacy bodies have already managed to get 50 kids off Nauru, but we still need to rally to get the 85 children to safety.
What's the big idea?
I want your help to use the sails of the Sydney Opera House to ensure that all Australians are aware of the effort to get #KidsOffNauru.
Not surprisingly, there are a lot of bureaucratic hoops to jump through before we can get a high impact image projected onto those iconic 'sails', but I'm committed to giving it a red hot go. It won't be easy, but since I raised the idea last week, dozens of talented Australians with the required expertise have reached out to help me make this happen, hundreds have offered to help fund it and more than 10,000 have given approval to the plan on social media.
I hope to work with the Sydney Opera House to show the faces of children stuck on Nauru and to direct people to the #KidsOffNauru website. (The children and their parents have already given consent. I will work with refugee advocates to ensure that this is done professionally, sensitively and with the utmost consideration for the children's welfare in mind.)
What if they say no?
There's every chance, of course, that the powers that be at the Opera House won't agree to the proposal. If this happens I will lobby Sydney's most powerful radio personalities and the NSW Premier to make it happen. This approach has recently proven to be successful!
Whether or not I can get the Opera House on board, I will use every cent of the funds raised to support the efforts to get the #KidsOffNauru before Universal Children's Day this 20 November.
Who's behind this campaign?
I'm Simon Holmes à Court and I'm sick of feeling helpless and ashamed about what Australia is doing to children under our care. No human deserves to be treated as these children are, and it is totally within our power to end the suffering.