It's AMAZING! iStayEco reached its 5K crowdfunding goal!
The campaign's success -now allowing us to build our platform's prototype -is ALL THANKS TO ITS SUPPORTERS!!
In just 40 short days we reached over 80% from supporter contributions and further outreach, then the team decided to pull together the rest of the funds & voila: GOAL ACHIEVED!! iStayEco is extremely humbled!!
Learn more about the campaign below and if you still feel like donating to the cause we're always happy to accept more support.
Pour en savoir plus et visionner la vidéo en français, c'est par ici.
Some context
So far, iStayEco has been a personal dream: to provide a platform that promotes sustainable travel by showing people places to stay that are really ecologically friendly. Now we're looking for help to make it a reality.
We all love to travel, but it's awful knowing it can have grave impacts on people and the planet. The Earth's air, water, food, and soil we use (and need to survive) is all too often damaged because of tourism. Did you know that tourism is responsible for over 5% of global Co2 (carbon dioxide) emissions, and over 4.6% of global warming?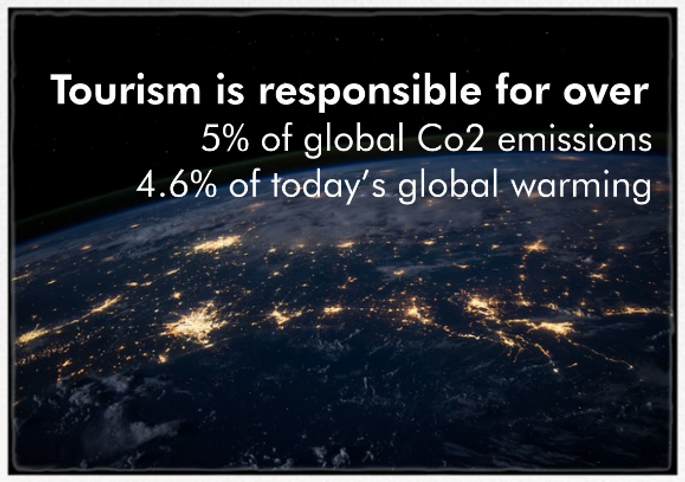 We think it's time to make some changes!
We figure if we can promote holiday accommodations that make ecological sense, we can offer people a way to travel the world with a good conscience.
What iStayEco and this campaign is striving to do is develop the best way to promote accommodations that are leading the way for responsible tourism and enable travelers to discover and take genuinely sustainable holidays with them. It's about taking steps to help Earth heal itself from industrial tourism and big leaps towards sustainable tourism.
The problem in a nutshell
Just one night's stay in a typical hotel is literally a suitcase full of Co2 emissions at roughly 22 kgs (or 48 lbs) per person. By travelling more, we're losing all sorts of natural landscapes, local culture, species of plants and animals, leaving a huge mess of things for others to have to clean up.
But it doesn't have to be this way. We can turn the situation around and still take amazing holidays. We just need better tools to help change the way we travel.
Truth be told, most hotel booking websites don't try to help travelers find sustainable accommodation for their holidays. If they do, their listings are quite limited or a lot of greenwashing is involved.
What's shocking is no platform exists that makes it easy to find, learn about and stay with the 1000's of holiday accommodations all around the world that are certified as sustainable. We think if so many hotels are labeled as sustainable, the world should know and stay in them!
All this said, iStayEco's mission is to work hand in hand with every accommodation seeking or holding internationally recognized sustainable certification so that travelers can conveniently locate, appreciate, and book them to take ecologically responsible holidays.
With your help through this crowdfunding campaign, iStayEco will build a platform to address this. We're simply looking for the funds it will take to develop its prototype (a test version) first.
Here's what we want to do
An important part of the equation for iStayEco is to support the work of 100's of organizations running programs that help accommodations get certified as sustainable with an eco label (see a few examples below). Their work is fundamental to shifting tourism from an industry that pollutes to one that leads the way for sustainable development.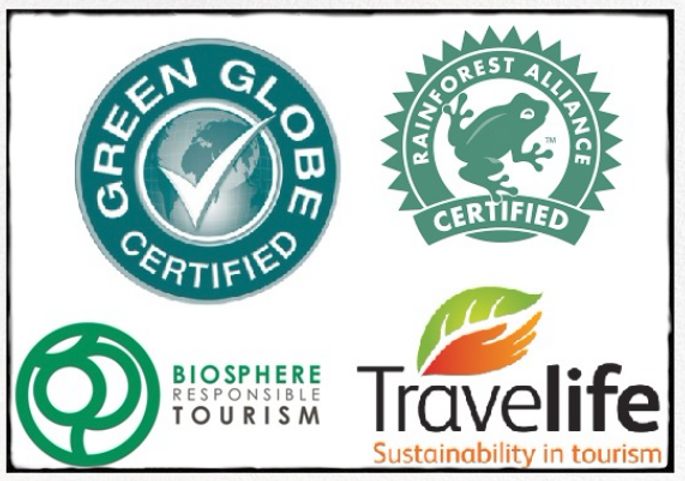 iStayEco will be a platform to promote sustainable travel with an aim to:
1. Show ecological action
Gather & promote travel accomodations by worldwide certified sustainable accommodations
Demonstrate actions in sustainable & circular tourism to reach 2030 Sustainable Development Goals
2. Stimulate responsible economics
Provide an exceptional marketplace to search & book truly sustainable holiday properties
Offer an intuitive, thoughtful & content-rich solution for sustainable property owners to attract & host travelers
3. Develop a conscious community
Empower an important, present & growing community to have a positive socio-ecological impact when travelling
Broadcast community updates & information about how to travel more sustainably using news, events, offers, etc.
In order to get iStayEco up and running, we need help to develop a prototype of the platform to test how best to bring it to life. That's why we've created this crowdfunding campaign and that's how you come in!
iStayEco has a talented technical team in Belgium who are ready and willing to pour their heart and soul into producing a prototype of the platform to test our many ideas on how to provide exactly what travelers as well as sustainable accommodations would expect on the real platform. From how it searches places to stay, to how it shares information about each accommodation's unique and sustainable features – we want to be sure we do it right.
The prototype will include:
a strategy for testing various hypotheses about how the platform should work by running a series of short trials of a prototype
a scaled-down version of the real platform that will function online as the platform's prototype
a set of online outreach campaigns to find people who will test and provide feedback on the prototype and our hypotheses
a report on the results of testing the prototype
Anyone who helps fund this prototype will be able to receive updates on its development and test it out too, of course!
Once we have the evidence our prototype can provide about how best to build the iStayEco platform, we'll be ready to go!
iStayEco even has a passionate and experienced development team ready to design and build the platform. From then on, a set of environmental consultants will work with accommodations that meet iStayEco's eco-criteria -which will be based on standard global eco-label criteria for sustainable accomodations (as the image shows below)- to showcase the action they've taken on sustainability and offer travelers a holiday like no other.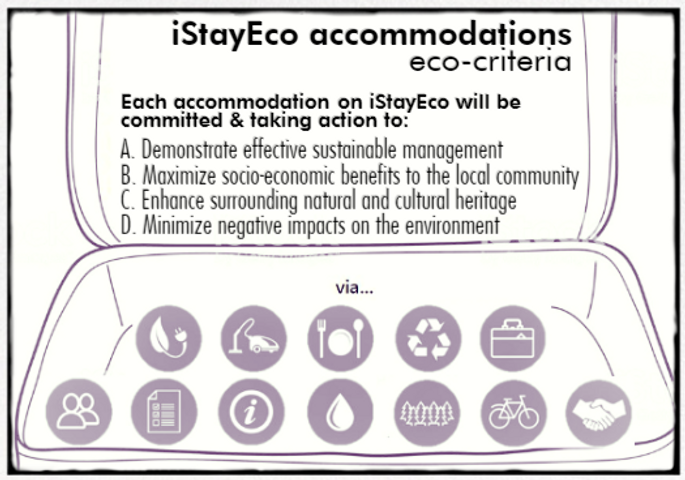 The perks for supporting us!
In return for your support, we're offering many chances to book holidays through iStayEco at a discount once it launches (in the fall of 2018) making it even easier to stay with some of the loveliest most sustainable accommodations in the world. Our perks mean you can have:
10% off an iStayEco booking when you give €25
20% off an iStayEco booking when you give €50
30% off an iStayEco booking when you give €75
But you'll want to act soon to take advantage of these perks. Only a limited number of discounts are available! Check the sidebar for available perks when you donate now.
And that's not all!
Give at least €5 and you will be invited to test the iStayEco platform!
We'll be more than happy to have your feedback. We'll keep you updated once it's ready and even offer a few more perks to thank you again. Don't think you'll have time to give feedback? No problem, there's no obligation either.
How this campaign makes a difference
By supporting this crowdfunding campaign you will not only help iStayEco design its platform, you will also be enabling sustainable tourism to accelerate and help address the 2030 global sustainable development goals (or SDGs seen below).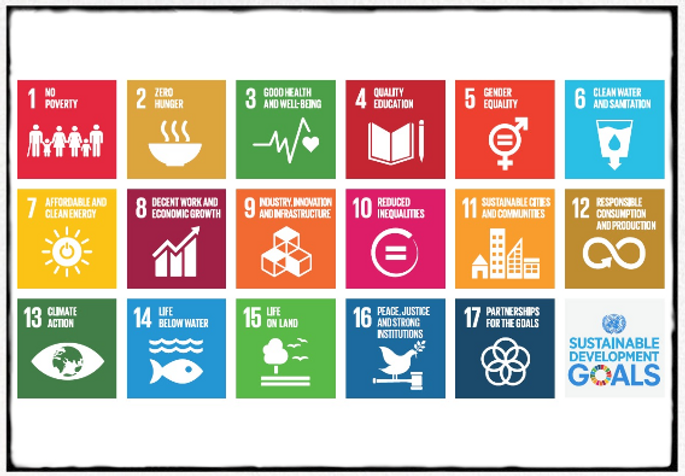 From promoting good health and well-being, to taking action on climate change, to making life healthier both below water and on land, sustainable tourism has the ability to drive an extremely positive ecological impact.
Overall, iStayEco is about providing a platform to take real action to alleviate environmental degradation when we travel. Its goal is to stimulate collaboration and a collective road map so that all relevant groups —governments, businesses, communities and travelers— have a clear path toward changing the way we travel so it's truly sustainable.
How to join this cause
To help build iStayEco's vision to support ecologically responsible tourism, please open your hearts to this campaign and donate to it.
We need to come up with €5000 to fund building a prototype of the iStayEco platform, so donating what you can and sharing this campaign with everyone you know would be amazing.
For more information, feel free to:
Email us at [email protected]
Visit us & SHARE OUR WEBSITE at iStayEco.com
Follow us & SHARE OUR FACEBOOK PAGE at facebook.com/iStayEco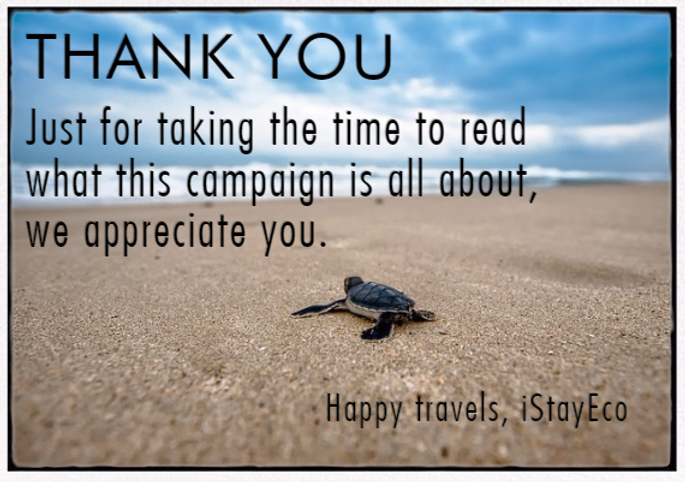 PS: If you want to claim a perk, don't use the 'Donate' button, instead click the 'Select' button next to the perk you want and complete your donation this way.
PPS: All donations can be made through PayPal, debit or a major credit card. They require a small processing fee be added in relation to the amount of the donation. Chuffed.org also suggests a donation for them to keep campaigns like this running, so if you can support them too then great, but it's not an obligation.