We are changing the narrative of choice in Niagara, Ontario, Canada
Niagara is home to a progressive community of people that support a woman's right to choose. In fact, we've taken for granted that so many of us are in full support of reproductive rights (more than 3 in 4 Canadians according to March 2017 Ipsos survey*) that we haven't taken any steps to add balance to the conversation that is happening on street corners and billboards throughout our Region.
The anti-reproductive rights voice is louder
1) Groups on street corners (including children) carrying graphic images of late-term fetuses try to shame individuals making a difficult choice for whatever reason important to them. Many anti-abortion fetus images show a near full-term miscarried fetus which is not representative of the overwhelming majority of abortions.
2) Billboards that display stock imagery of idyllic family situations and make claims that the right choice is pro-life are misleading
and unhelpful. The subjects are always caucasian, appear to be upper middle class and do not address the realities of what is an incredibly challenging decision.
Some examples of what is currently dotting the landscape of our Region: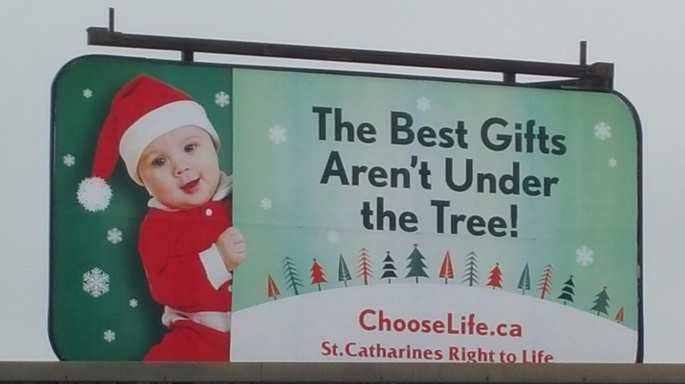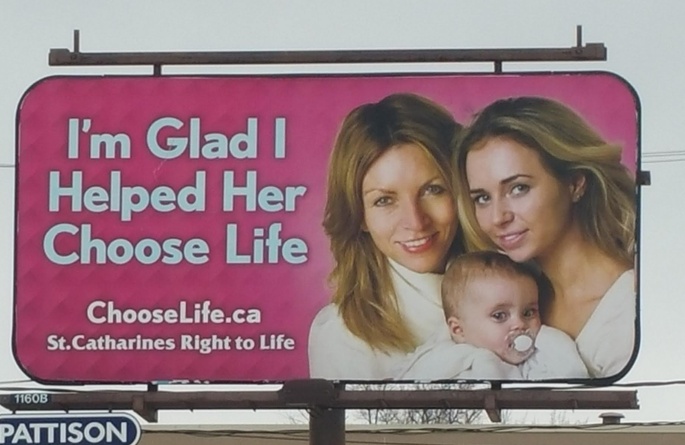 But we have a plan!
With your help, we are going to buy ten billboards across the Niagara Region to add balance to this narrative.
We have designed them and included them here for you to see and get excited about. We are not attacking anyone, we are not angry with anyone, but we do see the need to offer perspective and options.
We want the women of Niagara to know that the loudest voice isn't the only voice, that we are here too, that they have support of their community as they exercise their rights. Women who also believe that balance in this narrative is not only fair but needed.
Here are some of our billboards (designed by women in the community):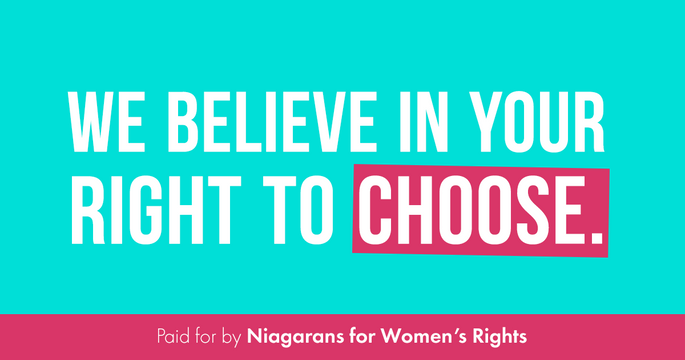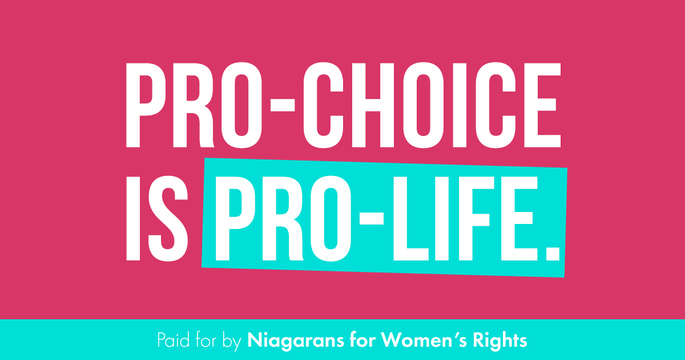 We cannot let the women of Niagara feel unsupported any longer. We cannot let this be the narrative that we accept as a Region. We must add balance and support.
You can join us
We are looking for donations to get us to our $7000 goal. To buy these billboards we are paying $5000 for 10 billboards, we also have to pay production fees for each and HST.
Our campaign is open until March 1, we are so excited to see our Niagara step up to create this positive, pro-woman, pro-choice narrative.
Thank you!

We are grateful for your help in making this change in the way we discuss and respect women and their reproductive rights in Niagara!
* Source : https://www.ipsos.com/en-ca/news-polls/majority-continue-support-abortion-canada