Who are PINKS?
Solidarity for Sexually Minor Cultures & Human Rights "YeonBunHongChiMa" (meaning 'Tender PINKS Skirt') or PINKS is a feminist organization dedicated to documenting the struggles of people in their daily lives and at scenes of protests calling for advancement of human rights in Korea since 2004. PINKS produces, distributes, and screens videos and documentaries of protests they lead or attend.
Why NYC?
New York City has always been a city of protests, from the Stonewall riot, Occupy Wall Street, to recent rallies against anti-blackness, islamophobia, xenophobia, and transphobia. New York based activists and organizers' struggle for community building, solidarity, inclusivity, and celebration of diversity are sources of inspiration for activists in Korea, PINKS included. In 2014, two activists, Byeong-Gwon Jang (PINKS) and Jong-Geol Lee (Korean Gay Men's Human Rights Group "Chingusai") visited New York City. During their visit, they partook in the NY Pride parade, visited shelters for queer and trans youths, the LGBT center, Gay Men's Health Center, and Astreea Foundation. They got to interact and share their experiences with activists from GAPIMNY, QWAVE, and SALGA, the three biggest LGBTQ Asian organizations in NYC area, and screen one of PINKS' own, The Miracle on Jongno Street. The visit inspired Jang and Lee to found "Ddingdong," a shelter specially for queer and trans youth in Korea, first of its kind.
The PINKS documentaries vividly capture minorities — trans folks, lesbians, gays, women, workers, and victims of state violence — in their moments of livelihood, struggle, protest, and triumph in the Korean society. We hope this documentary screening will provide a space that brings the general public as well as activists, organizers, and scholars to discuss how people of these minority statuses navigate the Korean society. Through unpacking of different identities and systems of work, we hope to highlight the intertwining nature of struggle and resistance across politics of identity and border.
PINKS' visit to NYC also has a practical reason. During their visit, PINKS wish to collaborate with Korean American Rainbow Parents and PFLAG NYC to produce their latest documentary on the stories of Korean parents of sexual and gender identity minorities of Korea.
All 6 PINKS activists will be in NYC for the event and will be participating in the talk sessions following screening of each documentary. Through the screening, PINKS truly hope to instigate encouraging and empowering discussion on power and oppression, and foster a sense of solidarity among all of us involved in the fight for a better world.
Hosting a 4-day long screening is a hefty business and this is where you come in. More funds this campaign can raise, more can be used to reimburse travel and lodging expenses of the PINKS activists, ensure translation services during the event, and pay for other overhead expenses such as advertising and screening technicians. Please give what you can and share the campaign widely!

This film screening is co-hosted by PINKS Solidarity for Sexually Minor Cultures & Human Rights, NYC PINKS Screening Planning Committee, Nodutdol for Korean Community Development, Third World Newsreel, School of Visual Arts MFA Social Documentary Program, and Ordinary Days Production.
** Nodutdol, co-host of PINKS Human Rights Documentary Screening in NYC, is a 501(c)3 non-profit organization. Your donation is tax-deductible to the extent of the law.

Screening Schedule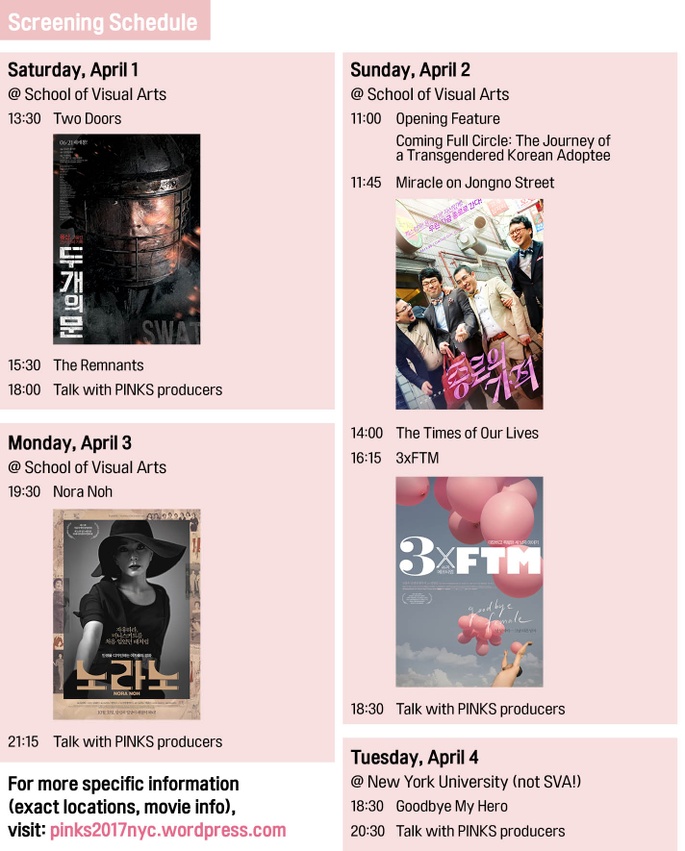 Please RSVP for each of the days at the link below:

Perks
**Due to limited budget, the perks are updated as of March 29, 2017. Please check the perks on your right side! For those who donated before March 29, we will be contacting you shortly. Thank you very much for your understanding!

**If you are interested in sponsorship or in-kind donation, please contact us at [email protected]