Publish the Letter to AG Brandis
Thanks to all of you who have put your name on the letter to the Attorny General George Brandis, asking him to drop this disproportionate and expensive prosecution of the #PineGapPilgrims.
Now a donor has offered $1000 to get the letter published in a national newspaper. Any donations over the next few days will help us match this gererous offer, get the letter published and put our concerns about Pine Gap in front of a wide audience.
Update 11/11/2017 - Thank you for helping to publish the letter in The Saturday Paper.
You can still sign it on our website www.closepinegap.org/letter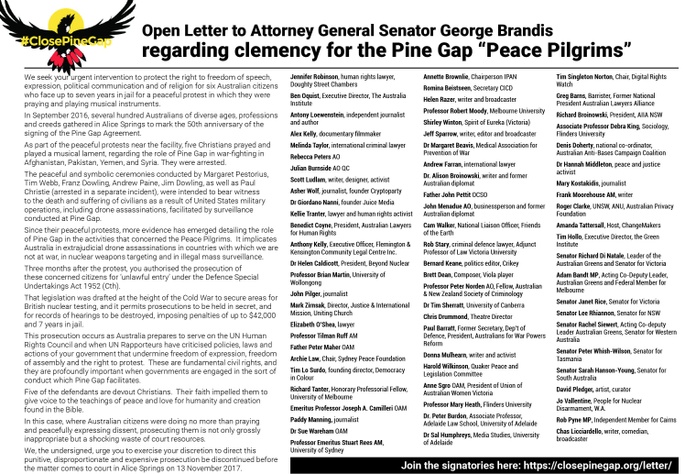 Supreme Court Hearings from Nov 13th in Alice Springs
A little bit of context
The Peace Pilgrims took grave risks to walk into Pine Gap earlier this year. They went to pray and lament the deaths of so many people made possible by the top-secret "Five Eyes" war facility.
Now the Peace Pilgrims face 7 years in prison.
Former Senator Scott Ludlum on the PineGapPilgrims action and courtcase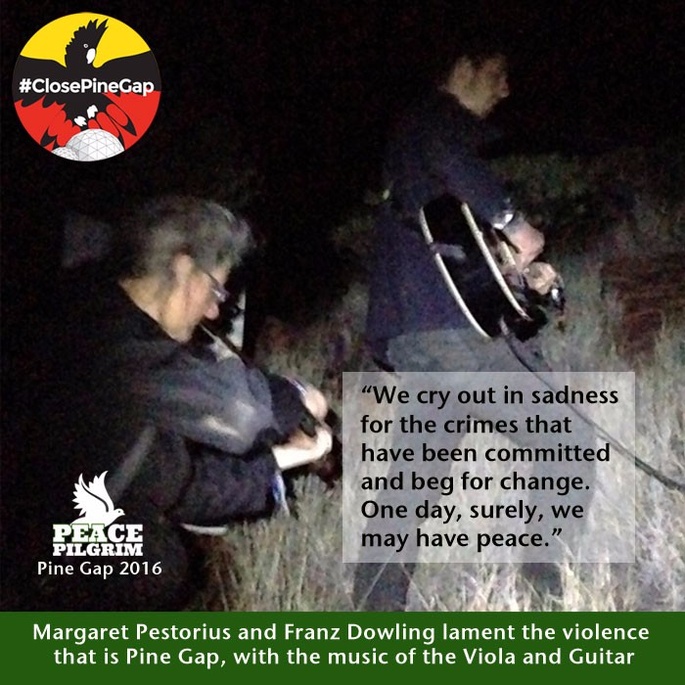 Standing up to the military industrial complex is difficult
It's complicated getting the message out and staying visible. We need support to keep the media interested in our struggle.
We are going back to Alice Springs to face court and transport is expensive.
The war machine is big and dangerous but we are doing something about it
We have our bravery and our bodies.
We are working with @WagePeaceAu to disseminate our message as far and wide as possible. Their mission is to help us and other peace campaigns to disturb war & militarism in Australia.
As part of our trip up to Alice we want to keep the dialogue around our action in the spot light. It's necessary for more Australians to understand what Pine Gap is and the steps we've taken to close it.
When people know what is possible, they get enthusiastic and hopeful. They start doing stuff to change the world.
You can help
We need $5000 to provide for activists getting to and from Alice Springs. We also need support for our campaigners who track and liaise with the media, prominent figures and political parties. They are the invisible faces writing this copy and keeping you informed and involved. With your support they can dig deeper to bring you the truth and communicate it in ever more exciting ways.
You can help build and support a group of strong people prepared to take action against militarism. Stand with us in Alice Springs and together we will make them heed our call for #NoMoreUSWars
Thanks in advance for your donation!
To read more about what we've been up to and what's on the radar, visit: closepinegap.org
Tim Webb, Paul Christie, Jim Dowling, Franz Dowling, Andy Paine, Margaret Pestorius.
$30 will get us pre-paid internet
It's a long drive --
$50 will get us 35L of petrol
$100 for a tyre
Pine Gap CD's


We found heaps more CD's
They are now open for all donors - if you would like one just let us know.