The Mythical Statue
The Warracknabeal community, in collaboration with Corin Johnson, are moving forward with the development and installation of the larger-than-life-bronze statue to celebrate the extraordinary career of Warracknabeal's birth son and Australian artist and musician Nick Cave.
Cave and British sculptor Corin Johnson devised the "homecoming" statue concept in the mid 1990s which was to be gifted to Warracknabeal. Corin's 300mm Marquette (model) of Cave posed on a rearing horse has remained unrealised and in limbo for over 20 years. Now is time to make it a reality.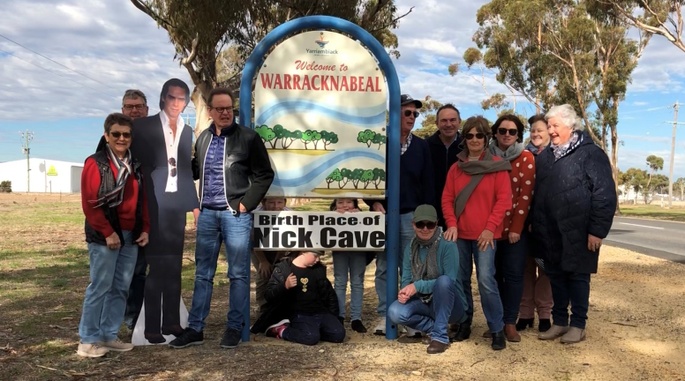 The Cave Foundation and other Benefits for Warracknabeal.
Apart from the tribute to Cave, our regional Victorian town wants to draw tourism to the region generated by this playful and sureal project. This will not only benifit local businesses but also the young people in the region.This will be achieved through the establishment of the Dawn and Colin Cave Youth Foundation, named after Nick's parents who gave their time and energy to our community all those years ago. The Cave Foundation will be for the benefit of our local youth and will provide opportunities for Education through the Arts and Social Enterprise in our community. The Cave Foundation will sponsor Artists in Residence programs, school and community projects and events that will create learning, training and employment opportunities.
But we need a lot of financial assistance and we are asking for your help. All donations no matter how large or small will help to ensure that the statue stands proudly in our small town.
Your donation and the realisation of The Nick Cave Statue will bring tourism to regional Victoria and enrich the artistic potential of our kids here in The Wheat belt.