BRINGING NEW BEAUTY & FUNCTION TO OUR SANCTUARY & LOBBY
In 2016 we asked our friends and supporters to help us resurface the floor of our fellowship hall—we raised $4,700 and got the job done for just under $8,000.
And now in the fall of 2017 we are asking you to chip in and donate again, so we can put beautiful and functional new surfaces on our sanctuary and lobby floors. We are hoping to raise $9,500 this time, which is what we estimate for material costs if we install the new floors with labor from volunteers and Common Street's staff.
The vision and specifics
An attractive and highly durable tile in the lobby will replace the worn-out and coffee-stained carpet there. This will be perfect for the receptions and meals we often host—and also move us another step toward our vision of fostering a café-type scene in the lobby. This new surface will say—"It's OK to spill your coffee now and then!" (Unfortunately, we discovered this summer that the carpet is beyond its useful life when we had it professionally cleaned to no avail. If you have not noticed that the carpet is in bad shape—ignorance is bliss—just keep your head up until this all finishes.)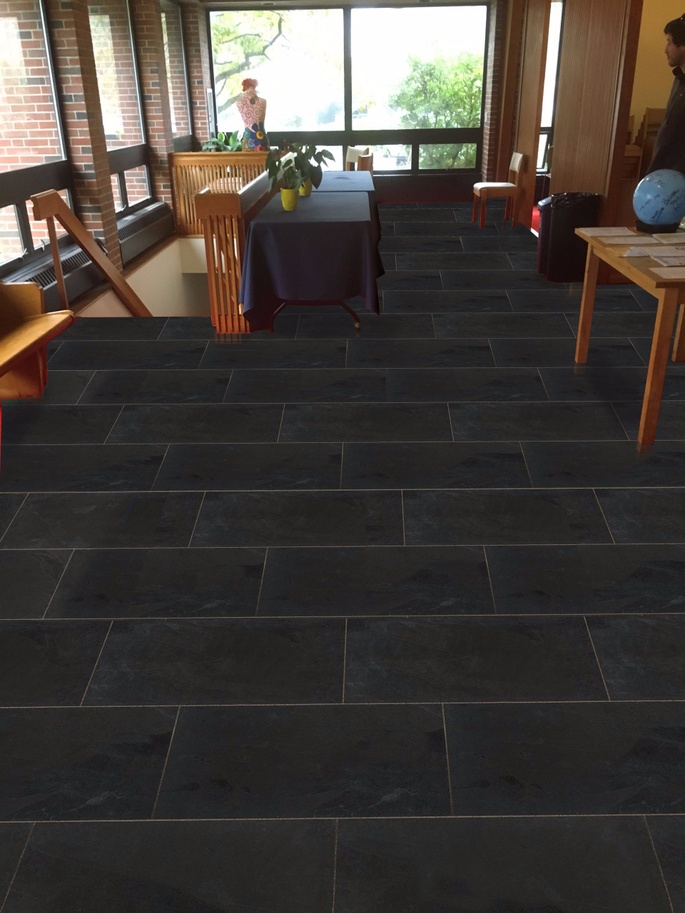 For the sanctuary, we have chosen a very practical and beautiful BPC (Bamboo Plastic Composite) panel. This is an exceptionally durable surface with a 50 yr residential and 15 yr commercial warranty; it is 100% waterproof, with ultra-low VOCs, and has a layer of cork on the bottom for cushioning and sound absorption. We are also going to install a cork underlayment to give the surface extra give for purposes such as dancing, yoga, or simply standing or walking in the space.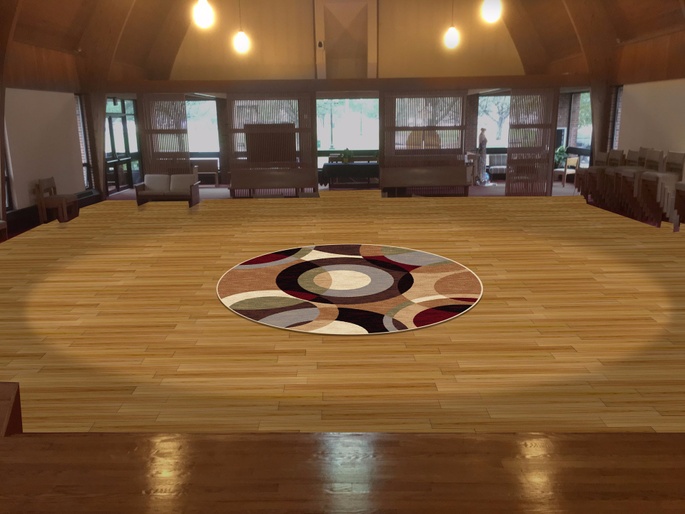 The impact of your gift!
We believe that these changes will make our Spiritual Center feel more welcoming and be much more user-friendly for those who use it now and those who will use it for years to come. As mentioned above, we are planning to achieve this relatively major transformation with the labor of volunteers, so if you feel moved to help us remove the old carpet or lay planks in the sanctuary, please let us know. But most of all, we need your financial support. Please donate today!
We welcome all, and the community uses our sanctuary in so many ways—for services and ceremonies, concerts, the farmer's market, art shows, plays, charity events, film screenings, dances, open mics, educational events, dialogues, drum circles, and more. Your tax-deductible donation will enable us to offer this hospitality in an even more excellent way.
Please note: as the new surfaces come in we will be careful to reassess the way sound travels through the space and install acoustical panels as needed. While we won't miss the stains on the carpet (as exquisite as some of them are), we recognize that it may have helped control echoes.