A little bit of context
The Melbourne Welsh Male Choir was formed in 1984 and has since grown into one of Australia's acclaimed male choirs performing within Australia and in international competitions – we have recently returned from a successful tour of the UK where we performed 10 concerts in England and Wales.
In 1993 we introduced our Singer of the Year Competition and have successfully run this competition every year since. Heats are held over three sessions and a final night, with three chosen finalists, presented as a major event. 2017 celebrates the 25th anniversary of the competition and to mark this we have invited acclaimed NZ opera singer Teddy Tahu Rhodes, to be a special guest artist at the final night.
The Singer of the Year Competition is open to young singers under 35 years. It's objective is to encourage and enhance the performance capability of young singers by providing them with the opportunity to perform and compete in front of a large audience at the competition's final night. Finalists share the substantial prize money, which is provided by the choir and sponsors. In addition, they have the opportunity to appear in major choir concerts and participate in recordings as solo artists.
Past winners of this competition have used the prize money to further their studies and careers, many of whom have gone on to grace the national and international opera and concert stages.
Here are some of the previous winners: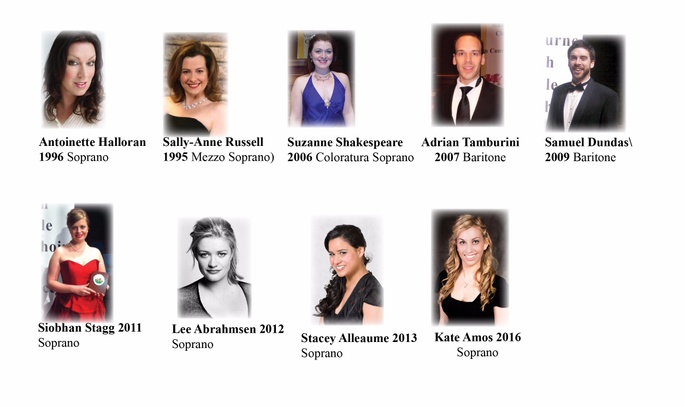 A full list of the winners is available on our website: www.melbournewelshchoir.com.au/SOTY

But there's a problem
Sponsorship has not only allowed the choir to promote a successful event but also provide much-needed prize money - and, because we are passionate about this initiative, we are looking for assistance in raising the prize money needed to enable us to continue with this event, well into the future - providing funding for these young, talented Australian Singers.
Here's what we're doing about it
This competition is very important to the choir and the choristers. We are extremely proud that our choir encourages young, talented singers and above all else, we want to continue to be able to run this community based, arts-enterprise - here in Melbourne. We will continue to use our resources to partially fund the pool of prize money but we need help to make up the short fall and provide the three winning prizes.
If you are interested in singing with us, please send your NAME and a CONTACT PHONE NUMBER by email to: [email protected] and one of our membership team will be in touch with you ASAP.
Alternatively, you can just "turn up" at the Maroondah Federation Estate, 32 Greenwood Avenue, Ringwood, on a Wednesday evening between 7:00 pm and 10:00 pm and introduce yourself to one of us. Or you can visit our website www.melbournewelshchoir.com.au to get more information or details of our upcoming shows.
And here are some amazing perks for supporting us that you can't live without:
$10 high fidelity digital recordings of three of our recorded songs
$20 a high fidelity digital recording of one of our Albums
$30 1 x CD (mailed to your address)
$50 2 x CDs (mailed to your address)
$100 1 x CD & 2 x tickets to our next Concert (mailed to your address)
$2500 A private concert from the choir (Melbourne Metro only)