Captive elephants in Nepal spend their lives giving rides. When these elephants become weak and old, they are often sold to Temples in India where they live alone on chains for most of the day. Until now, the owners haven't considered any other option.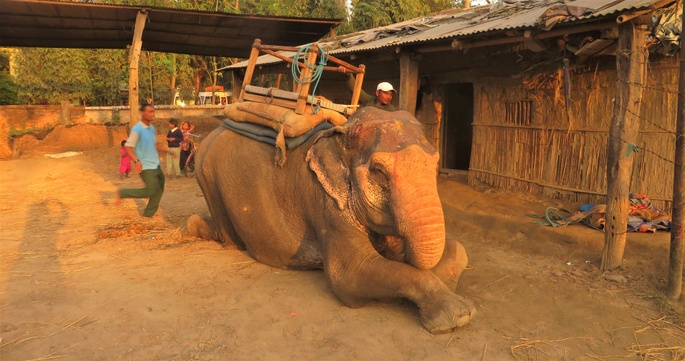 Association Moey had heard about Lucky Kali whose fate was to become a temple elephant. Together with Dhruba Giri, owner of Sapana Village Lodge, we went to talk with her owners. They were interested in our offer to lease her so that Lucky Kali could be the first to benefit from retirement and be an example for other elephants to follow.

Lucky Kali represents the future!
Lucky Kali is now the first privately owned elephant to officially be retired in Nepal.
Please join us on our journey as Lucky Kali leads the way to a new beginning for the elephants of Nepal along with their caregivers and their owners. Change takes time but with your support we can make sure that it is as smooth a transition as possible.
Lucky Kali is about 50 years old and she has worked her entire life, for the last 8 years giving rides to tourists in Chitwan.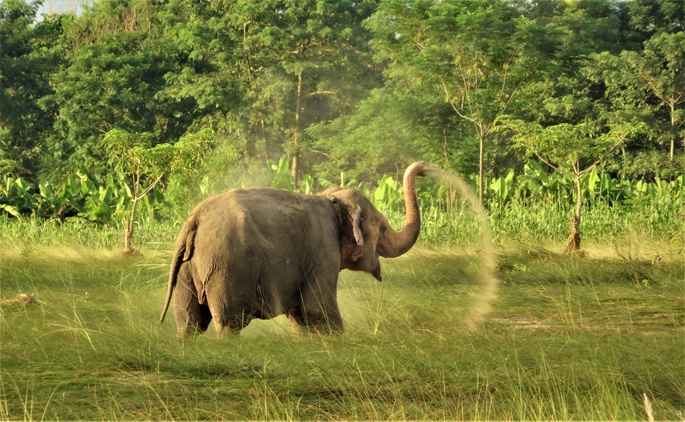 Since her retirement, Lucky Kali lives at Sapana Village Lodge in Chitwan spending her days with her caregivers being an elephant - roaming in the grasslands and swimming at the river. She has become smitten with a three-year-old elephant Samrat Gaj and she follows him everywhere if she can. She is blossoming every day now and can be seen celebrating life. When the owners, the guests, and the community see and share this experience it fills all with joy.
Our hope is that Lucky Kali's success will lead to similar retirement options for more of Chitwan's privately owned elephants. As more and more tourists prefer to see elephants living like Lucky Kali now does, more elephant owners will agree to this new life for their elephants.
You can join us!
Non-profit organisations Association Moey and Direct Aid Nepal have developed a recent partnership to help Lucky Kali. Direct Aid Nepal is covering the rental cost for her freedom for one year, Association Moey is now fundraising to cover the other costs involved in Lucky Kali's care and cannot do this without your help.
Expenses include Lucky Kali's food and access to the big land for grazing and mud bath, food and housing for her two care givers (Mahouts) and their salaries. These very basic costs add up to about $650 (US) per month.
We are fundraising to secure 12 months of her care to know Lucky Kali will be content and secure for an entire year as she recovers from the trauma from her past life. No donation is too small.
Please give what you can to help Lucky Kali, and pave the way for the future of elephants in Nepal.
Thank you for your ongoing support!

Visit our website: association-moey.org