Bicycling Western Australia is presenting a charity ride Luminocity – Night Ride Perth on Saturday, 17 February 2018 and has aligned with Cycling Without Age, WA as the charity partner. The event will shine a light on how the elderly can benefit from being on a bicycle as well as how our communities can connect through cycling.
A lack of mobility is no longer an obstacle to getting on a bike. Everyone can enjoy the outdoors and "the right to wind in their hair." By experiencing the benefit of being on a bicycle, the elderly feel valued. The program encourages people aging in a positive context, using cycling as a means to promote interaction with local community members and their environment.
Started in Denmark, Cycling Without Age is a volunteer, not-for-profit organisation that connects elderly people with the community and outdoors. The international organization operates in 37 countries with 1500 trishaws now worldwide.
Australian chapters are operating in ACT, NSW, VIC, SA, TAS, and now WA. CWA-WA Inc was established in November 2017. Its vision is to support and promote the program throughout WA, creating opportunities that allow the elderly to feel more included in their community and access to active citizenship for participating pilots. Currently, committed Affiliates are facilitating the purchase and operation of three trishaws in Sorrento, Melville, and RAAFA in Bull Creek, due in January 2018.
The first trishaw in Western Australia will be lit up during the event, but we need help bringing more trishaws to communities across the state. The approved Cycling Without Age electric trishaws from trioBike cost $12,500AUD. Donations will contribute toward the purchase of new trishaws, as well as promote and support new and existing CWA Affiliates.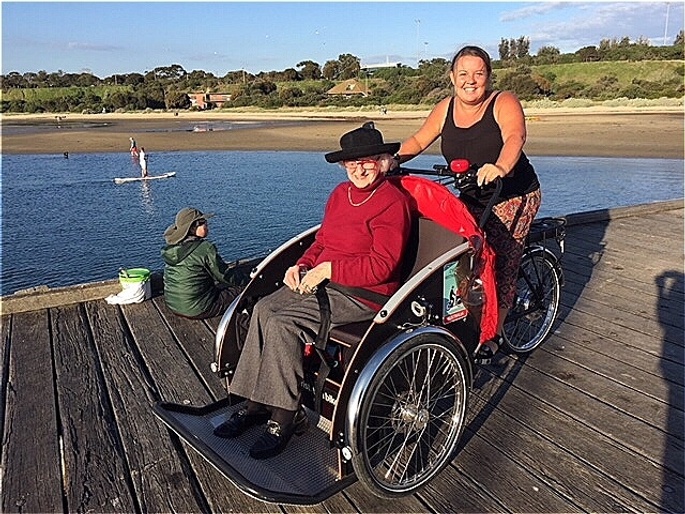 Join Cycling Without Age and donate to support the program in WA. We'll keep you posted of our progress and how you can get more involved as a volunteer.