Elm Grove Sanctuary Trust

is a charitable Foundation working for: Human Rights, Social Justice, Education, Environmental Care and Support for All People. We are endorsed by the Australian Taxation Office as a tax exempt charity and all donations are tax exempt
ABN 27 003 317 619

We are delighted to see the progress being made at Narooma High School's Special Education program to enable Aboriginal kids to work towards establishing skills and values to successfully transition from school to the community and the workforce.
AND IT IS HAPPENING BECAUSE BIG HEARTED AND GENEROUS PEOPLE ARE MAKING IT POSSIBLE.
Narooma High School in collaboration with our charitable foundation, Elm Grove Sanctuary Trust, are providing this gardening and construction based skills program aimed at supporting students with mental health and behavioural challenges who are aged 15 to 17 years of age.

Todd Helton, their teacher, has created a skills and values based program which is enabling students to successfully transition from school to the community and the workforce. By using an Integrated learning approach to syllabus content it enables connections between key learning areas (maths, science, geography, history) so that students can understand the significance and application of knowledge aligned to the skills that they are acquiring. By having this project to work on with a future outdoor workshop, students are able to practice the newly learnt skills in a supported setting increasing the opportunity for success in learning.
The outdoor garden area adjacent to their classroom has provided hands-on learning of construction, landscaping, horticultural skills along with leadership, team work and sound self regulation strategies creating an aesthetically pleasing and calming environment to access at times of stress and anxiety. They are learning team and leadership skills along with the health benefits of fresh food including bush tucker and outdoor recreation.
We raised the initial start funds in just 2 days from our launch, so this project got off to a flying start.

Todd has reported, "its been great watching the students build confidence and begin to work more independently. Even some of our most disengaged students have been getting involved"

The site was cleared and students began work on fencing for the gardens. Post holes were dug and posts cemented in. Given the hard packed clay soil, and the need to dig the holes down 600 mms, this was no mean feat and produced several blistered hands and lots of toil.
Then the sleepers were delivered for the raised garden beds and students seeded and raked the adjoining area for grass.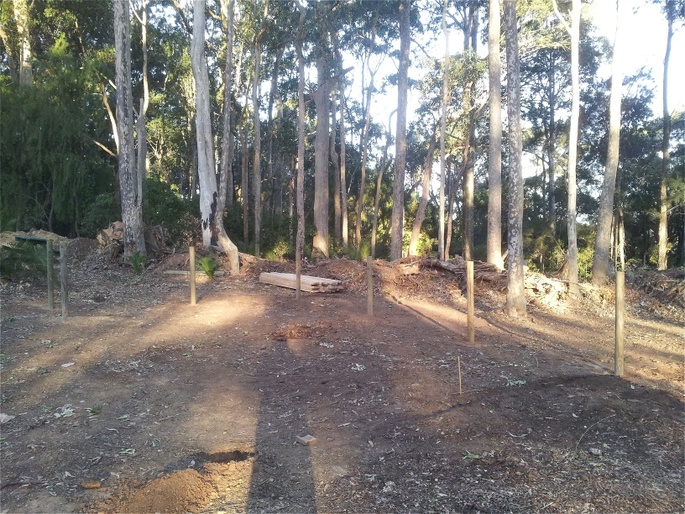 A gate was built and installed and the raised beds were created.


With the fencing and the raised beds completed, quality garden soil was purchased, applying the maths learned in the classroom to determine the volume required. The students then barrowed this into the beds before planting out the vegetable seedlings.
With the hoops and netting in place the gardens are now growing as is the enthusiasm of the students.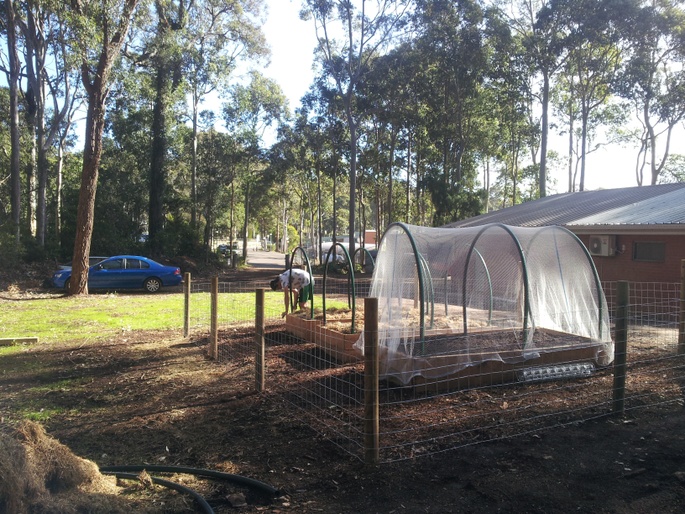 EGS Trust Directors, Edwin and Laurel recently visited the site to see the newly installed shipping container which will become the workshop for carpetry skills.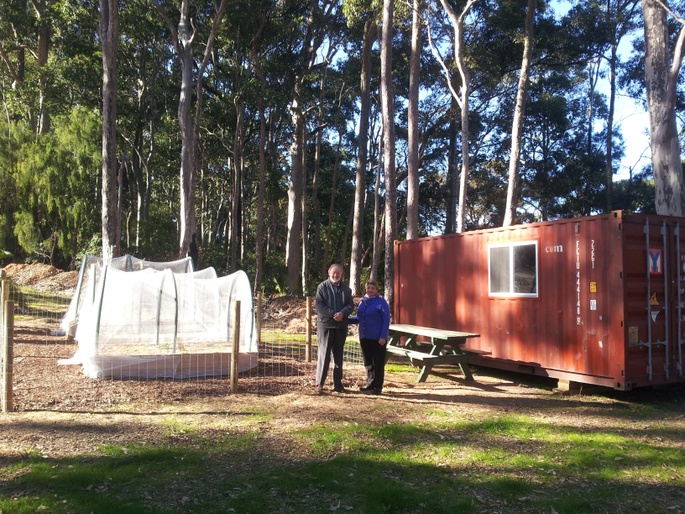 Teacher, Todd Helton, shows us around. He's delighted with how things are progressing.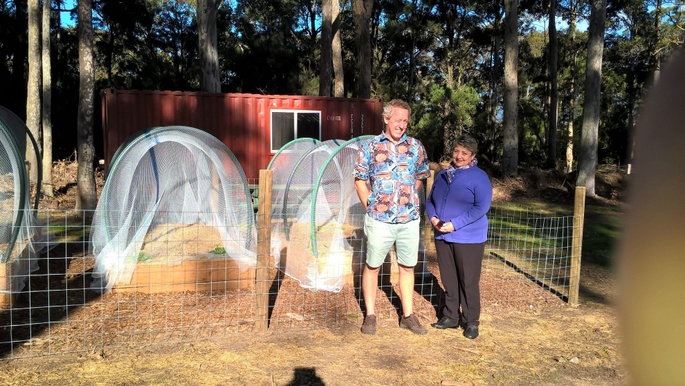 2nd stage has begun:
With additional funds provided by our EGS Trust we have been able to purchase a shipping container and have a window installed and transported onto site for use by the students as a woodworking shed. It is now just a blank canvas awaiting the creative talent of the student's artwork. They favour calling it 'The Patch' as it relates to the garden patch and also as a space for patching the wounds in their daily lives.

A sturdy work bench and woodworking tools are still needed so if anyone can help out with surplus tools etc., or the funds to purchase these, that would be great. Also, any timber off-cuts for creative work would be appreciated.
'The Patch' can provide a great space for learning wood working skills such as bush furniture making, sculpture, carving, and artwork. One of the shops in Cobargo has shown an interest to display and sell the students future work.

A future Yarning Circle with seating will provide a gathering place for communal times and the serenity of the gardens will create a space for when stress and anxiety calls for time out from the classroom.
UPDATES:
Todd Helton, the teacher overseeing this program, rang very recently to give an update on progress. He is delighted with how the project is coming along and the positive response from the students involved.
He remarked on the new interest being shown in the morning theory classes where they learn about the maths, science and structural process etc before applying this learning in the afternoons with direct hands-on construction. This brings their learning into context and it has really captured their interest and understanding. Wouldn't it be excellent if all education was taught in this way?
We discussed the shipping container for the workshop and the recent quotes that Todd has had from several suppliers. I gave him the okay to go ahead to order this. It will have a window inserted and be delivered by a tip-tray truck. They will invoice us and any GST charged can be claimed back as we are tax exempt so this refunded GST can go back into other necessary resources for the project.
They have now completed the raised garden beds and next week they will have the garden soil delivered. Once the soil has been wheelbarrowed to site they will finish the fencing and begin planting out the gardens.
This project is having some very positive results already and should continue to provide a real benefit to all the students involved now and well into the future.
25.6.2018 - We now await the delivery of the shipping container which will become the workshop for this project. This has been paid for and it now has a window installed. It will be delivered to the site this week. This enables second stage to commmence which includes skills being taught in outdoor furniture construction and other creative work. The generous contributions and support from people has brought this project to this stage and it has shown through the engagement and enthusiasm shown by the students that this project will provide ongoing positive outcomes. We will be excited to provide you with ongoing photos of this project and the growth in the gardens.
6.7.2018 - on a recent visit to the site comments such as: '"won't it be good when we can pick our own veggies and cook them in our classroom kitchen for lunch", brings delight and affirmation to the worth of this program. Todd told us how the students are looking forward to mowing the grass etc. - all skills for when they are seeking future employment.

Can you help us with a donation towards this 2nd stage and tell your friends about this great project to support kids facing challenge in their lives.

Without your support these young people would have missed out on the chance to discover these new skills which can lead to a much better prospect for them when they leave school. These kids struggle with challenge every day of their lives and caring people are offering them hope.

All donors receive updates to keep them posted.
Your donation is tax deductable
All donations over $2 can be claimed as a tax deduction as we are a registered charity.
Elm Grove Sanctuary Trust was founded in 1983 as a philanthropic foundation working for human rights, social justice, the environment and to offer support, encouragement and hope for all people. We are endorsed by the Australian Taxation Office as a tax exempt charity - ABN 27 003 317 619
Website:www.elmgrovetrust.websyte.com.au
Email: [email protected]