We love West End
Our neighbourhood is famous for its vibrant artistic culture as well as its diverse and inclusive spirit.
People from around the world comment on the great atmosphere and strong sense of community.
But it's under threat
A wave of overdevelopment threatens the diversity, sustainability and livability of our neighbourhood.

Multinational real estate giant Sekisui House plans to turn the former Absoe site into an $800m residential/retail complex heaving with seven 15-storey skyscrapers, 1350 luxury apartments, 2000+ carparks and what could be Queensland's biggest ever supermarket.
Why is the Absoe site so important?
Centrally located at the corner of Boundary St and Mollison St, this 2.6 hectare site is West End's civic heart.

What was the home of vibrant community night markets, live music venues and affordable arts and creative industry spaces has now been lost.
This site is of critical importance to the character and feel of West End and the community deserves a meaningful say in its development.
This development has been approved by the Brisbane City Council despite significantly exceeding what is allowed under planning regulations.
Our Concerns
West End residents have shown that they embrace change and want to continue growing as a model inner city community.
The Absoe site provides a unique opportunity to do that.
Sadly, what is proposed will be a backward rather than a forward step.
Together, we can make a difference
Residents have voiced their dissatisfaction with BCC plans which govern the Absoe site.
But the BCC has now approved significant concessions that go beyond even these plans and the community has demanded action.
Experts engaged by WECA have advised that a legal challenge to these concessions would have reasonable prospects of success so a court challenge will be mounted.
WECA has been celebrating and advocating for the community for more than 12 years and has a successful track record of courtroom victories against profit-driven high-rise developments.
We're proud and honoured to act on behalf of the West End and wider Brisbane community.
But we need your help
Legal action is expensive.

The system favours corporate interests with deep pockets and WECA, as a not-for-profit community group, needs your financial support to secure the best possible chances of success.
Sekisui House is worth billions of dollars.
We need every dollar you can spare to engage lawyers and experts in fields such as planning, traffic, urban design, use of open space and retail issues to ensure we achieve the best outcome for West End.
Many of these professionals are generously giving us some pro-bono time and significantly reduced rates.
But even lawyers need to eat... ;-)
How does your donation help?
With the discounts we are generously getting, every donation is bringing in much more value. The more we can raise, the stronger the case we can present.
$1,100 pays for the court lodgement of the appeal (no discount)
$2,000 pays for hard administrative costs such as postage, filing fees, telephone calls, photocopying etc
$3,000 pays for the pre-lodgement prospects review (50% discount)
$4,000 pays for an expert report (20% discount)
$15,000 pays for two days of a Barrister's time (63.5% discount)
Who is WECA?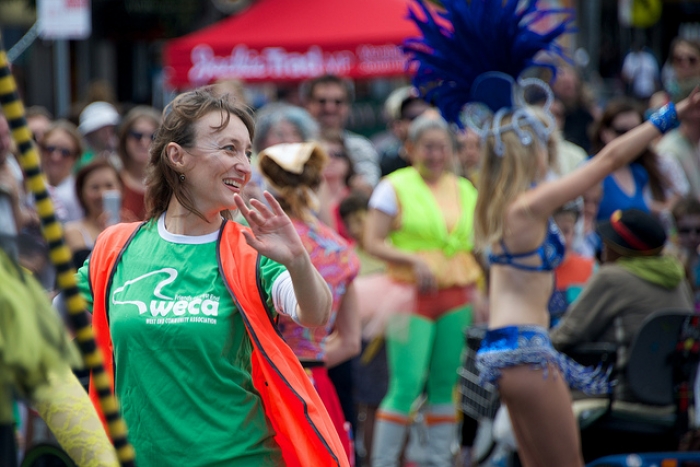 The West End Community Association (WECA) is a not-for-profit, incorporated association of residents and friends of Kurilpa (West End, Hill End, Highgate Hill and South Brisbane).
Formed in 2004, WECA celebrates and promotes our values, events and the people that make Kurilpa a vibrant and diverse community.
The Association is open to and welcomes residents (owners and renters alike) community organisations and business people to join with us in our initiatives.

Over the years WECA has conceived and founded much-loved festivals and events such as the Kurilpa Derby, West End Festival, Block and Mini Block Parties, Love Local Festival, Boundary Street Festival, Sunday Best and many of our other celebratory events. We have also facilitated the West End Film Festival.

WECA supports sensible development in the Kurilpa region, and actively engages in different campaigns for the local community.

WECA VALUES WHAT OUR COMMUNITY VALUES

Diversity
Participation
Social Justice
Sustainability
WECA'S VISION FOR KURILPA IS A COMMUNITY CHARACTERISED BY:
Cultural, social and economic diversity
Tolerance and social justice
Respect for our heritage and natural environment
Sustainable streets and businesses
Prosperity and innovation.
"Our built environment, infrastructure and social services should advance, support and nurture our community and its values."
Who is Sekisui House?
Sekisui House is a Japanese headquartered multinational real estate developer.
The company has been in the news this year with reports that Ipswich Mayor Paul Pisasale lobbied former Queensland Premier Campbell Newman in favour of a controversial $2 billion project on the Sunshine Coast on behalf of his political donor. abc.net.au

Last month ABC News revealed Sekisui gave a $5,000 donation to Cr Pisasale just before the March local government elections.
According to the ABC, Sekisui has been linked to Australian Water Holdings (AWH), the company at the centre of inquiries by the Independent Commission Against Corruption (ICAC) in New South Wales in 2014. abc.net.au

ICAC is yet to hand down its findings on that matter.

Australian Tax Office records show that Sekisui House paid zero tax on profits of $647m in the 2013-14 financial year. abc.net.au

Spread the word
Help us keep the soul in West End by spreading the word about our campaign.
Please share this appeal on Facebook, Twitter, tell your friends and family and encourage them to contribute.
Together we can keep the soul in West End.