Our campaign is now closed. Please click here to make a donation via our website instead: http://bit.ly/29iA5C4

Experience the Welcome Dinner through Samson's eyes...
More than a meal...

For three years now, Welcome Dinners have been transforming relationships at the grass-roots, creating a more inclusive and connected Australia. Participants most often say they feel a sense of belonging and increased confidence to interact with their communities. Many also tell us that being part of a Welcome Dinner was the first time they have ever been invited into a local home.
The Welcome Dinner Project is enabling newly arrived and established Australians to connect in a meaningful way over a pot-luck style meal. We have held nearly 200 Welcome Dinners (and lunches!) since our initiation in 2013 by non-profit organisation joiningthedots. The Welcome Dinner movement has been built by the good will of volunteers, hosts, donors, local partners and people just like you!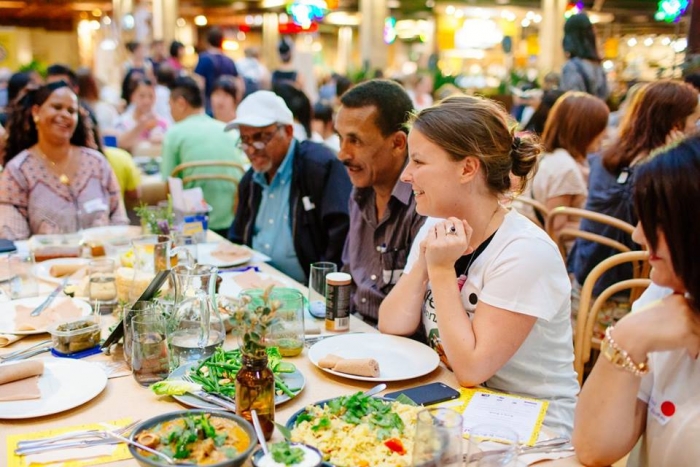 The need is growing...
Already close to 4500 people from across every Capital City in Australia have taken part in a Welcome Dinner, with the number of dinners doubling in the past year. We only need to look at our increasing list of registrations to see that the desire to connect is ever-growing!
To keep the Welcome Dinner movement alive we need to keep all the wheels in the background turning, making sure we can cover our overheads and coordination costs.

'It's my ...er your shout!'
With your support we can create more seats at the table! We are inviting you to shout a seat for someone else to experience a Welcome Dinner. The colloquial Australian phrase 'It's my shout' is common among friends and means that you will pay for them. This pay-it-forward model ensures that attending a Welcome Dinner is free to anyone who wants to attend by supporters covering the costs of seats.
$30 to shout a seat
Welcome Dinners are simple in concept but actually require extensive human resources and other overheads, equating to each seat having a $30 value, even while we are run in the majority by volunteers. Each dinner takes over 10 hours to plan which includes countless phone calls, emails and text messages plus website, database systems, volunteer insurances, office costs and bottles of our special sauce!
Why not pay-it-forward today and shout 1 person a seat!
OR cover the cost of a couple for $60
OR a whole family for $120
OR go all out and shout an entire Welcome Dinner for $600!!!
If you want to go above and beyond, you can also hold a fundraising cooking class in our honour (We are blushing, thank you). Do you have a nonna that makes the best pasta you know? Got a special dish to teach? Hosting a fundraiser cooking class is a fun way to learn a new delicious recipe while hanging out with friends and then donate the proceeds to The Welcome Dinner Project.
Thank you for making Australia a better place for all of us!