A little bit of context
We're already seeing coral reefs disappear, severe weather will becoming more frequent, causing damage to infrastructure, loss of life and livelihoods, and unspeakable damage to ecosystems. Experts say we have 12 years to avoid exceeding the 'guard rail' of 1.5 degrees warming, with devastating impacts if we don't act to curb global emissions.
But there is a great hope in the army of students dedicated to uncovering the solutions on their way to finishing their degrees. We have already seen tens of thousands of students march out of school demanding strong climate action. The lives of future generations are speaking up right now, they have the energy and are STUDYING to learn the best ways to rise up to this intergenerational problem. We want to capture that and turn it into something that has a practical impact in communities. We know how (roughly). And we know it works (pretty much).
But there's a problem
There are currently no comprehensive free services to students in Melbourne or Australia that support the aim of research translation into practice with the aim of turning their KNOWLEDGE into IMPACT - our program will provide one-on-one support making sure students don't feel alone, making them feel empowered that their research matters and that they can be ambitious with their goals and ideas on how they want to transform communities. We also want to run workshops for groups and go out to universities to help students consider why they're researching and figure out what impact do they want to make.
We want this program to be free for students, however there are operating costs that we have to cover.
Here's what we're doing about it
The ICLEI Young Writers Network is a platform for students who are studying to make a difference. We're targeting the future leaders and knowledge brokers who know the science, to help them spread their knowledge to others beyond academia and out into the world where it can make a difference.
Each student that goes through it will learn practical skills and strategies that will immediately help them communicate their research to a broader audience.
We've already started providing assistance to a student, and are supporting him to turn his Master's thesis into a summary report to delivery back to his research partner in Fiji, and to the community. The hope is with tailored and targeted communications advice and support we can help Oli make an impact with his report beyond his grades.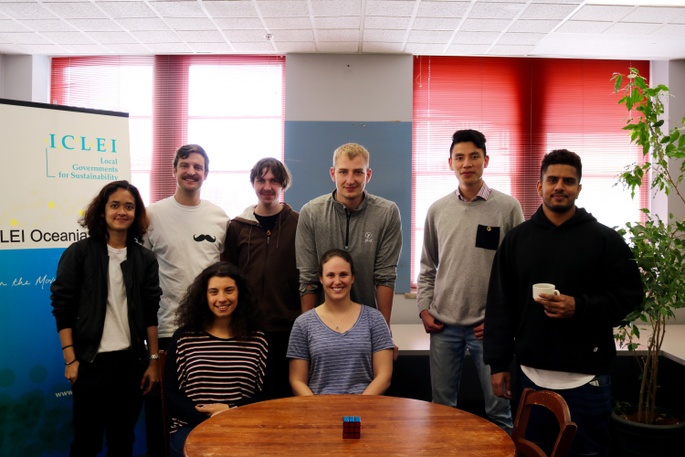 You can join us
YOU CAN MAKE THE DIFFERENCE!!
The funding will help cover costs of:
- Specialist communications training to review participants' research and tailor a communications program specific to their field of interest and review their communication strengths/weaknesses
- Group workshops where students learn from each other, are given training, communications exercises, and, if we get enough support, learn from guest speakers (including costs of room hire, basic catering, stationary and workshop materials)
- Develop and maintain an online platform to publish student work, including social media, photography, email outs, and website maintenance
- Meetings and travel to promote the program to students, speaking at events to garner support for the program, find more supporters and partners especially with academics, researchers and universities, who can provide further financial and in-kind support to the program


Additional funds beyond our goal will be used for
- More professional networking opportunities for students, bringing in speakers and running public events
- More resources for students, including time for researching sustainability communication strategies
- Organising extra events such as public seminars, lectures, workshops to share students' research and stories
- Attending conferences and extending the program to students interstate and in other countries
- Applying for grants and conducting other fundraising activities to support the future expansion of the program so we can help more students
And here's some amazing perks for supporting us that you can't live without
ALL donors names will be listed publicly on our website recognising your contributions - a token of our gratitude for your generosity.
$20 A personal thank you shout out over social media
$50 Above + A haiku or poem on a topic of your choice
$100 Above + Gift a copy of "Don't Be Such A Scientist" by Randy Olson to a student
$250 Above + Your name/logo/brand listed on Young Writers webpage as major supporter of the program
$500 Above + Become an official partner of the ICLEI Young Writers Network, with prominent display of your logo and branding on our web page, promotion to our audience through our activities and events.