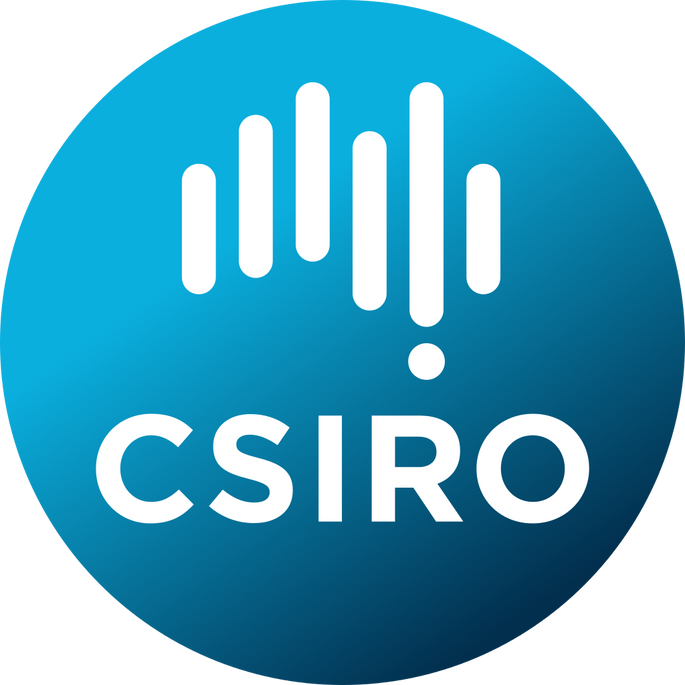 "By supporting us in the Homeward Bound programme, you are investing in global leadership and a better future for tomorrow"
We are five intelligent, disciplined, hardworking, and passionate women with a STEMM background who care about the future of our planet. We are very fortunate to have been selected from an international pool of women to participate in the fourth Homeward Bound program, a 12-month leadership program that culminates in an intensive voyage to Antarctica.
What is Homeward Bound?
Homeward Bound was founded by Fabian Dattner, who's vision was to create a 1,000 strong global network of women with different STEMM (Science, Technology, Engineering, Mathematics, Medicine) backgrounds, nationalities, ages, and experience. These women will work collaboratively towards a sustainable and healthy future for our planet.
Pressing issues:
"Today's society is facing two most pressing issues; gender equity and the impact of humans on the environment"
Leaders in STEMM: a matter of gender?
More than half of all students in STEMM are female, however, when women move up the carrier ladder their numbers are decreasing, with only 16% of group leaders and professors in STEMM subjects being female. So todays leadership, that shapes our planet, is comprised predominantly of men, even though teams that have an equal gender representation are generally thought to be more effective.
What about the environment issue?
Human's impact on the environment can be strongly seen by climate change, global warming, and depletion of natural resources, such as food and drinking water. We have to fight for a sustainable future and urgently need to act right now to preserve our planet for future generation.
"It is time to support women to become leaders that will have an impact on decisions and policies that shape our planet!"
Why Antarctica?
Antarctica shows the fastest and most severe response to the environmental changes we face today. Therefore, Antarctica became a symbol for global change and the uninhabited nature of this continent is incredibly inspiring. The Homeward Bound leadership program culminates in a journey to Antarctica where 92 women, who care about our planet, will undergo further intensive leadership training and will collaborate with world-class experts in STEMM, managements, and communication to develop a leadership skill set.
Who are we?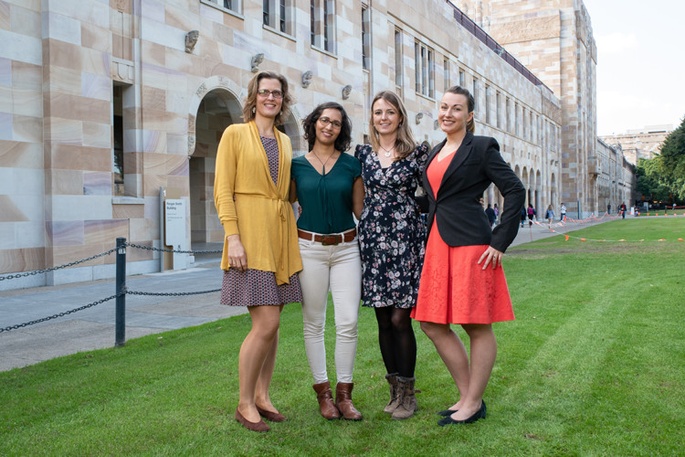 From left to right: Anna, Bianca, Emma, Hana and (Karen is not on the picture)
We are five women from Queensland that have been selected among 92 other women with high professional potential, to participate in the 12-months Homeward Bound leadership programme. We are thrilled to join this amazing cohort, including scientific and leadership pioneers, senior scientists, early and mid career researchers, students, policy makers, strategists, professional mentors, expedition leaders, and educators.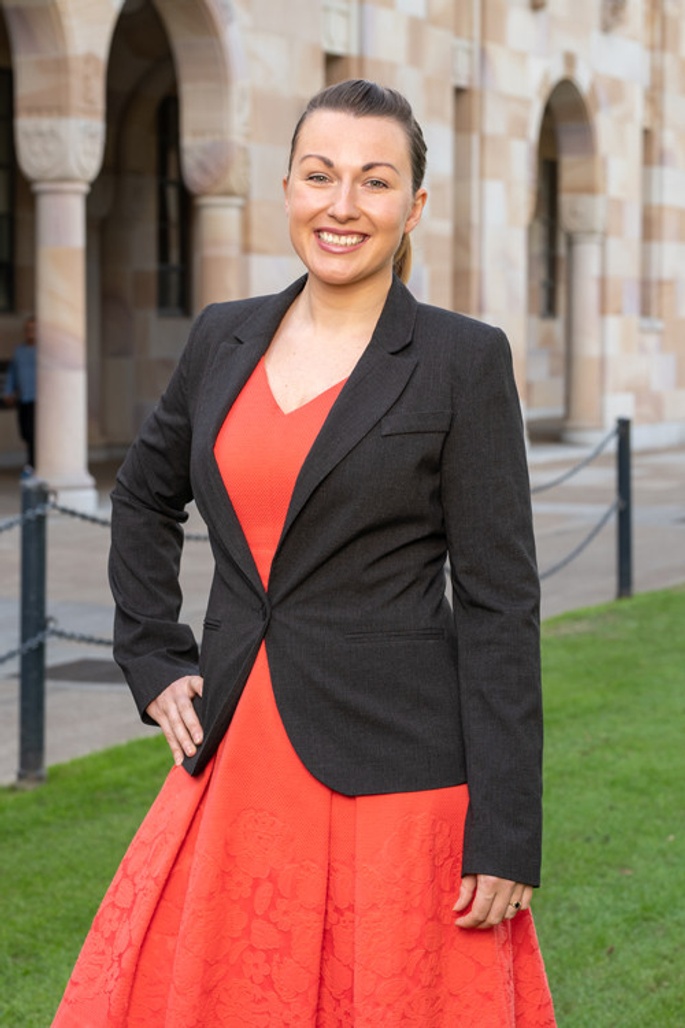 HANA STAROBOVA is a PhD student with special interest in pain and the development of new painkillers from animal venoms such as spiders and scorpions. Hana began her research career with a pharmacy degree in Germany and her current work focuses on neuropathic pain. Hana is using sophisticated research techniques investigating gene and protein changes in disease models to develop and test new painkillers for the treatment of neuropathic pain. Additionally, Hana is passionate about knowledge, science communication, advocacy of students from disadvantage backgrounds and animal welfare. By participating in Homeward Bound, she's hoping to develop skills that allow her to become a leader achieving transformative outcomes with outstanding science, as well as to become a leader effecting policy change. She believes in equity and that everybody has the right for education regardless of his or her background.
personal chuffed profile:
https://chuffed.org/project/empowerwomeninstemm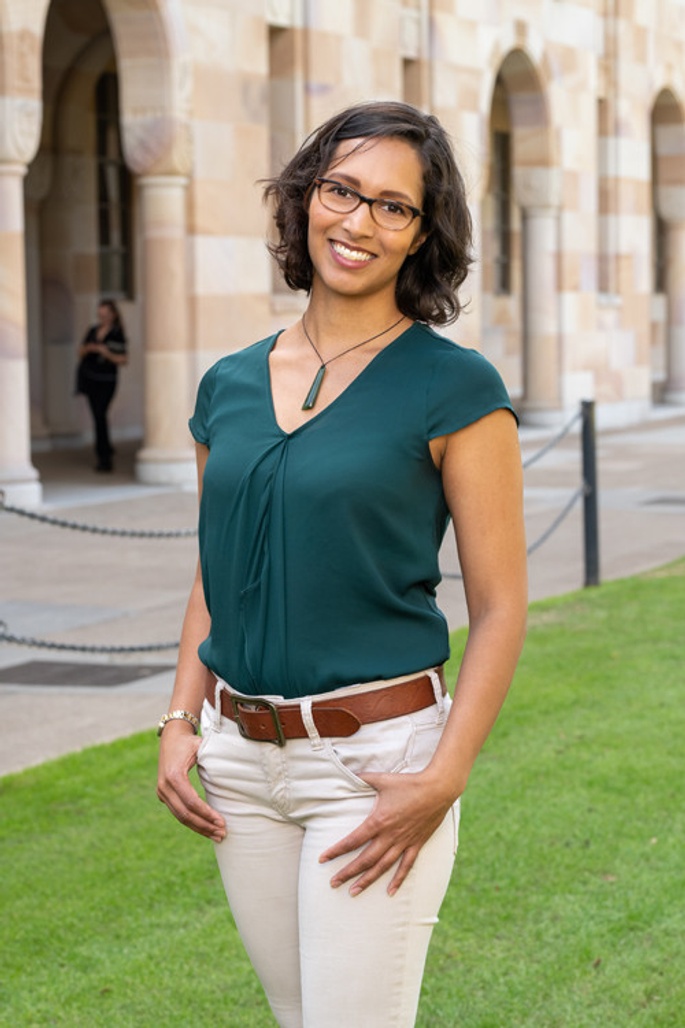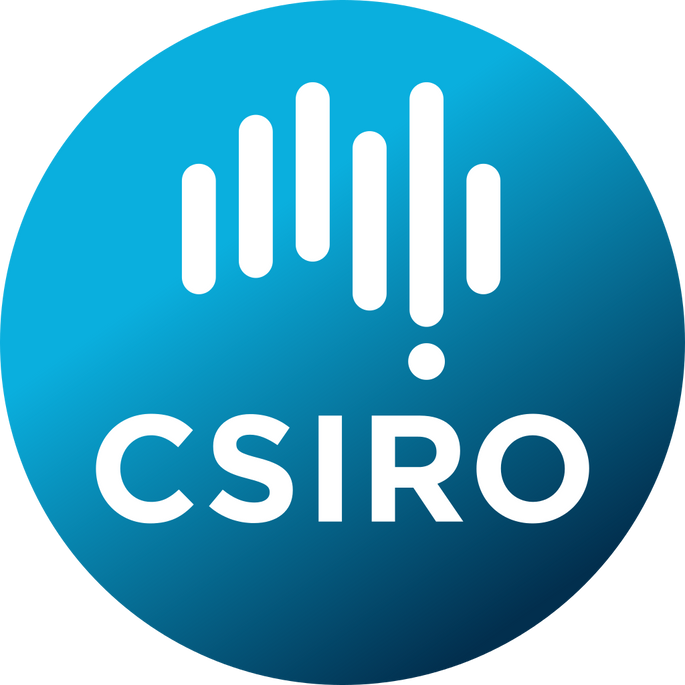 BIANCA DAS is a soil scientist and an agricultural systems modeller, currently working at the CSIRO in Toowoomba. She has a BSc. (Hons I) from Lincoln University, an MPhil from The University of Queensland and is currently pursuing a PhD in soil phosphorous cycling. Growing up in New Zealand, Bianca was raised with a strong understanding of what it means to be a guardian of the land, in Te Reo Maori it's called 'Kaitiakitanga.' With a passion for improving soil quality and ultimately securing future global nutrition, Bianca has worked in research on a variety of global challenges such as; quantifying N2O emissions from dairy soils, improving infiltration of saline-sodic soils and reducing nitrogen losses in sugarcane systems.
personal chuffed profile: (coming soon)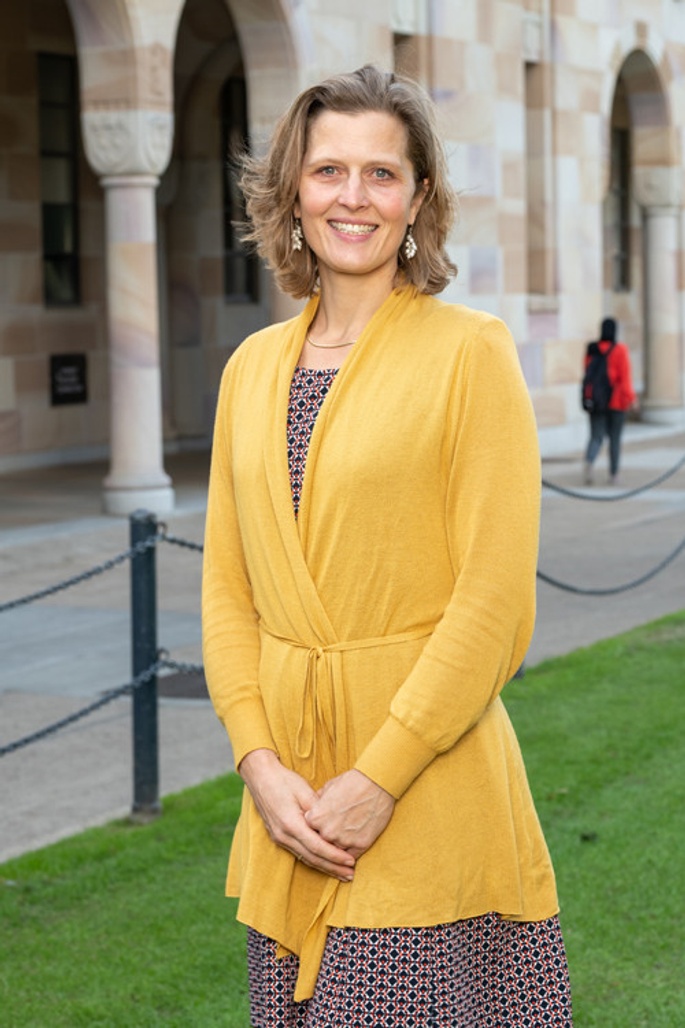 DR ANNA VINKHUYZEN is a research fellow and research project manager with a strong passion for the translation of science into public health applications. She works at the Institute for Molecular Bioscience within the University of Queensland. Anna's major scientific interests are the genetic underpinnings of common complex disease – diseases that are common in the population but very complex in nature. She enjoys the challenge of translating scientific discoveries into tools for improved prevention and early diagnosis. Currently, she is developing a genetic risk prediction tool for psychiatric diseases to be used in Australian mental health clinics.

personal chuffed profile:
https://chuffed.org/project/homeward-bound-anna-vinkhuyzen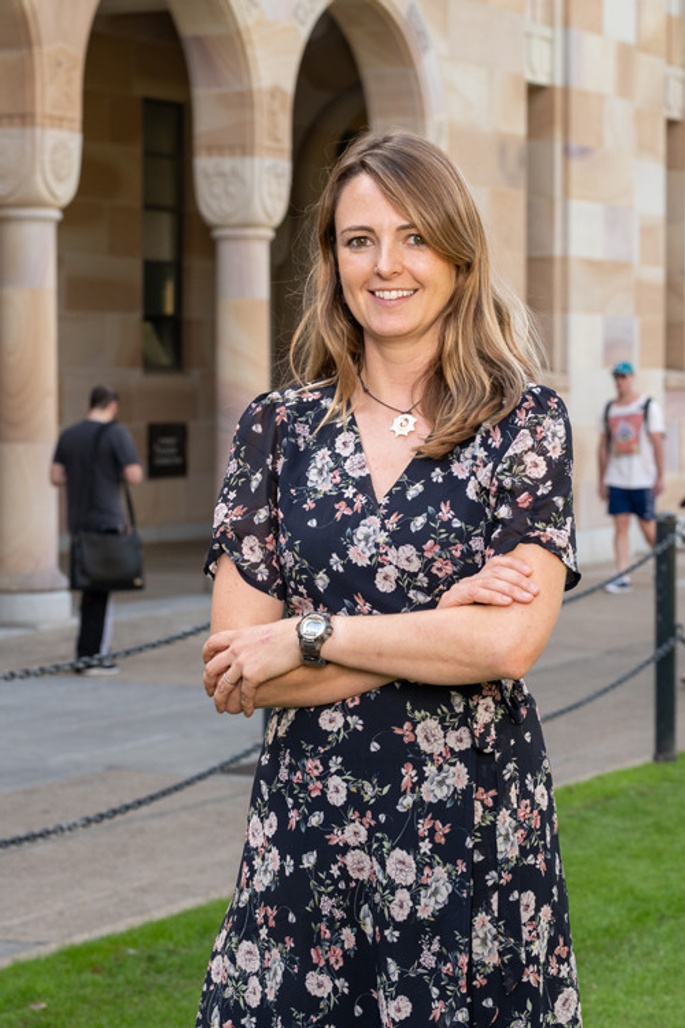 DR EMMA KENNEDY is a spatial ecologist in the Global Change Institute, with an expertise in coral reefs and climate change. Emma explores how reef organisms interact with each other and the environment, working at a range of spatial scales, from the molecular (microscopic symbionts living inside corals) to the global (scaling up our ability to monitor changes in reefs using new technologies). She is currently the lead scientist on the Seaview Survey, a high-profile coral reef monitoring program using 'google streetview' style cameras to collect information about coral reefs. Emma believes everybody should have the chance to experience the reef, and in her spare time teaches scuba diving and supports citizen science organisation ReefCheck Australia. By participating in Homeward Bound, she's hoping to significantly enhance her leadership, strategic and visibility skills so that she is better equipped to effect positive outcomes in her sphere of influence as well as in the wider world.
personal website: kennedymarine.org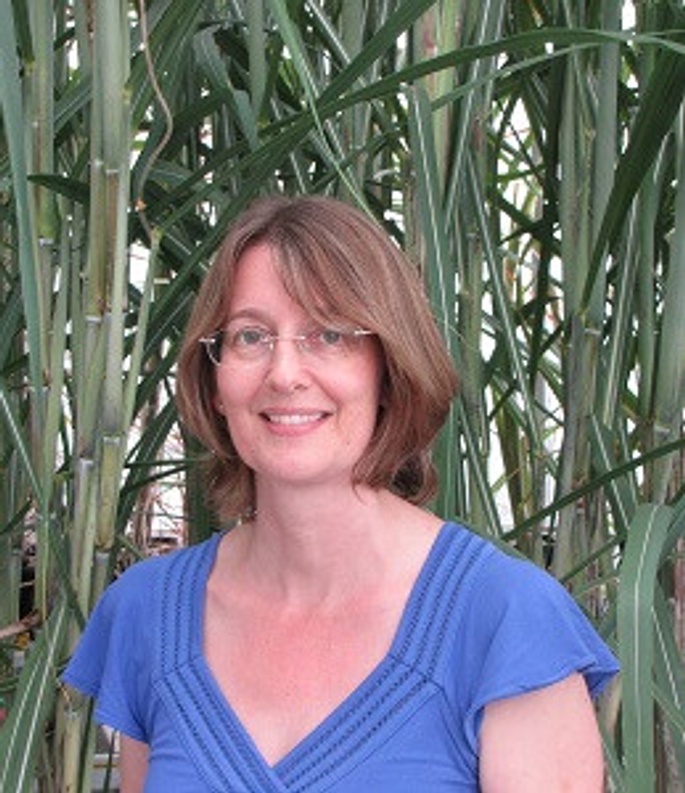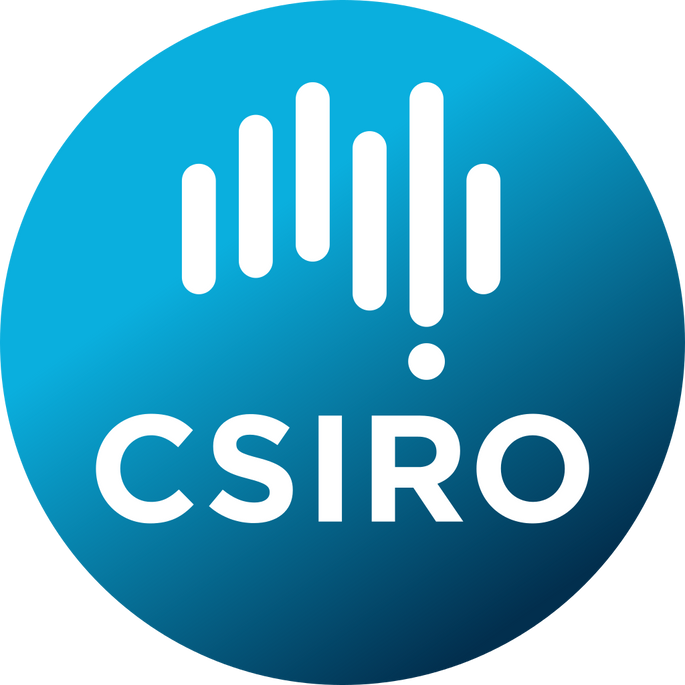 DR KAREN AITKEN is a principle research scientist in CSIRO's Northern Crops program and leads the Sugarcane Improvement team in Brisbane, Australia. Her research focuses on understanding complex plant genomes and polyploidy, she is PI of a US Department of Energy community science project which is sequencing the sugarcane genome. She enjoys the challenge of converting scientific discoveries into tools that can be used to make farming more efficient and sustainable. Karen is passionate about encouraging women into science and making science more accessible to the wider community.
"We are not only scientists, but also strong, independent women!"
We plan to use what we have learned in a number of ways:
Pass on our knowledge to the next generation of researchers and leaders
Work with Queenslands' universities, schools, organisations and institutions to ensure gender equity and leadership opportunities for girls and women
Step up in our leadership capacity in our own workplaces & communities
Mentor women joining future Homeward Bound expeditions and stay active participants in the Homeward Bound network



How can you help?
The 12-month educational programme and trip to Antarctica are not cheap and your support will help us to finance this unique experience. The total cost of the programme is approximately AUD 43,000 per person and the Dattner Grant Pty Ltd, partner of the program covers part of those expenses through various sponsorships.
Participants are required to contribute AUD 25,000 to the program plus additional costs related to the Antarctic Voyage.
As a team, we initially aim to raise $35,000 to cover part of the program fee. Any contribution, big or small, is greatly appreciated and will help to support our involvement in the Homeward Bound program.
For those who would like to assist us to reach our target – a heartfelt thank you.
You can also show your support by spreading the message to your colleagues, friends, and family through word of mouth and social media.
Sincerely yours,
Hana, Bianca, Anna, Emma, and Karen!
Brisbane, QLD
Perks!
As a thank you for your support of our leadership journey and the Homeward Bound initiative, we would like to offer some presents in return to your contribution to our crowdfunding campaign. Please see the right side panel for some perks.