A little bit of context
We (Philly Socialists) met Cesar in 2013, during the first block party we ever had at in the Iglesias garden. Cesar, his friends, and family run a Meso-American dancing group that perform at the garden every summer. They bless the area with ritual petals in vibrant colors, and dance to the beautiful sounds of instruments. Cesar brings life to our garden with his family, his art, and comradery.
Besides giving our garden life- Cesar has consistently participated in the enrichment of the city of Philadelphia by creating incredible murals that have given this city zest. He was the man behind the mural welcoming Pope Francis in 2015, the Andy Warhol visits Candem mural and countless other murals with Meso-American designs all over Philadelphia and Candem.
Cesar has made some amazing art for the garden, we have 3 big sculptures that bring the area to life. We also have a tree planted in his honor of his late wife.

(Pictured: Neighbors to the garden, and one of Cesar's sculptures)
But there's a problem
This summer is going to be different than the last five since we met Cesar. Recently, a developer bought the lot next to Cesar's home. The contractors dug to deep and cracked the foundation of our treasured neighbor's home. After an L&I inspection - Cesar was made to evacuate the house with his children, without a chance to gather there belongings.
Cesar had to leave behind not just personal items, but also years worth of memories that included a beautiful mural on the side of his house by his late wife.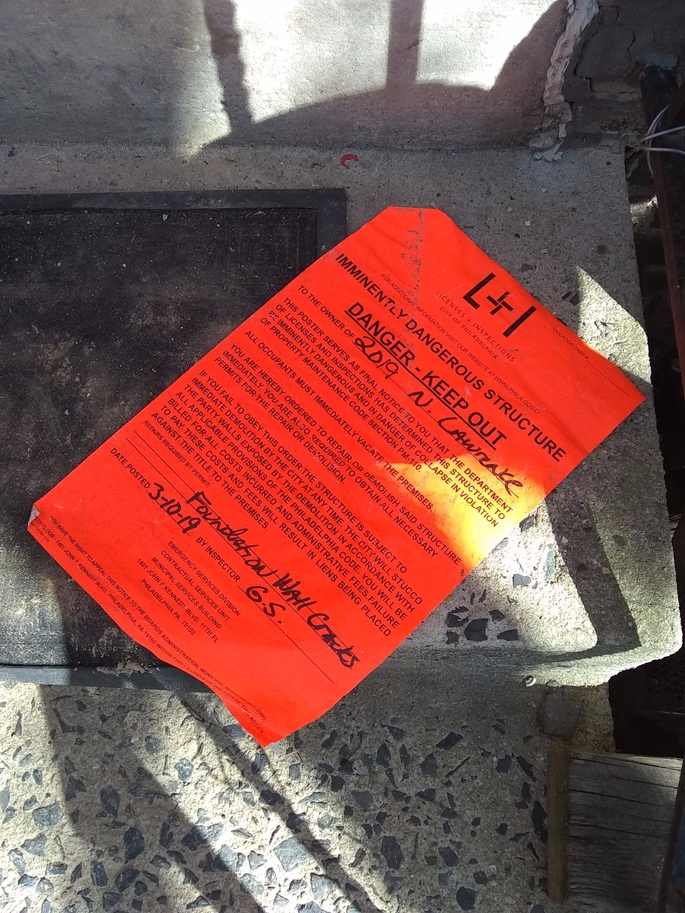 (Pictured: A notice that no one wants to recieve. An L&I notice deeming Cesar's home unhabitable)
Here's what we're doing about it
As members of Iglesias Garden, and comrades we are doing this fundraiser to help Cesar with living expenses for him and his family during this extremely difficult time.
You can join us
You can join us by donating any amount to help us reach our goal. Cesar has continully blessed us, and enriched our lives in ways we are greatful for every single day. Please help us, help him. No donation is to small!
Love & Solidarity Always,
Philly Socialists
(Banner Image Credit: https://www.muralarts.org/artist/cesar-viveros/)