Who are we?

Non-profit humane education publisher Generation 2050 has teamed up with Spanish cat charity Cats of Las Alpujarras and animal behaviourist Vicky Alhadeff to create a beautifully illustrated children's book anthology titled 'Kitten Rescue Tales' featuring real-life kitten rescue stories and illustrated infographics on cat welfare to inspire a generation of educated and compassionate citizens who will take a responsible and empathetic attitude towards cat welfare, care and the problem of feral cats.
Why are we doing this?
The arrival of spring in Andalucia brings with it two things guaranteed; sunshine and kittens! Whilst many of us can think of nothing better than that, sadly the start of kitten season in Spain signals a period cruelty and suffering for many of the nation's cats. The exact number of feral cats in Spain is unknown but they are a familiar site in any spanish town. Thousands of unwanted cats are born in Andalucía every year, some are lucky enough to find refuge in the mountains but many suffer horrible lives filled with hunger, pain and cruelty.
Humane education is vital to disrupt generational cruelty and address the empathy deficit in society. The world will not become a more humane and compassionate place without the guidance of dedicated educators. We have chosen to add to the growing body of humane education materials through the medium of stories because research shows that telling stories is better than presenting informational in a factual format to engage and inspire a lasting change in attitudes and behaviours.
You can join us
We need help from cat lovers all over the world to send one hundred free spanish language copies of the book to schools in Spain. A donation of £2.20 will pay for one copy to go to one school and that could make all the difference in the world.
You can also purchase a copy of the book in English from www.generation2050project.org. All the profits from the english version of the book will go towards spaying and neutering as many cats as possible in the Las Alpujarras region of Spain.
The Book -"Los Cuentos Del Rescate Del Gatito"
Kitten Rescue Tales or "Los Cuentos Del Rescate Del Gatito" in Spanish features two heart-warming tales of real life kitten rescues. Join us on a humane education adventure from the backstreets of London to the Las Alpujarras mountains in Spain.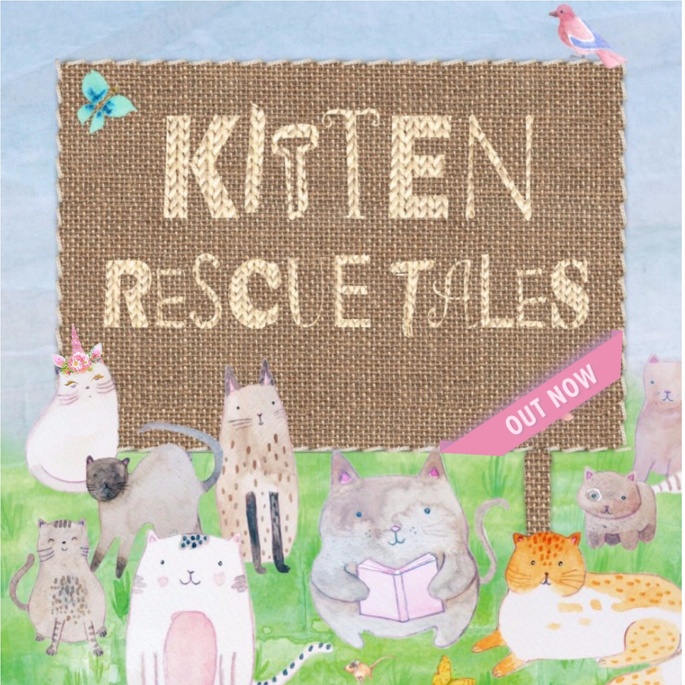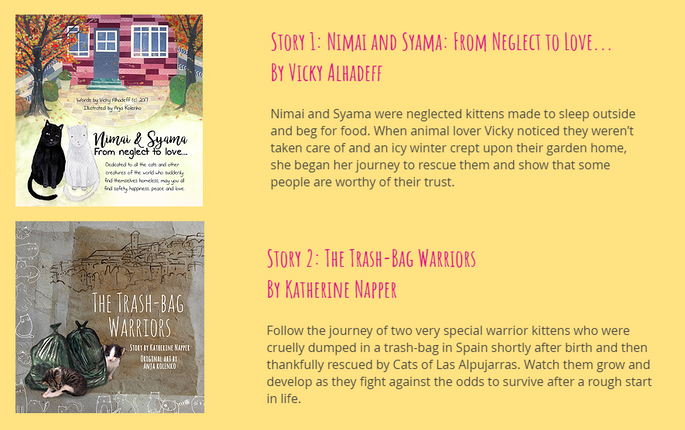 Nimai and Syama: From Neglect to Love...

Nimai and Syama were neglected kittens made to sleep outside and beg for food. When animal lover Vicky noticed they weren't taken care of and an icy winter crept upon their garden home, she began her journey to rescue them and show that some people are worthy of their trust.
The Trash-Bag Warriors

Follow the journey of two very special warrior kittens who were cruelly dumped in a trash-bag in Spain shortly after birth and then thankfully rescued by Cats of Las Alpujarras. Watch them grow and develop as they fight against the odds to survive after a rough start in life.