---
Version française en bas de page
A little bit of background about Ramu
Ramu is a young 25 years old bull elephant, healthy and full of energy whom we were able to save from being sold back to India and thus submitted to the worst possible fate.
Since the beginning of 2018, Ramu has been in SU4E's care. Thanks to the generosity of animal lovers like you, we were able to raise the funds necessary to pay the first installment for Ramu's emancipation.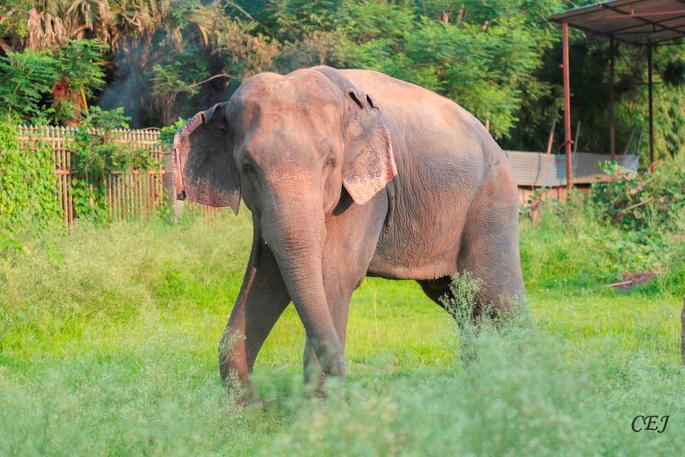 ---
But there's a problem
However, this was only the first step of his rescue as Ramu still needs a permanent home. We have been offered land close to the jungle, away from town for Ramu and his mahouts to live. We are on the verge of starting construction of a fenced corral in which he can be maintained unchained - contrary to the Nepali custom of keeping the elephants heavily chained , front and back legs. Caring for an elephant can be expensive, which is why we need your help. Ramu's keep also includes daily needs such as fresh nutritious foods and suppliments, medical treatments, whenever necessary, and the engagement of two dedicated and capable mahouts.
---
Here's what SU4E is doing about it
As of today, Ramu already benefits from the best possible care and he is in much better shape than he used to be. A year ago, he was kept chained in the open with no protection from the sun for lack of an appropriate shelter, and deprived from adequate nourishment or easy access to water.
Since taking over, we have been able to build him a proper shelter with access to water and hired a great team of mahouts, Sujan and Ramesh. However, he still lives in town and he is still chained - even if rather lightly, and will remain so until we are able to build the fenced corral he needs.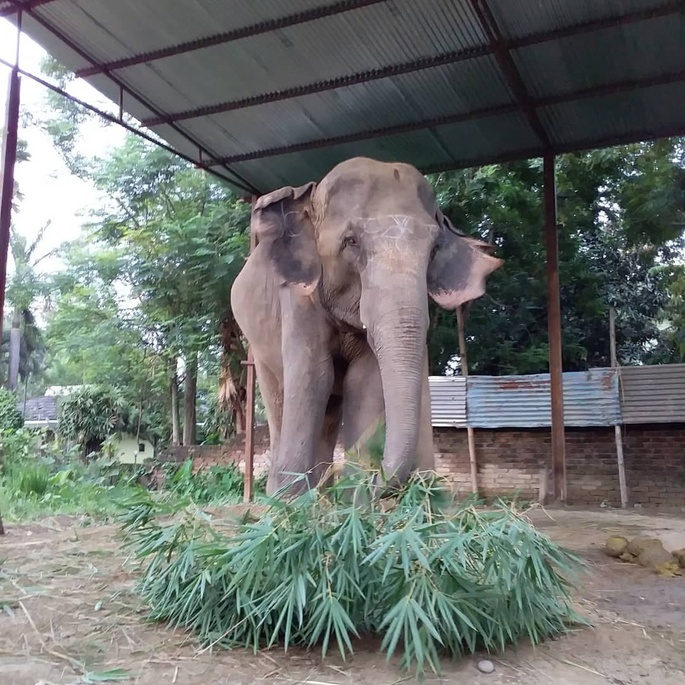 HELP US TO MAKE IT HAPPEN !
Ramu's rescue and keep are an ongoing operation for which SU4E needs funding, and thus generosity, to continue to flow in on a regular basis.
For 2019 the cash necessary amounts to $ 20,000 or € 17.500.
There is no way we can achieve our aim to give Ramu a safe and comfortable home without being able to rely on your continued support.
---
THANK YOU
We thank you all for what you have already done and for what we hope you will continue to do, hence allowing us to move forward with confidence.

NB : For more information on SU4E's other actions please visit our website at www.su4e.org
---
Version française
QUI EST RAMU ?

Ramu est un jeune éléphant mâle de 25 ans en parfaite santé et plein d'énergie que nous avons pu sauver du pire des sorts que représente un retour en Inde au début de 2018. Depuis lors, Ramu est à la seule charge de SU4E. Si nous avons pu réaliser ce sauvetage, c'est grâce à votre générosité, à vous, amis des animaux, qui nous a permis de réunir les fonds nécessaires pour payer le premier acompte sur son prix de rachat.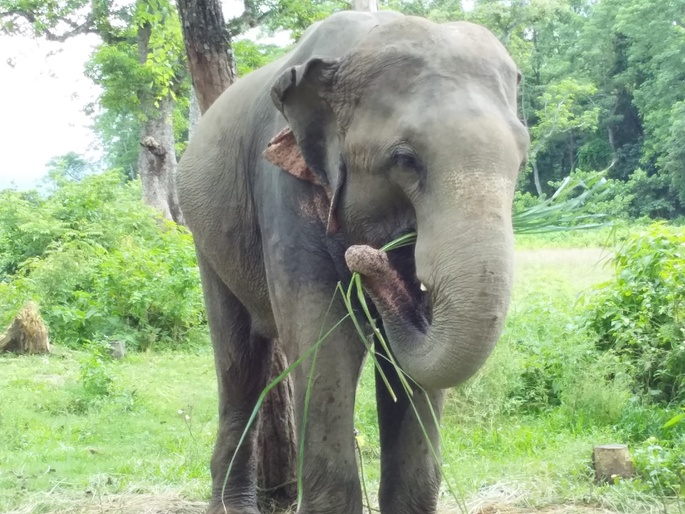 QUELLES SONT LES PROBLEMATIQUES ?
Toutefois, ceci ne constitue que la première étape de son sauvetage car il nous reste deux tiers du prix à payer et nous devons encore lui construire un enclos LOIN DE LA VILLE, PLUS PROCHE DE LA JUNGLE ET LOIN DE LA MENACE D'ETRE VENDU EN INDE POUR FINIR SES JOURS DANS UN TEMPLE EN PLEINE VILLE. Cette enclos lui permettra d'être maintenu non enchaîné pour la nuit, contrairement à la pratique népalaise qui consiste à garder les éléphants enchaînés par trois de leurs pieds. Et dans l'idéal, la journée, Ramu sera en ballade dans la jungle avec ses mahouts sans touristes sur son dos. De plus, l'entretien de Ramu inclut également ses besoins quotidiens en terme de nourriture et de traitement vétérinaire quand nécessaire ainsi que la présence de deux mahouts motivés et compétents.

CE QUE NOUS AVONS PU ACCOMPLIR CES DERNIERS MOIS
A l'heure qu'il est, Ramu bénéficie déjà des meilleurs soins et se trouve en bien meilleure condition qu'il ne l'était il y a un an d'ici lorsqu'il était maintenu enchaîné en plein soleil faute d'abri adéquat et privé de nourriture appropriée faute de mahouts compétents. En effet, depuis janvier nous avons pu lui construire un abri à sa mesure et lui trouver la meilleure équipe de mahouts possible, nommément Sujan et Ramesh. Néanmoins, il est toujours enchaîné, même si « légèrement », et le restera jusqu'à ce que nous soyons en mesure de lui contruire un enclos approprié.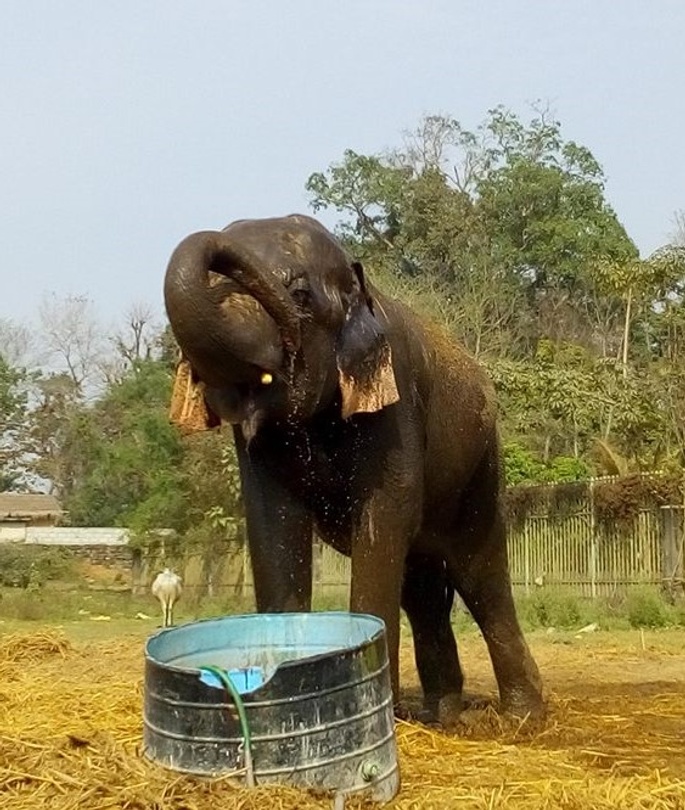 AIDEZ NOUS A FAIRE DE CE PROJET UNE REALITE POUR RAMU

Vous l'aurez compris, le sauvetage de Ramu est une entreprise dans la durée, qui nécessite un financement en continu et donc un soutien persistant de votre part à tous. Pour 2019, les fonds nécessaires s'élèvent à $ 20,000 ou € 17.500 et il n'y a aucune chance que nous puissions réaliser notre projet de donner à Ramu un refuge sûr et confortable sans votre aide.
MERCI

Nous vous remercions tous pour ce que vous avez déjà fait autant que pour ce que vous voudrez bien continuer à faire à l'avenir et qui nous permettra de regarder vers le futur avec confiance.
NB : Pour plus d'information sur les autres actions de SU4E, veuillez vous rendre sur notre website www.su4e.org.