Queer Formal: a life-affirming night of fun with friends
The Minus18 Queer Formal is a fun, identity-celebrating night for 500 LGBTIQ young people to have the absolute time of their lives. It's a 'school formal' – albeit one where they can wear what they want, bring their dream date, and be their true selves while making new friends.
But Queer Formal is more than just a night of music, dancing and celebration. For a huge amount of attendees, it's the one night of the year where they're able, or feel safe enough, to take a same-gender partner, wear the clothes they feel most comfortable in, and just be themselves.
Last Sydney Queer Formal:
47% of attendees travelled for more than an hour to attend
13% travelled more than three hours
72% of attendees reported making a new friend
94% of attendees said the event directly helped them to feel comfortable being their true selves
And you know what? For heaps of attendees, it's the first time they have the chance to meet other LGBTIQ teens.
That's exactly why we want all tickets to be completely free.
We need your help to make it happen!
Every $50 donated = One LGBTIQ young person attends Queer Formal for free.
Every $100 = Two LGBTIQ teens (maybe even a couple!) attend Queer Formal for free
Every $500 donated = A table of 10 young people from low socio-economic areas are able to attend for free!
Plus: all donations are tax-deductible!
Watch some of our beautiful 2018 Queer Formal memories:
It's our very first Sydney Gay & Lesbian Mardi Gras!
Can you believe it? We cannot wait to be a part of the biggest party of the year, and to celebrate and empower the LGBTIQ next generation.
This is a HUGE moment for us!
We've sorted out a venue. We have a spot in the Mardi Gras festival. Now all we need to do is create the sparkliest night of the year on a charity-sized budget.
Some of our amazing Queer Formal 2020 supporters: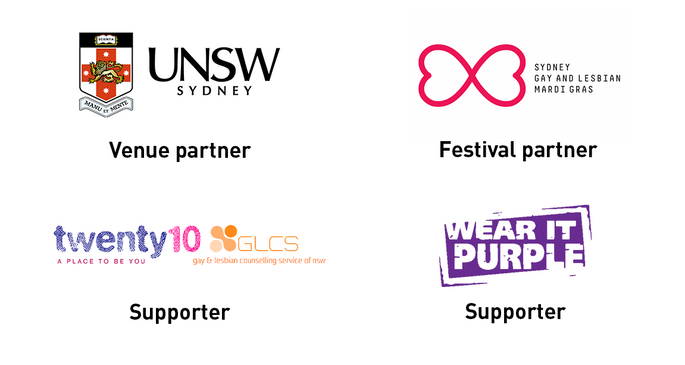 We're fighting to end discrimination
Even though things might seem like they're 'getting better' for the LGBTIQ community in Australia, this isn't the case for everyone – especially LGBTIQ youth.
Still today, religious schools in Australia can legally expel a student or fire a teacher for being LGBTIQ. Can you believe that?
The majority of LGBTIQ people in Australia will experience abuse before they are 25, with 80% experiencing it at school.
LGBTIQ young people are twice as likely to experience depression and anxiety and FOUR TIMES more likely to attempt suicide compared to the national average.
For trans and gender diverse people, the attempted suicide rate is 10 times higher than the national average.
74% of Trans and Gender Diverse young people experience abuse and discrimination (SOURCE).
As a result, 75% of Trans and Gender Diverse young people experience depression (SOURCE) as opposed to just 15% of the general population (SOURCE)
But – when teachers use appropriate and inclusive language in their classroom, rates of social exclusion, discriminatory language and student humiliation can reduce by over 50%. (SOURCE)
How you can help affect positive change
The Minus18 Foundation is Australia's charity for LGBTIQ young people. We head all around Australia to build empathy, and celebrate being queer.
100% of your donation will go toward ensuring 500 young people will have the night of their lives – making friends, celebrating their identity, and knowing that they're loved by a whole community.
Will you help us continue this important work?