What is Homeward Bound?

Homeward Bound is a ground-breaking leadership initiative for women with a science background, set against the backdrop of Antarctica.
Science touches every part of our present world, and will shape every part of our future. Globally women hold somewhere between 9 - 24% of global executive roles in STEMM, despite their recognised ability to more effectively collaborate, be more inclusive, share a legacy mindset and care for assets (people and money).
Homeward Bound aims to heighten the influence and impact of women in order to influence policy and decision making as it shapes our planet, always with a focus on the greater good.
Launching in 2016, Homeward Bound gathered the first 76 of a targeted 1,000 women from around the world, all with critical science backgrounds, to undertake a year-long state-of-the-art program to develop their leadership and strategic capabilities, using visibility and science to build conviction around the importance of their voices. The inaugural program culminated in the largest-ever female expedition to Antarctica, in December 2016, with a focus on the leadership of women and the state of the world.
In March 2017, we launched the leadership journey with a new second cohort of women from 13 countries.
The women join a 12 month leadership initiative which includes:
Monthly virtual meetings
Key leadership diagnostics and coaching
Introduction to personal strategy and visibility tools
Participating in 'theme' teams - teams that address agreed issues of global concern
Preparing for the Antarctic expedition, including building skills for giving and receiving feedback, creating teamwork, collaboration, managing difficult conversations, dealing with stress, separation from family and resilience under pressure
Introduction to science communication strategies
Introduction to reflective learning practices
The focus for women, critically, is developing world class leadership capability and putting it into action.
Mother Nature Needs Her Daughters
If we cared about our planet a fraction of how much most of us care for our mothers, how different things might be. Mother Nature needs her daughters. Share the video to join the movement.

#mothernaturesdaughters #TeamHB2018 #homewardbound18
Homeward Bound's Vision
Our vision is to equip a 1000-strong global collaboration of women, within 10 years, with a science background to lead, influence and contribute to policy and decision making as it informs the future of our planet. This vision includes a diverse group of women, not only in terms of different science / STEMM fields and geographic locations, but diversity in regards to race/ethnicity, sexuality, age and ability.
Unfortunately, many of the countries worst affected by climate change, also cannot afford the very significant cost of getting to Antarctica. Women who deserve to influence the leadership challenge are therefore unable to participate without our help. To this end, we are setting up a fund which anyone can contribute towards, which will award part or full scholarship, subject to application and assessment by prior Alumnae.
The cost of the program is US$16,000 per participant (approximately AU$22,500) plus cost of airfare (estimated at US$3,500/AU$5,000).
The estimated value of the program per person is US$27,000/AU$38,000 as there is a significant amount that is donated including program design and facilitation, expedition leader, branding, leadership diagnostics, coaching, operational premises, Kathmandu jackets and more.
The US$16,000 program fee covers the following costs:
Ship for 21 nights - $12,600
Accommodation and program costs on ground for 3 days - $680
Operational costs (including program management, PR and Communications, leadership team meetings and leadership team travel) - $2,720
For further budget details please visit our website.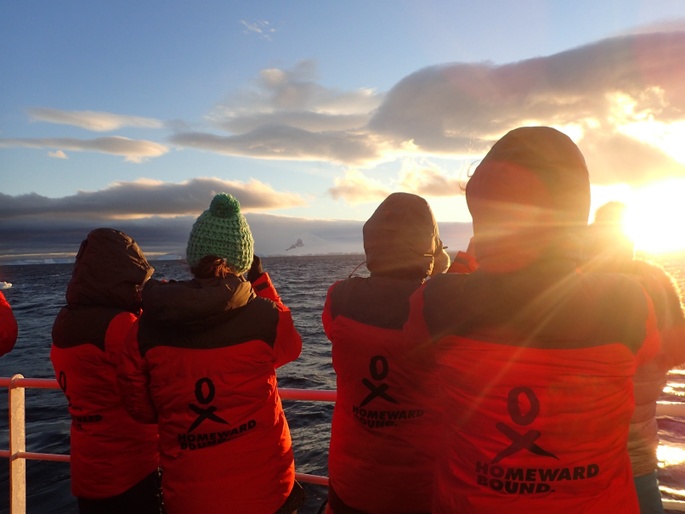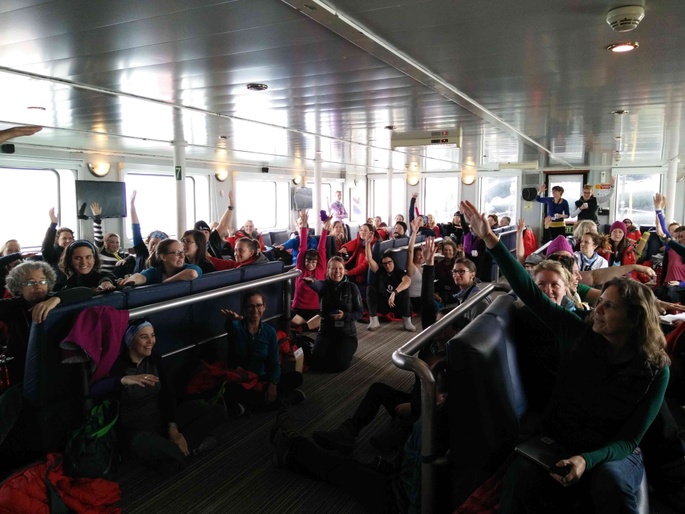 Quartz: 'The largest all-female expedition to Antarctica, aiming to combat sexism in the sciences, has set sail.'
Achieving our vision together
We know that diversity creates better leadership, thinking, understanding and outcomes. By supporting our scholarship fund you will be investing in leadership capability of some of our world's most promising women in STEMM, who otherwise wouldn't get the chance to participate. They in turn will help to build a more enduring future for both the communities in which they live and lead and, indeed, in our world at large.
Homeward Bound is designed to ensure each participant is more able to lead, that we all recognise we are stronger together and that we individually and collectively have an impact.
To date, some 400 million people have heard about Homeward Bound.
Science touches every part of our world. It is an imperative that women are visible in ensuring findings are understood and the outcomes are for all people. At this time, somewhere between 9 - 24% of leadership roles are held by women, yet it is well known they are more inclusive, more collaborative, have a legacy mindset and can be trusted with assets (money and people).
Our future is in our hands.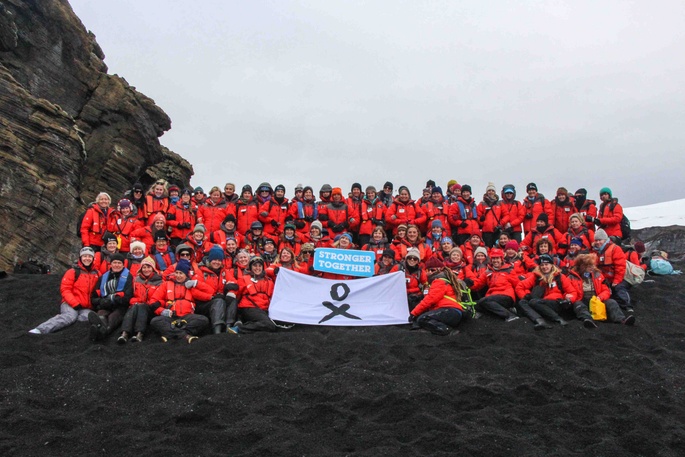 The scale of forest degradation, species extinction, plastics in our oceans, changes to our food sources, climate change and the concurrent challenge of feeding the world and managing resources fairly can often leave individuals and communities feeling powerless.
Homeward Bound scholarships ensure everyone wins. Small donations, go to willing individuals, supported by a global leadership team, collaborating with hundreds of other women, skilled, expert and able to affect change.

It's a win win

We are not going to provide perks as such. It is our intention, irrespective of your contribution, to ensure you feel part of this initiative.
Its outcomes are important, in equal measure, to all people.
We will host 3 conference calls with Fabian Dattner that we would love you to join, as a thank you for supporting Homeward Bound's Scholarships (details to be emailed to you).
You are part of this journey once you donate. Your voice, your support, your energy, your vision matter.
The one exception we make to this is naming rights if you contribute US$16,000/AU$22,500 to cover a full scholarship. In this instance, the scholarship is named after the provider, and we invite organisations to be actively involved in supporting the recipient, i.e. Kathmandu Homeward Bound Scholarship.
In reality, from small to large donation, our job is the same: we are helping these brilliant, diverse, humble, capable, passionate and compassionate leaders take a seat at our shared table.
(Please note 90% of Homeward Bound's costs are in USD which is why the program fee is in USD. In order to raise money in Australia, Homeward Bound needs to raise funds in AUD and will exchange the donations into USD in order to pay for each participant's place on the ship. If you would like to make a USD donation directly into Homeward Bound's USD foreign currency account please email [email protected].)

A huge thank you to our biggest donors so far!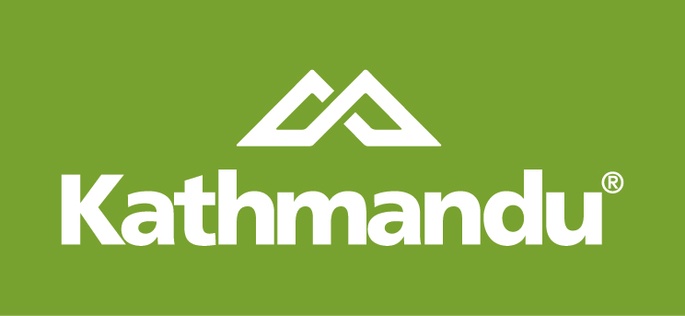 A private Chinese donor
Media

View all media coverage here.