Bees pollinate fruit and vegetable crops and are essential to our food production and to the continued sustainability of the world-wide food supply. They are the only insects that produce food for human consumption, and bees pollinate plants from which treats like coffee and chocolate are derived! Bees also play a vital role in sustaining life and diversity in our natural forests through pollination and their contribution to various stages in the food web.
But the bees need help. The increased use of insecticides, the destruction of natural habitat and the effects of climate change have had a significant effect on bee populations around the world.
Here's what we're doing about it
Golden Bee is an international collective with a common interest in using art and literature to explore bee ecology, and our shared relationship with bees through culture, mythology in our social and built environments. With over 800 members worldwide Golden Bee is developing a network of creative thinkers and makers that are concerned with the state of the global biosphere, with the bees as a critical element in that balance.
Through collaboration and creative expression, Golden Bee is working to develop:
and

present a series of exhibitions and events that draw attention to the plight of bees', symptomatic of broader environmental issues.

environmental awareness and contribute to bee conservation in a myriad of ways

communications and opportunities for exchange within our international network

an online archive containing the collective's creative productions.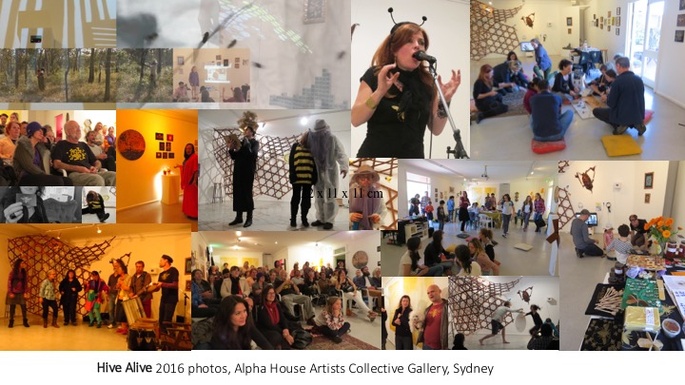 2017 Activities
Golden Bee hosted two international exhibitions in March and April 2017. Both displays feature small sculpture, drawings, prints, photography, assemblage, installations and a program of bee-themed live-streamed 'happenings' from around the globe. The participating artists are from Australia, Europe and the United Kingdom.
Supermarket International Art Fair is an annual artist-run event presenting art galleries, collectives and cooperatives from around the world over fours days of seminars, discussions, performances and other networking opportunities. Participation in Supermarket 2017 gave us the opportunity to present the ideas and work of Golden Bee to an international community of artists and a receptive arts audience at this popular annual event. The theme for the 2017 Supermarket Art Fair was 'Intimacy'. Our display was called 'Golden Bee – intimate hunting and gathering'.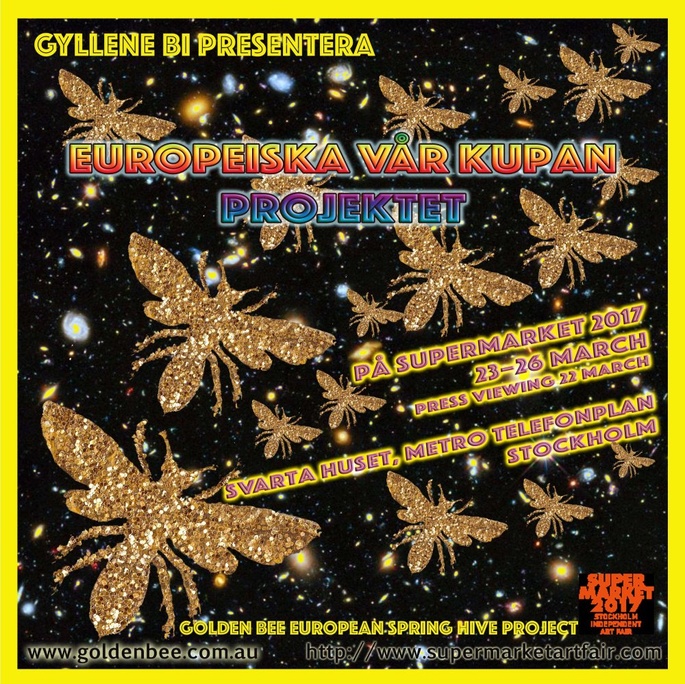 Go here to read more about our participation at the Supermarket Art Fair in Stockholm, 2017.
A month later, we co-hosted a 2017 Northern Hemisphere Spring exhibition - see Golden Bee Dew ~ Spring Art Swarm at St Margaret's Church of Art in Norwich, Norfolk UK.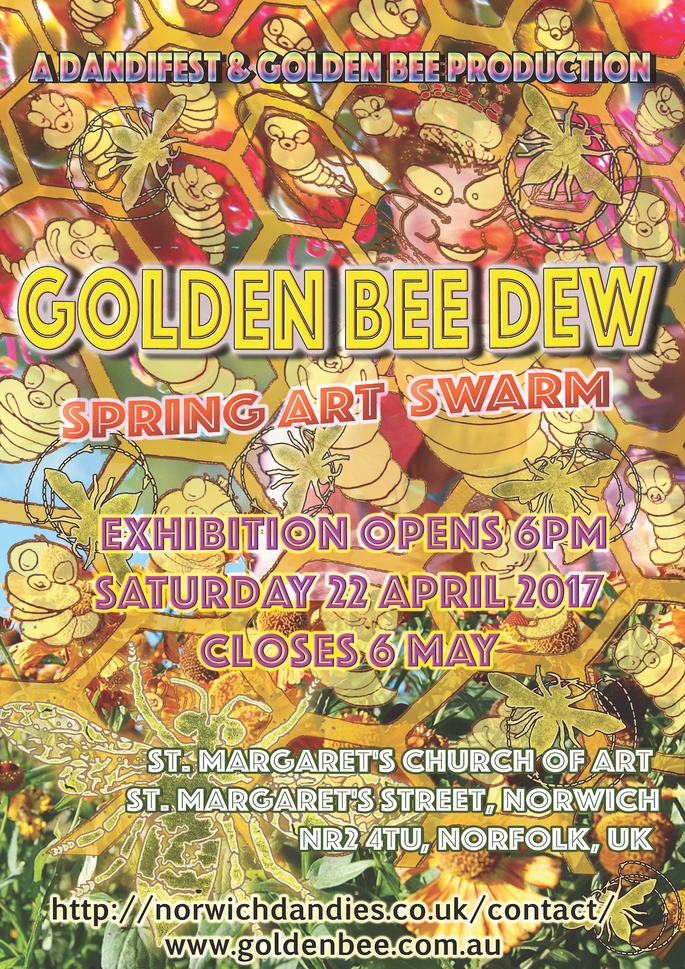 This project was developed in collaboration with the Norwich Dandies (established in 2010, UK) as part of their Dandifest celebrations.

See their Norwich Dandies Facebook page for more information.
Other 2017 Events and Activities:
Palm Creek Folk Festival - Golden Bee - the hive
The Golden Bee theme was taken up by the Townsville Youth Network (TYN) and used to name and inspire their creative participation spaces at Palm Creek Folk Festival in June 2017.
At the festival, Golden bee established a small hive, worked voluntarily in collaboration with TYN, Cajam Circus and David Bowtell from the Townsville Beekeepers Association to deliver workshops for the public.
See our Palm Creek Fest photos here
Coming up in November, there will be 3 separate events happening for Australian Pollinators Week in:
- Atherton Tablelands, North Queensland: Fairlie Sandilands is creating a pollinators display featuring her beautiful photographs and information about our pollinators at the Malanda Public Library.
- Townsville, North Queensland: Bernadette Boscacci is hosting a serreis of workshops with her local community to produce bee motels and small artworks to promote 'bee awareness' and share knowledge about our local native bee species.
- Launceston and Exeter, Tasmania: Edwina Blush has curated a small exhibition at UpYork Cafe in Launceston of golden bee artworks from England and Australia. She has also secured us a stall at the Farmgate Festival so that we can display more of our art and spread the word about the bees. Edwina will be also be doing performances as a Queen bee over the weekend.
Help us create a sustainable network of ecologically-centered culture
Golden Bee Collective team members self-fund their own travel, accommodation, postage and admin costs. We volunteer their time and contribute their personal resources to the project because we're committed to continuing the cause - continuing to develop and present productions and environmental / community cultural development projects.
We are seeking support to help us pay for the presentation, administration and other costs involved in these two projects. Please contribute as much or as little as you can and we'll continue working for a sustainable culture based on rational science in conjunction with a sensitive understanding for the perfection that is the natural world.
Our campaign budget wishlist:
Printing costs: $400
Insurance and administration costs: $250
Documentation: $200
Freight: $150
Production costs: $1000
Total $2000
And here's some amazing perks for supporting us:
Crowdfunding Rewards
$5 and upwards Donation - we will add you to our golden bee patrons page on our website
$40 Membership - you get a hand printed golden bee t-shirt (including postage to where ever you are in Australia), have your name / link listed on our website and automatically go onto our mailing list.
$25 - $250 Various priced items for purchase from members of the collective including Nina Dawson, Robyn Veneer Sweeney, Fairlie Sandilands, Edwina Blush and Bernadette Boscacci.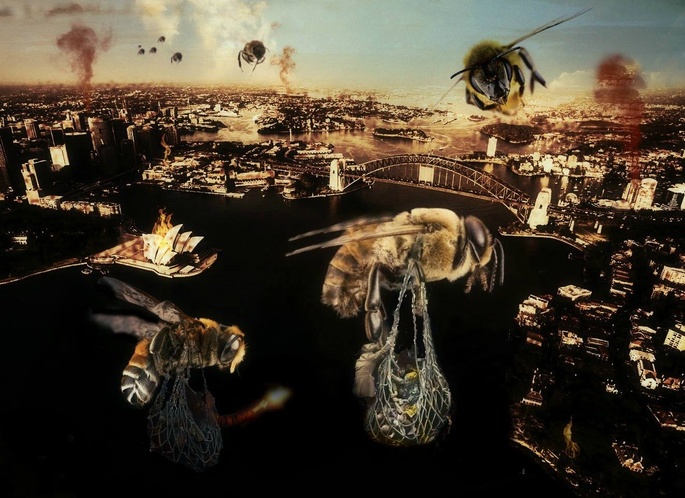 Fairlie Sandilands, from her 'Wagging the bees' series. 25 x 20 cm Photographic print $30
Ongoing fundraising
Bernadette Boscacci is producing limited edition Golden Bee screen prints on 100% linen teatowels and 100% cotton tshirts to support her work for the project. See designs here $25 each + $10 postage and handling in Australia.
To place an order email Bernadette directly: [email protected]
Get in quickly because the costs of Tshirts will be going up $5 in 2018!
Connect with Golden Bee:
Facebook - golden bee (the hive)