Success!
Our campaign has now finished, and we made it! Special thanks go to Kambala Old Girls Union who pushed us way past our second target with their generous $2,500 donation. Thank you to everybody who donated, shared, e-mailed and told people about our campaign. We look forward to sharing the progress of the renovations with you all. Rigby House is going to look very different in 2018!


Great news!
Late last night we passed our second target of $12,500! We are so grateful for the support we have received. We still have 6 hours to go, so if you would like to donate there is still time - this is a huge project and all funds raised will go directly to the renovation.
24 hours to go!
Yes! There's just 24 hours to meet our target of $12,500 by 2pm tomorrow (wednesday 20th December).

If you have been meaning to donate to the campaign, now is your chance to help give the children of Rigby House a fresh and inspiring learning space in 2018. All funds raised over our target will go towards Rigby House renovations - a huge project! Can you help us in our final push?
THANK YOU!
Thanks to all of our wonderful supporters, we have just hit our target of $10,000 with 5 days to go!
The Infants' Home is eternally grateful for the generosity of our supporters. With 5 days left in the campaign, our generous donor has promised to continue donation matching above our target. We would love to reach $12,500. Can you help us? Every dollar you give us is worth two thanks to the donation match from our donor.
Update - 7 days to go!
There are 7 days left in the campaign, and 7 days until the builders arrive! Please see the video below - perhaps you can donate $7 to help us reach our target of $10,000 or more by December 20. Remember all donations will be matched!
Rigby House is one of five early education centres at The Infants' Home which provides award-winning* inclusive services to children living with additional needs, including physical disability, alongside children with no additional needs. At Rigby House, children have learned to walk, talk and feed themselves. Their next learning challenge is to use a toilet and wash their hands independently, crucial skills for them to master in these early years.
...but there's a problem
Opened in 1959 as a 'Babies Annexe', Rigby House facilities have ably served the needs of generations of families in our community. But accessibility for older children is now limited by outdated layouts.
Rigby House children are unable to access the toilet independently, for example. The only entrance is through a nappy changing area that must be gated for the safety of crawling babies. Whilst our educators focus on opportunities to optimise each child's learning and development - an educator must leave the room to assist children accessing the toilet, denying them the independence of self-directed learning.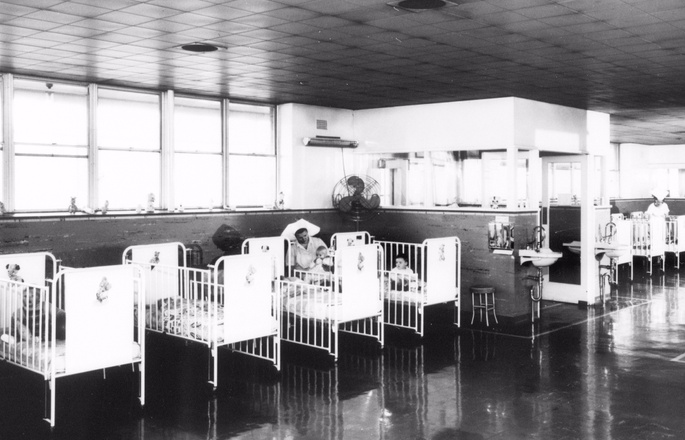 Rigby House in 1959
What we're doing about it
This December/January, The Infants' Home plan to renovate Rigby House to provide an accessible, inspiring educational environment for the next generation of Rigby House children, so our educators can keep doing what they do best - helping each child have every opportunity to fulfil their unique potential.
Join Us
You can help us provide new facilities for the children of Rigby House. Please donate today to give Rigby House children the freedom to learn. One of our generous donors has agreed to match donations up to our target of $10,000 and beyond - you can double the impact of your donation today!
As a registered charity, The Infants' Home is a tax-deductible gift recipient, all donations over $2 are tax-deductible. After a donation is made you will receive a tax receipt by e-mail.
To learn more about The Infants' Home, our 143-year history, and our work to give each child every opportunity, see our website.
*In 2016 The Infants' Home won the Excellence in Building Inclusion award at the HESTA Early Childhood Education and Care Awards, in recognition of our innovation to promote and embed inclusion across the organisation.