A little bit of context
Since 2011, Art Song Lab has made Vancouver the place for innovative composers and poets to come together and create brand new art songs from scratch. These groundbreaking collaborations have unearthed new approaches to writing and composing, resulting in pieces of art that touch on every element of human nature.
Since 2006, Erato Ensemble has shown a deep commitment to new work, and is a passionate advocate for composers living and working today. Their concerts treat Vancouver audiences to unexpected combinations of instrument and voice. It's those amazing combinations that actually make it hard to find enough music for the group.

Songs Needing Performances
Each year at their unique one-week summer program, Art Song Lab premieres a dozen new songs for voice and piano (that's almost 100 to date!). But with no events happening during the rest of the year, those songs might be destined to collect dust on the bookshelf.
Performers Needing Songs
Commissioning brand-new music is far too expensive to do for every concert. Erato has become quite adept at finding rarely heard music, but there's always room for music written just for the ensemble.
A Match Made in Heaven
Bringing these two incredible organizations together is the perfect opportunity to breathe new life into songs that deserve to be heard again. Supporting new arrangements of songs written for Art Song Lab means that Erato gets to present new works at a much more reasonable rate.
Our fundraising goal of $2500 will help us pay professional fees for Erato's February concert, "Present". Your donation will go towards paying 5 composers to create new arrangements, supplementing fees for our 8 performers, as well as printing costs associated with the permiere.
PRESENT, February 9 & 10, 2019
features arrangements of:
Katya Pine's Wood Sleeves
Bekah Simms' Requiem for a Lost Penny
Katerina Gimon's This is That
Jonathan Daniel's universe is trying to tell me something but it's mute
Christopher Reiche Boucher's Serenity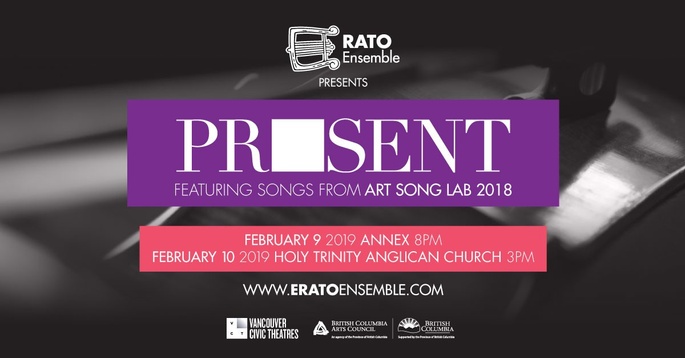 Join Us!
By donating to this campaign, you will be supporting the incredible work of more than a dozen creative artists and you'll be helping to build the repertoire of an outstanding Canadian ensemble. Any money raised beyond our initial goal will go towards future arrangements, and establishing a commissioning fund so that Art Song Lab and Erato can continue to support great artists together into the future.
Check out the perks we're offering, or use the buttons at the top of this page to support us today!
Check out our Amazing Perks
If you need more reason to give, check out the perks on the right hand side of the page. Or, you can donate to the campaign without perks by using the button at the top of the page. Donations over $25 will receive a Canadian tax receipt. Everyone who gives to this campaign will have their name listed on both Erato and Art Song Lab's websites, and in the program for "Present," February 9 and 10th, 2019.
We want you to know how much we value your support, which is why many of our perks will get you up close and personal with the great art you're helping to support. From concert tickets to signed copies of scores, we hope our perks will give you a real sense of just how valuable your generosity is.
Don't wait, donate today!