Latest update
We are really excited to announce that we have received a £30,000 donation from one of the trusts we have been in touch in the recent months. This puts us in a better position to reach our target. Please keep sharing this appeal with friends and family so we can reach out to as many people as possible.
A little bit of context
There is no doubt that we are living through complex and challenging times and that it seems more urgent than ever to provide access to teachings and practices that support the development of awareness, calm, kindness, compassion and generosity.
Gaia House has been offering silent meditation retreats since 1983 and has become a sanctuary, a refuge where more than 1,500 people come every year. One of the factors that make Gaia House unique, is the fact that we are not limited to one Buddhist tradition: our teachers and teachings come from a variety of Buddhist backgrounds and approaches and are open to everyone. We aim to be inclusive at all levels, also ensuring we keep our prices as low as possible so that everyone feels equally welcomed and supported.
Gaia House also benefits from a very special location, one of peace, rural beauty and silence. The benefit of what is on offer here is such that almost all our retreats are full. In its days as a convent, the building housed a maximum of 45 nuns at any one time. Today, we regularly find ourselves at full capacity accommodating 90 people!
Meeting the challenge of space
Over the last two years we have been working with architects, heritage advisors, ecologists, and the planning team at our local council to explore ways to make better use of the site in order to meet the growing demand for what Gaia House offers, and improve the house for the benefit of present and future generations.
We started a Building appeal campaign last September and since then we are thrilled to have some great funders and donators. We have already secured some funding to support our vision, but are still some way from having enough to start any substantial building work. In order to finalise plans to start building work in 2019 we need your help!
How can you help?
The estimated full cost of our stage 1 plans is 1.3 million. After three months of fundraising, our Building fund donations swelled to over £100,000 and with previous funds we have we reached £350,000 . With this crowdfunding campagin, we would like to achieve the £475,000 we need to implement the first part of stage 1.
If 5000 of us could pledge £25, we would reach the other £125,000 we need. Every pound really does count!
If donating cash is not an option there are other ways you can help. Maybe you could organise a fundraising event, share this message and pass it on to someone that could contribute in any way. By sharing you play a part in enhancing people's lives.
Why are we doing this?
This proposal is the result of 35 years of vast experience running retreats and reading and hearing feedback from hundreds of people. We know that one of our weakest points is the accommodation and bathroom facilities.
During group retreats we accommodate 52 people in 25 rooms, only 10 of which are single. This means unfortunately we can't accommodate all the requests we receive from people that for medical or other reasons would find it difficult sharing.
If you have been on a group retreat here you probably remember queuing for showers and toilets.
Our Plans
Stage 1
The first part of our plan is to improve facilities for group retreatants by:
• Doubling the number of single rooms we can offer from 10 to 20
• Increasing the number of showers available from 7 to 12
• Doubling the number of toilets available from 9 to 19
• Create an additional ground-floor single bedroom and bathroom for wheelchair users
• Improve our coordinator accommodation
• Create a self-contained resident teacher living area
• Move our offices outside of the main house so that they cease to be disruptive of the retreat space
To achieve this, we originally planned to convert the garages at the back of Gaia House and construct a bathroom link adjoining the Garden Wing. Planning permission for this has already been secured and our intention is to start to implement our plans during the latter half of 2019. The aim of this plan is not to increase our capacity but to provide a better environment for all those who visit, reside and work at Gaia House.
An exciting alternative opportunity to fulfil (and in many ways exceed) our aims is to purchase a neighbouring property that has recently come on the market and funds from this appeal could be used this way given sufficient support.
Our Offering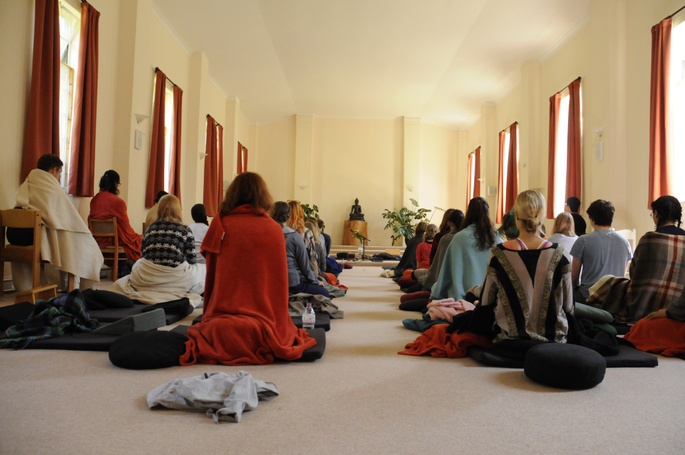 Gaia House was established to serve the development and deepening of a culture of awakening in our modern world. Our vision is to facilitate a culture of wisdom and compassionate action, for the wellbeing of all of life.
There is certainly evidence that what Gaia House offers is much needed in today's world. Each year now, more than a 1,500 people come on retreat at Gaia House – and not just from the UK. People visit from across Europe, as well as further afield because there simply isn't anywhere in the world that's quite like Gaia House.
In addition to the wealth of academic research that now evidences the helpful effects of the meditation practices taught at Gaia House, the feedback we receive from our retreatants regularly and eloquently expresses the benefits most commonly drawn from coming on retreat at Gaia House:
A greater sense of inner peace
Respite from the pace of daily life
Feeling more collected in the mind
A decreased sense of emotional turmoil
More awareness of "the way things are" for oneself
An increased capacity for loving-kindness and compassion for oneself and others
Our retreats are offered to both introduce new participants to the immediate benefits of meditation, as well as to support more experienced students in the deepening of their understanding of Buddhist teachings. The Insight meditation that we teach here comes from the Buddhist tradition but can be practised by anyone. People of all faiths or none are welcome.