1- Español

2- English

ثالثا العرب
¿Quiénes somos?
Somos un centro social y cultural que surge desde la iniciativa ciudadana con la misión de fomentar la convivencia intercultural, las buenas relaciones vecinales entre los diferentes colectivos del Raval, el empoderamiento comunitario y el pleno ejercicio de la ciudadanía activa.
Nuestros objetivos son:
Facilitar la inclusión y la inserción de niñ@s, jóvenes y mujeres en el tejido social y laboral del barrio y de la ciudad.
Empoderar a las mujeres para su participación activa en la comunidad.

Trabajar para la prevención del radicalismo violento desde una óptica social.
Crear red con las diferentes asociaciones del barrio y la ciudad con el fin de favorecer sinergias y compartir experiencias y trabajo.
¿Qué hacemos?
Trabajamos con jóvenes no acompañados de países africanos y asiáticos. Nuestra actividad consiste, básicamente, en proporcionarles herramientas necesarias que faciliten su inclusión en la sociedad.

Darna acompana a los jóvenes allá donde la Administración no llega y se convierte en un complemento necesario para su desarrollo emocional.
Nuestro proyecto: Equipo de Fútbol
Esta actividad nace desde la pasión de los jóvenes de Darna por el fútbol y su empeño por crear y construir un equipo. Estos jóvenes han encontrado en el equipo una forma de realizarse como personas y de sentirse parte de un proyecto colectivo.
Darna promueve con el fútbol el desarrollo personal de nuestros jóvenes. El equipo fomenta valores como el respeto, la autoestima, la empatía, el esfuerzo, la cooperación, los hábitos saludables y el liderazgo.
Metas
1- Coste de la liga – (2.000 euros)
2- Alquiler del campo de entrenamiento – (1.000 euros , 1 año)
3- Equipación de fútbol 11 para 22 jóvenes – (800 euros)
4- Costos de administración– (200 euros)
5- Campus de verano deportivo (incluido transporte) para todo el equipo – (4.200 euros)
Total: 8.200
Testimonios
"En el equipo de fútbol Darna lo paso muy bien y me encuentro con mis amigos. Me gusta como la coordinadora nos motiva para jugar y creo que la comunicación entre todos los miembros del equipo es buena" (Ibrahim M.)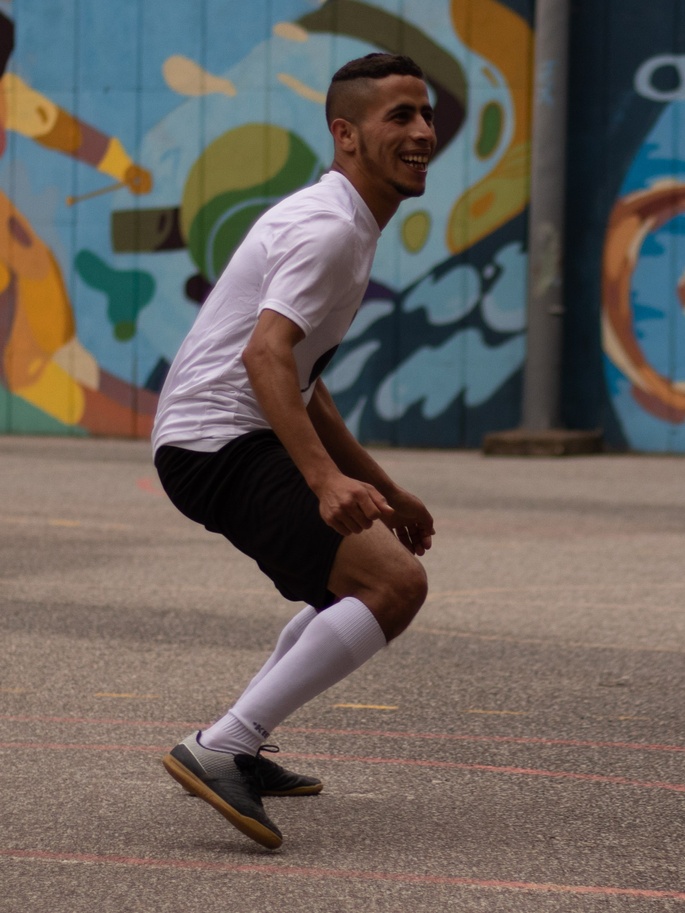 (Ibrahim M.)
"Me gusta mucho la forma en que los entrenadores nos proponen los ejercicios" (Hassan)
"En el equipo de Darna he conocido a nuevas personas" (Kouider)
"Valoramos mucho el trabajo de los entrenadores" (Kouider y Amer)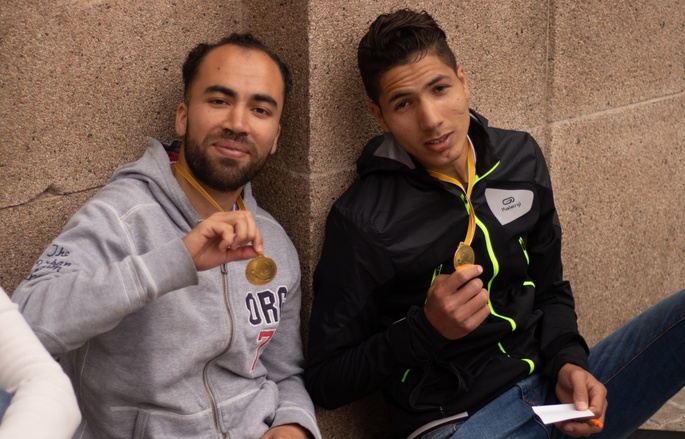 (Kouider izq., Amer Der.)
"Lo más importante para mí es que en el equipo existe el respeto de todos y para todos. También valoro que todos somos responsables en los partidos" (Abdelkhalek)
"El equipo fue lo mejor que me pasó cuando llegué a Barcelona, no conocía a nadie, fue como estar en casa. Lo mejor es el ambiente, nos cuidamos entre todos, nos sentimos realmente como hermanos". (Outhman)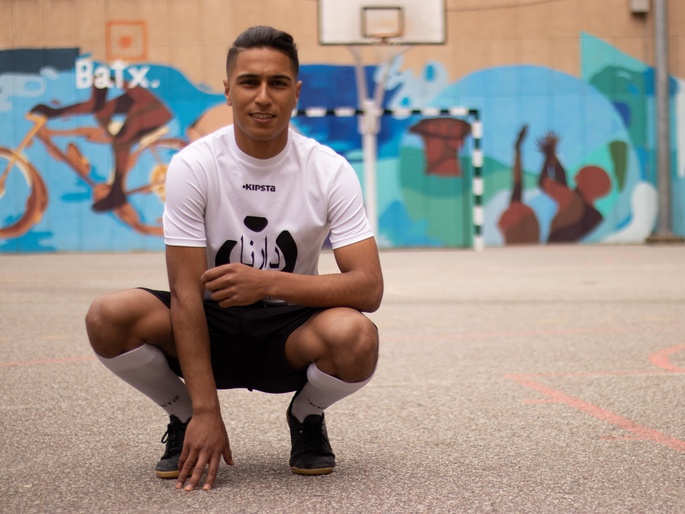 (Outhman)
…..Y de cara al futuro:
"Quiero seguir jugando para llegar a ser un buen entrenador" (Ibrahim M.)
"Me gustaría llegar a jugar como profesional" (Hassan)
"Quiero dedicarme a ser un buen portero" (Abdelkhalek)
"Lo que espero es el éxito del equipo" (Kouider)
"Me gustaría ser de cada vez mejor jugador" (Outman)

Darna en la prensa:
Diario de Navarra (19 agosto 2017)

La Vanguardia (03 septiembre 2017)

InfoTalQual (08 diciembre 2017)

English:
Who are we?
We are a social and cultural centre that emerged from a civic initiative to foster intercultural collaboration, good neighbourhood relations between different organisations in the Raval, empowerment of the community, and the promotion of active citizenship.
Our objectives are:
To facilitate the inclusion of children, teens, and women in the social and labour fabric of the neighbourhood and of the city
To empower women through the promotion of active participation in the community.

To work for the prevention of violent radicalisation from a social viewpoint
To create a network with different community associations in the neighbourhood or the city with the intent of promoting cooperation on different projects.

What do we do?

We work with unaccompanied youth from African and Asian countries. Our activities consist, in a few words, of providing the tools to aid them with integration into the community of Barcelona.
Darna helps our youth where the state adminsitration doesn't, acting as a neccesary aid for their emotional and personal growth.
Our Project: The Football Team
This activity was born from the passion of Darna's youth for football and their determination to form and build their team. These teenagers, who abandoned their home country with hope of a brighter future, have found in the team a way to develop themselves as people, while also belong to a greater collective project.
Through this project Darna hopes to promote the personal development of our youth, teaching values such as respect, self-confidence, empathy, hard work, cooperation, health consciousness, and leadership.
Goals
1- Cost of the league (2,000 euros)
2- Rent for training grounds (1,000 euros ~ 1 year)
3- Equipment for 11 [official term?] football for 22 players (800 euros)
4- Administration costs (200 euros)
5- Summer training campus (transportation included) for the entire team (4,200 euros)
Total: 8,200
Testimonials
"In Darna's football team, I've had a great time, and I get along super well with my friends. I like our coordinator motivates us to play, and I think that the communication between all of the members of our team is great." (Ibrahim M)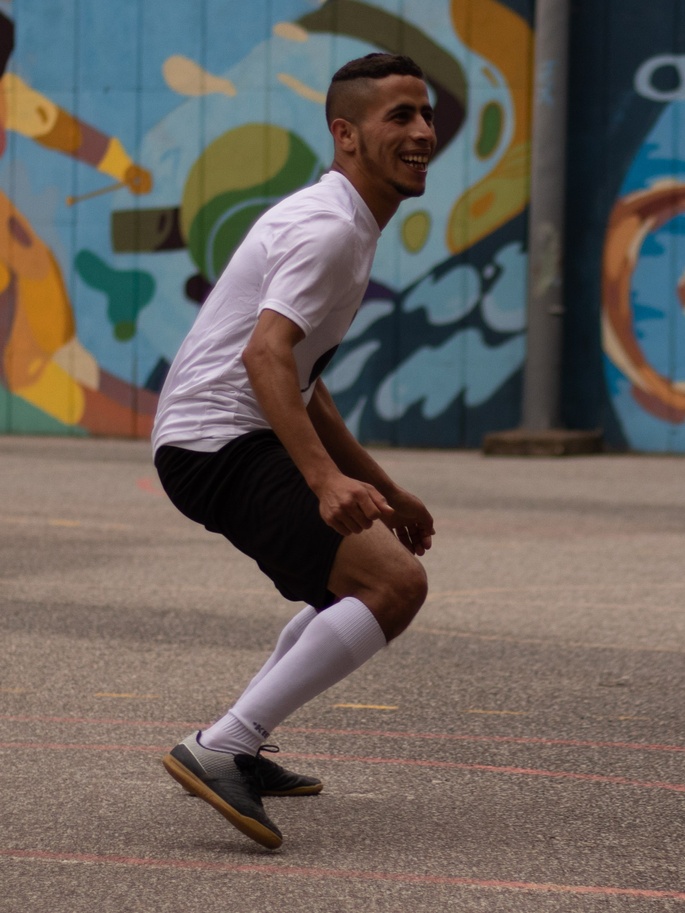 (Ibrahim M)
"I really appreciate the way our trainers push us to practice." (hassan)
"I've met many new people in Darna's team" (Kouider)
"We really value the work done by our coaches." (Kouider y Amer)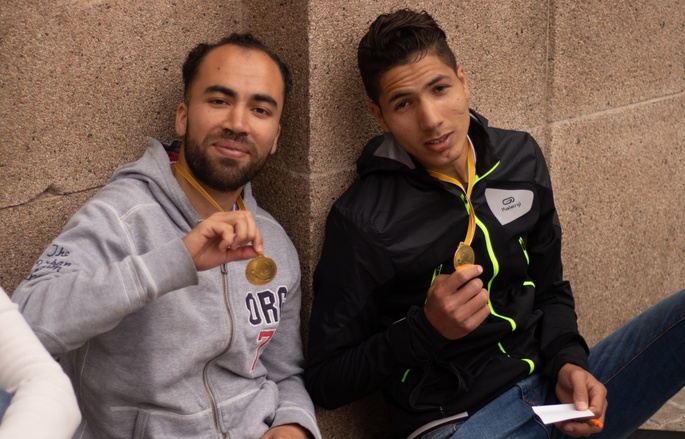 (Kouider L, Amer R)
"The most important thing for me is that in our team, respect exists from everyone for everyone. I also really value that we are all responsible in tournaments." (Abdelkhalek)
"The team was the best thing which happened to me when I got to barclona, I didn't know anyone, it was like being at home. The best, is the atmosphere. We care for each other and genuinely feel we are brothers."
(Outhman)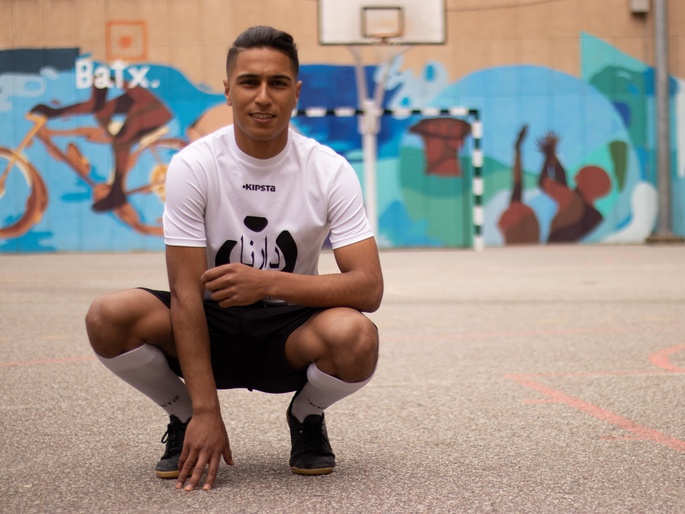 (Outhman)
…..And looking towards the future:
"I want to keep playing to become a good trainer" (Ibrahim M.)
"I hope to be able to get to playing as a professional" (Hassan)
"I want to dedicate myself to being a great goalie" (Abdelkhalek)
"What I really hope for right now, is the success of the team" (Kouider)
"Each time I play, I want improve my game". (Outman)
Darna en the press:
Diario de Navarra (19 August 2017)

La Vanguardia (03 September 2017)

InfoTalQual (08 December 2017)

العربية
من نحن؟

نحن مركز اجتماعي وثقافي نشأ من مبادرة مدنية لتعزيز التعاون بين الثقافات ، وعلاقات الجوار الجيدة بين المنظمات المختلفة في حي رافال بمدينة برشلونة ، وتمكين المجتمع من حقوقه، وتعزيز المواطنة النشطة.
أهدافنا هي:
لتسهيل اندماج الأطفال والمراهقين والنساء في النسيج الاجتماعي والعمالي في الحي والمدينة
لتمكين المرأة من خلال تعزيز المشاركة النشطة في المجتمع.
لتعزيز التماسك الاجتماعي المفيد ، دمج مزيج من القيم الإيجابية من كل عضو في المجتمع الذي يتكون من مجموعة متنوعة من الخلفيات المختلفة ، بهدف تشكيل مجتمع نابض بالحياة بين الثقافات و متكامل، داخل المدينة ككل.
العمل من أجل منع التطرف العنيف من وجهة نظر اجتماعية
انشاء شبكة من العلاقات الفاعلة مع جمعيات المجتمع المختلفة في الحي أو المدينة بقصد تعزيز التعاون في مشاريع مختلفة.

:مشروعنا
فريق كرة القدم
نشأ هذا النشاط من شغف شباب دارنا لكرة القدم وتصميمهم على تشكيل فريقهم وبناءه. هؤلاء المراهقون الذين تخلوا عن وطنهم مع الأمل بمستقبل أكثر إشراقاً ، وجدوا في الفريق طريقة لتطوير أنفسهم كافراد ، ينتمون أيضاً إلى مشروع جماعي أكبرتقوم الجمعية على تطبيقه من مواردها الخاصة
ومن خلال هذا المشروع ، تأمل دارنا في تعزيز التطور الشخصي لشبابنا ، وقيم التعليم مثل الاحترام والثقة بالنفس والتعاطف والعمل الجاد والتعاون والوعي الصحي وقيم الديمقراطية و المساوات.
الأهداف

1- تكلفة الدوري (2،000 يورو)
2- إيجار ملاعب التدريب (1000 يورو ~ سنة واحدة)
3- معدات لعب كرة القدم لـ 11 لاعباً [رسمية] لمدة 22 لاعباً (800 يورو)
4- تكاليف الادارة (200 يورو)
5- التدريب الصيفي (شامل النقل) للفريق بأكمله (4،200 يورو)
المجموع: 8،200
الشهادات - التوصيات

الشهادات - التوصيات

"في فريق كرة القدم في Darna ، قضيت وقتًا رائعًا وألتقي مع أصدقائي ، وأعتقد أن التواصل بين جميع أعضاء فريقنا رائع. "(إبراهيم م)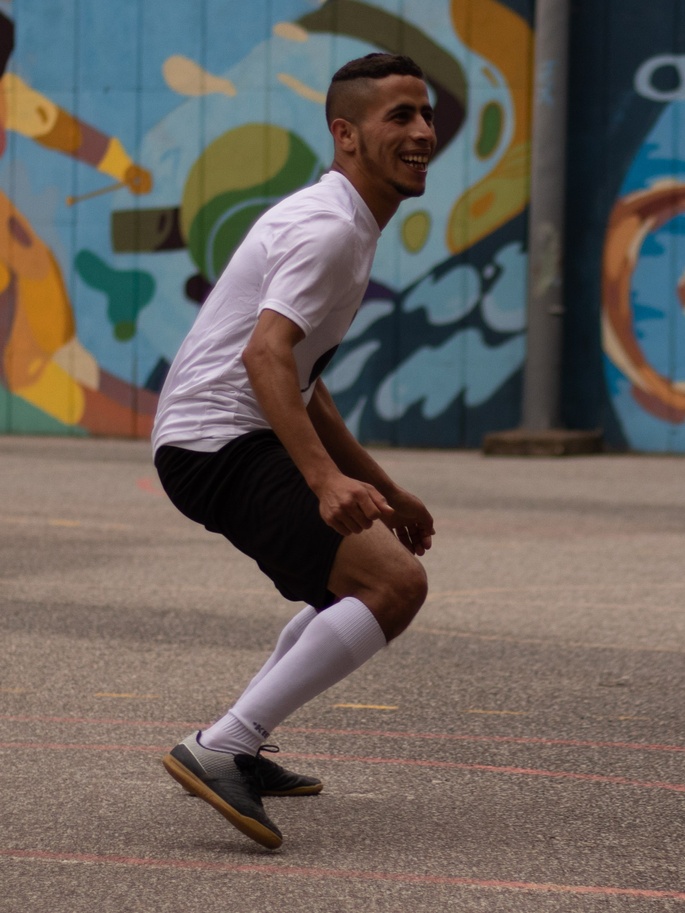 (إبراهيم م)
"أنا أقدر حقا الطريقة التي يدفع بها مدرّبونا إلى التدريب" (حسن)
"لقد قابلت العديد من الأشخاص الجدد في فريق دارنا" (قويدر)
"نقدر حقًا العمل الذي قام به مدرّبونا." (قويدر عامر)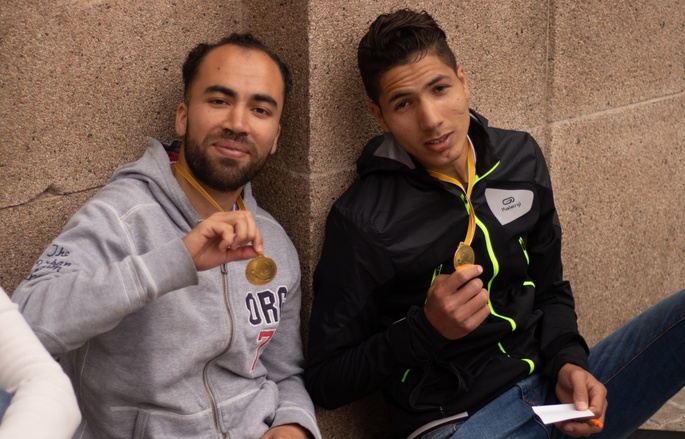 (قويد،ريسار / عام،ريمين )
"إن أهم شيء بالنسبة لي هو أنه في فريقنا ، يوجد احترام الجميع من الجميع. كما أنني أقدر حقا أننا جميعا مسؤولون في البطولات. "(عبد الخالق)
بالنسبة الي كان فريق دارنا لكرة القدم اهم المفاجآت عند وصولي لاول مرة الى برشلونة كان الأمر أشبه بالوجود في المنزل انها تجربة رائعة ، نحن حقا كالأخوة داخل الفريق

- عثمان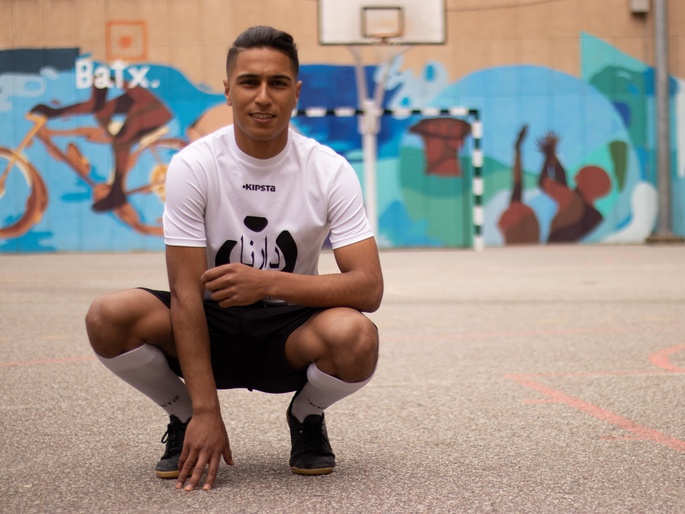 عثمان
... والتطلع نحو المستقبل:
"أريد الاستمرار في اللعب لأصبح مدرب جيد" (إبراهيم م.)
"أتمنى أن أتمكن من اللعب كمحترف" (حسن)
"أريد أن أكرس نفسي لكوني حارس مرمى عظيم" (عبد الخالق)
"ما أتمناه حقًا الآن ، هو نجاح الفريق" (قويدر)
(عثمان)"أحب أن أصبح في كل مرة أفضل لاعب"

:دارنا في وسائل الاعلام