In March this year, thousands of Australians came together in support of Saeed,* a frail, 58 year old man facing deportation to Iraq.
Community action kept Saeed safe from deportation for six months. But two weeks ago, under cover of secrecy, immigration officials spirited Saeed from his hospital bed and back into detention. They took him to the airport and forced him onto a plane to Iraq.
Saeed and his brother came to Australia seeking freedom and safety in 2012. Despite identical claims, his brother was granted protection, but Saeed's safety was denied.
Scared, vulnerable and desperate for medical care
Saeed belongs to a persecuted minority. He is penniless and cannot read or write. He has a heart condition.
He weighs less than 50kg.
And yet, our government forced him back to a war zone.
That's why we're asking for your help now, to pay for Saeed's food and medical care.
We will never, ever give up
Over 23,000 people called on Qantas and Emirates to take a stand for Saeed. Hundreds blocked the gates of detention centres in two different cities. Peaceful vigils and protests were held at immigration offices right around Australia. Politicians spoke out for Saeed in Parliament. Some of us even chained ourselves to Malcolm Turnbull's electorate office.
We all did everything we could to keep Saeed safely here in Australia. Now, he needs our help more than ever.
For Saeed, your donation could mean the difference between survival and death.
But that's not all. Every donation is a message to our government that we will keep fighting for the safety of Saeed and others like him, no matter what. Every dollar sends a message that asylum seekers and refugees like Saeed are not forgotten - and we will never, ever give up.
#FreeSaeed
Read more here: https://www.theguardian.com/australia-news/2017/aug/14/sick-iraqi-man-deported-from-australia-may-not-survive-long-lawyer
UPDATE:
Thanks to your generosity, we have now raised over $5,000 for Saeed. To ensure that Saeed receives as much support as we can give as quickly as possible, will leave the crowdfunder open for just a few more days.
While no amount of money will make Iraq safe for Saeed, every extra dollar will increase his ability to access urgent medical care and other critical in-country support. Thank you again - and please keep sharing.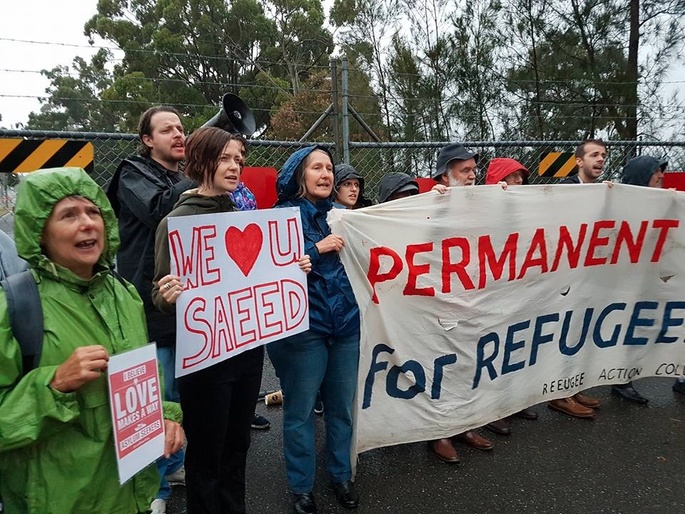 *'Saeed' is a pseudonym used to protect this vulnerable man's identify and safety.